2014 March Madness Bracket Picks: South Region
by Robert Ferringo - 3/18/2014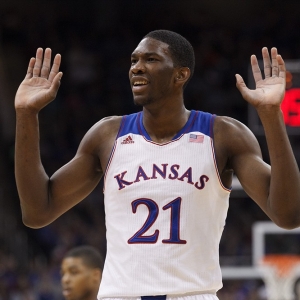 I don't know if any region has as much boom-or-bust potential as the South Region of the NCAA Tournament. This bracket boasts four programs - Florida, Kansas, Ohio State and Syracuse - that have dominated March in recent seasons. Add in a traditional power like UCLA and a traditional spur like VCU, and the South is stacked with proven commodities.
However, outside of clear-cut No. 1 Florida the region looks a bit like a Potemkin village. Kansas has serious injury questions. Syracuse comes stumbling into the NCAA Tournament. UCLA, VCU and Ohio State have all been erratic on one end of the court or the other this season.
On paper, there are plenty of potential challengers to Florida's march to Texas for the Final Four. But whether or not any of them actually materialize on the court is another story.
Here are Doc's Sports 2014 March Madness bracket picks for the South (Memphis) Region:
No. 1 Seed: Florida (31-2 Straight-Up, 16-12 Against The Spread)
The Gators are the top team in the nation and the No. 1 overall seed in the NCAA Tournament. At +500 they have the best odds of cutting down the nets in Texas. Billy Donovan has taken his program to three straight Elite Eights but has not been able to break through for a return trip to the Final Four. Counting their back-to-back championships in 2007 and 2008, the Gators have been to the Elite Eight in five of the last eight seasons. Florida's only two losses came at Wisconsin by six and at Connecticut by one. But the Gators were very banged up early in the season. And since they have gotten healthy they have reeled off 26 straight wins. Scottie Wilbekin is one of the steadiest point guards in the country. He is one of four key seniors for this veteran Florida team. Big man Patric Young is a bellwether for this group, and if he is playing well they are tough to beat. Florida can go cold from the outside, and they can struggle with 2-3 zones. But if Michael Frazier and Kasey Hill are hitting then the Gators are nearly unstoppable.
Florida March Madness Picks: I like how this region breaks down for the Gators. Florida is in the Top 20 nationally in both offensive and defensive efficiency. They will win this bracket and return to the Final Four.
No. 2 Seed: Kansas Jayhawks (24-9 Straight-Up, 16-16 Against The Spread)
Hoops factory Kansas has another roster simply loaded with talent, and Bill Self is attempting to make his third Final Four in seven years. The Jayhawks won yet another Big 12 title this year despite fielding the third-youngest team in the country. Freshmen Andrew Wiggins, Joel Embiid and Wayne Selden have been incredible, and they are really the foundation of a team that has just two upperclassmen (point guard Naadir Tharpe and backup center Tarik Black) in the rotation. However, star center Embiid is injured, and his back is expected to keep him out of this weekend's action. Kansas has lost two of three games without its center, and they have lost three of five games overall. There is still plenty to like about this team, though, and Wiggins is capable of carrying them into the next weekend. Kansas beat potential second-round opponent New Mexico by 17 points back in December
Kansas March Madness Picks: I think that Kansas has overachieved this year considering all of the talent they lost from last year's team. Embiid's injury has created a bunch of uncertainty, and I don't see this team playing more than three games.
No. 3 Seed: Syracuse Orange (27-5 SU, 14-12 ATS)
The Orange started the season 25-0 and spent a good portion of the season as the No. 1 team in the country. However, the wheels have come completely off over the last month, and the Orange have been a wreck, losing five of their last seven games. Syracuse played in the Final Four last year, but they enter the postseason with negative momentum this time around. Syracuse's myriad of problems start on the offensive end. Go-to guy C.J. Fair has been inconsistent, and he simply isn't good enough to carry the scoring load. Freshman Tyler Ennis has been brilliant, but he is more of a passer than a scorer. And "shooter" Trevor Cooney has hit just over 20 percent of his jumpers over the past three months. The result is an offense that has topped 65 points in just three non-overtime games since Jan. 8. The Orange can physically dominate most opponents, and their 2-3 zone is smothering. But Syracuse has an extremely short bench, and their players looked exhausted down the stretch. There simply aren't enough answers to SU's litany of questions.
Syracuse March Madness Picks: Syracuse is not the team it was back in January. It has been a frustrating fall for everyone involved, but they don't have enough scoring punch to make much noise in this region.
No. 4 Seed: UCLA Bruins (26-8 SU, 21-12 ATS)
Former New Mexico coach Steve Alford has done a marvelous job coaching ousted head man Ben Howland's talent his year. The Bruins won the Pac-12 Tournament last weekend, taking down Arizona in a thrilling final, and they are trying to reclaim UCLA's spot among college basketball's elite. The Bruins are No. 10 in the country in field goal offense and No. 12 in the land in scoring (81.8 PPG). Slick sophomore's Jordan Adams (17.2 PPG) and Kyle Anders (14.9 PPG) provide much of the pop. While big men Travis and David Wear, and Tony Parker, bring heft on the interior. The Bruins didn't play well against tournament-caliber competition in the nonconference portion of the schedule. And they proved their shakiness when they were blown out by lowly Washington State in the regular-season finale. The talent here is undeniable. But there are still a lot of questions about the focus and maturity of this group.
UCLA March Madness Picks: I think that the Sweet 16 would be a major accomplishment for this group. They have all the makings of an NCAA Tournament sleeper team, but I think they are more likely to have a letdown after last weekend's run to win the league title.
No. 5 Seed: VCU (26-7 SU, 17-13 ATS)
The Rams were a No. 5 seed last year, blowing out Akron before getting run 78-53 by eventual runner-up Michigan. VCU has transitioned to the role of "hunted" rather than "hunter," and it doesn't seem to suit them. The Rams are a physical, active bunch. They like to rotate a lot of different press and man-to-man defenses as coach Shaka Smart unleashes his famed "Havoc" defense. But the Rams can struggle to score at times. And if they aren't hitting from the outside then points are tough to come by. Veteran big man Juvonte Reddic was a freshman on the 2011 Final Four team. He is flanked by fellow upperclassmen Treveon Graham and Briante Weber.
VCU March Madness Picks: The Rams have an interesting matchup with Stephen F. Austin in the opening round. If the Rams can win that they will slide back in their more comfortable role of underdog.
No. 6 Seed: Ohio State (25-9 SU, 15-18 ATS)
It has been a disappointing season for the Buckeyes. But Thad Matta is a wizard in the postseason, and senior point guard Aaron Craft is looking to make one more March run before his career subsides. The Buckeyes have made it to four straight Sweet 16's, and they rely on defense and rebounding to make their mark. Ohio State slumped to just a 10-8 league mark this season. And most of their problems stem from inconsistent leaders like LaQuinton Ross and Lenzelle Smith. The Buckeyes don't have a single quality win past a one-point victory over Wisconsin and a two-point home win against Michigan State. They lack the clear go-to scorer that they've enjoyed in each of the past four seasons, and it is clear that they don't have the top-end talent that has carried them in the postseason in recent years. They will still be a tough out because of their grit. And if their streaky wing players hit a hot streak, these guys can make a move.
Ohio State March Madness Picks: With Syracuse's recent struggles I think that Ohio State is the best team in their pod. They have a great chance to advance to the Sweet 16, where Kansas may or may not still be waiting for them.
Best first-round matchup: No. 7 New Mexico (-3.5) vs. No. 10 Stanford
There isn't any marquee Round of 64 matchups in this region. But this one features two potentially dangerous teams. New Mexico is one of the most underseeded teams in the nation (they probably should be a No. 5), and they are hot after winning their second straight Mountain West tournament title. The Lobos were upset in last year's opener, losing to Harvard, and they will want to make up for that this time around. Stanford was one of the last at-large teams to make the field, and they have been given new life. Making the field may have saved coach Johnny Dawkins' job, and now he'll see if he can cash in on the opportunity with a win or two. Both teams have a wealth of experience. And some excellent Cardinal post players, Dwight Powell and Stefan Nastic, will counter New Mexico's strength on the interior (Cam Bairstow and Alex Kirk).
Best potential second-round match up: No. 4 UCLA vs. No. 5 VCU
I will be watching Kansas carefully in the second round. And Ohio State vs. Syracuse would have more cache than a Bruins-Rams matchup. But an Orange-Buckeyes game would probably be about 46-42, so I'll give the nod to a potentially more entertaining Bruins-Rams game. UCLA is supremely talented. But VCU has made its bones in the NCAA Tournament by frustrating teams exactly like the Bruins. The winner of this game would have a full head of steam running into Florida in the Sweet 16, and I could see this one being a back-and-forth affair.
Upset Alert (first round): No. 5 VCU vs. No. 12 Stephen F. Austin
The Rams were the lone No. 5 seed to win their first game last year. Can they avoid the dreaded 5-12 curse twice in a row? Stephen F. Austin has won 28 straight games en route to a 31-2 overall mark. Their conference tournament title game was a 20-point blowout, and this team is dangerous. SFA is one of the shortest teams in the land, playing a four-guard offense and boasting just two players over 6-5. That's normally a problem. But having a glut of ball-handlers can be a big advantage against VCU's full-court pressure. The Rams are clearly the better team. But they have been prone to long scoring droughts throughout the season. Also, the Rams have a quick turnaround; having to fly out to San Diego just a few days after losing on Sunday in the A-10 title game.
Upset Alert (second round): No. 3 Syracuse vs. No. 6 Ohio State
There are a bunch of potential second-round upsets. But I think that the clear one is Ohio State knocking off the Orange. This would be a rematch of a contentious Elite Eight game from two years ago, which Ohio State won. The Buckeyes have the athletes so as not to be overwhelmed by Syracuse's size. And Craft gives Ohio State a point guard capable of controlling this game. The slow pace that SU's zone dictates plays right into the style of game Ohio State wants. And I think that for all the talk about he 2-3 zone, the Buckeyes defense could control the tempo in this one and lead Ohio State past the Orange.
Dark Horse team: No. 6 Ohio State
I am not a big fan of this Buckeyes team. But I have to admit that they have a beneficial draw. Taking on an in-state rival in the opening game is tricky. But Ohio State is clearly better than it's A-10 opponent, Dayton. Then Ohio State would likely face a Syracuse team that has completely fallen apart over the last month in a great matchup for the Buckeyes. Either New Mexico or Stanford could upset Kansas in the second round. And even if the Jayhawks make the Sweet 16 they aren't more talented than the Michigan State team Ohio State just beat. The Buckeyes have a tournament-tested coach and core, and they have a path that lies out well in front of them. I don't think they are good enough to win the region
Team That Makes Me Nervous: No. 3 Syracuse
The South Region is loaded with shaky, high-risk/high-reward teams. Is UCLA mature enough? Can VCU score enough? Is New Mexico good enough? Is Kansas deep enough without Joel Embiid? But I don't know that there is another team with the potential to break this bracket like the Orange. The Orange are absolutely capable of winning this region. They are the same group that steamrolled in Maui and then blew out Villanova early in the year. Syracuse is known for getting hot at this time of the year, and after Florida they probably have the second-best chance to win this region. But the Orange have been pathetic over the last month. And if they can lose to teams like Boston College, Georgia Tech and N.C. State, they could lose in the first round to Western Michigan. Syracuse is dangerous because if you stake your bracket on them and have SU in the Final Four, they could get shut down in the first round. But if you overlook this team, they have the talent to make you look foolish.
2014 South Region Schedule and Odds:
No. 6 Ohio State (-6) vs. No. 11 Dayton (12:15 p.m., Thursday, March 20)
No. 8 Colorado (+5.5) vs. No. 9 Pittsburgh (1:40 p.m., Thursday, March 20)
No. 3 Syracuse (-13.5) vs. No. 14 Western Michigan (2:45 p.m., Thursday, March 20)
No. 1 Florida vs. TBD (4 p.m., Thursday, March 20)
No. 7 New Mexico (-4.5) vs. No. 10 Stanford (1:40 p.m., Friday, March 21)
No. 2 Kansas (-15.5) vs. No. 15 Eastern Kentucky (4 p.m., Friday, March 21)
No. 5 VCU (-6.5) vs. No. 12 Stephen F. Austin (7:30 p.m., Friday, March 21)
No. 4 UCLA (-9) vs. No. 13 Tulsa (10 p.m., Friday, March 21)
2014 South Region March Madness Picks: I think that this bracket is perhaps the ripest for early-round upsets. There are just too many teams in this region that I do not trust. Some other regions have a deeper roster of potential double-digit "Cinderella" teams. But my trepidation in the South Region has to do with how teams are going to play in their opening game. At the end of the day this bracket is Florida's to lose. I don't think either Colorado or Pittsburgh is good enough to take them down. And there is no guarantee that either VCU or UCLA will still be around to challenge the Gators in the Sweet 16. I also just think that the Gators are head and shoulders above the three top teams in the bottom of the bracket: Kansas, Syracuse and Ohio State. Florida will win this region.
Robert Ferringo keeps proving himself to be one of the best college basketball handicappers in the nation. Robert has posted 12 of 17 winning college hoops weeks and 17 of 20 winning college hoops months. He has banked over $10,100 in profit with his side plays this year and $17,100 in profit since Nov. 11, 2012. Robert is a profit machine and you can take advantage of our free, no-strings-attached $60 credit to use toward a purchase of Robert's college basketball selections. CLICK HERE for $60 absolutely free!
Read more articles by Robert Ferringo