NBA Basketball Betting and Handicapping: Scouting the Week Ahead
by Alan Matthews - 3/24/2014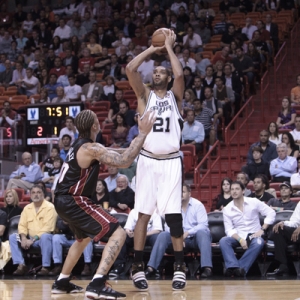 There are two games that stand out above all the others this week, and they couldn't be for more different reasons.
The first is Miami at Indiana on Wednesday night. The Pacers enter the week with a three-game lead over the Heat for the top spot in the Eastern Conference (two in the loss column). I don't think it can be overstated how important it is for Indiana to get that top seed. The Pacers have made no secret of wanting it all season, so I believe it would be fairly devastating if they don't get it. I don't think the Pacers much care about the No. 1 overall seed, which is currently held by San Antonio. They just want a potential Game 7 against the Heat in Indianapolis.
Both Indiana and Miami have been scuffling of late, and with only a dozen or so regular-season games left it's time to round into playoff form. The teams have split two meetings, each winning close at home. Thus, a Pacers victory Wednesday, and they will be slight favorites, would ensure that Miami can't win a head-to-head tiebreaker. I also believe the Heat are purposefully resting Dwayne Wade for Monday's home game with Portland to assures he's as healthy as possible for Wednesday's game. The teams play again April 11 in Miami. Miami remains the -110 Sportsbook.ag favorite to win the East, with Indiana at +115.
While that ESPN game will no doubt draw a big audience, Saturday's Philadelphia at Detroit game will be seen by very few, both live or on television. Of course, it's opposite Elite Eight NCAA Tournament action for one. But history can be made if the Sixers don't win by Saturday as that would be loss 27 in a row, breaking the 2010-11 Cavaliers' NBA record. I highly doubt Philly does win by then considering it visits the Spurs on Monday and the Rockets on Wednesday.
On the bright side, the Sixers will get the Pistons in the second of a back-to-back as Detroit hosts Miami on Friday. I could see Detroit going all out for that one, in front of a rare sellout crowd, and having not much left in the tank for Philadelphia. To be honest, I'd be willing to bet plenty of fans at Saturday's game will be rooting for the Sixers because they are so fed up with how General Manager Joe Dumars has run the Pistons into the ground. He could be fired Sunday morning if the Pistons lose that game.
Knicks Blew It
I'll bet that Sunday's home loss to Cleveland will be what keeps the Knicks out of the playoffs. Win that and New York would have been within two games of eighth-place Atlanta. Now the Knicks probably have to go at worst 4-1 on their five-game road trip that begins Tuesday at the Lakers. They certainly should win that one and could in Sacramento on Wednesday. Then it's at Phoenix, Golden State and Utah. After that the schedule is way tougher with all seven final regular-season games coming against Eastern Conference playoff teams. The Knicks are also done with the Hawks. The teams split their season series, if you are wondering. Only one team in the 30-year history of the current NBA playoff format has erased a four-game deficit with 14 games to go to make the playoffs. That was where the Knicks were on Friday.
Atlanta has a fairly tough week , hosting the Suns on Monday, at Minnesota on Wednesday, vs. Portland on Thursday and at Washington on Saturday. After that, just five of Atlanta's final 10 games are against playoff clubs. If the Hawks can simply go 2-2 this week, they are in great shape.
Surging Spurs
The Western Conference playoffs are going to be a thrilling to watch. Right now the first-round matchups would be Spurs-Mavericks, Thunder-Grizzlies, Clippers-Warriors and Rockets-Blazers. The East's first round will be borderline unwatchable.
San Antonio took a 13-game winning streak into Monday's night game against Philadelphia. The Spurs have jumped the Pacers on Sportsbook.ag's NBA title odds Miami is +260, San Antonio +350 and Indiana +400. Assuming a victory Monday, it would be the longest Spurs winning streak in the Tim Duncan/Gregg Popovich Era. The Spurs are also a phenomenal 27-8 on the road and now have the NBA's best points differential at plus-7.6.
They won by nine in Golden State on Saturday without Duncan, Tony Parker and Manu Ginobili to improve to a crazy-good 12-4 in the second of a back-to-back. There's another situation like that this week as they visit Denver on Friday -- Nuggets lost J.J. Hickson for the season -- and host the Pelicans on Saturday. Pop generally rests his guys on the road (plus it's San Antonio's second straight game against the Nuggets). I can promise you he could care less whether the Spurs are on a long winning on whether to sit guys or not.
AMAZING offer - Doc's is offering $60 worth of member's NBA picks for free - no obligation, no sales people. Try one of our NBA handicappers picks free now.
Read more articles by Alan Matthews