2014 NBA Draft Grades: Best and Worst Picks
by Trevor Whenham - 7/1/2014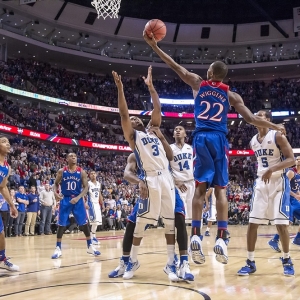 Now that the NBA Draft is in the rearview mirror, the job for bettors is to look at what happened. Which teams got better in the short term - are more attractive to bet on now than they were a week ago? Which first-round picks, from a betting perspective, are just a disaster? Here's a look at five in each category (odds to win the Rookie of the Year are from Bovada):
Best
Jabari Parker, Milwaukee Bucks (3/1 to win Rookie of the Year): We've been told that he is the most game-ready of the top prospects, and his immense offensive skills were on display at Duke. Being coached by Jason Kidd doesn't excite me, but there is some decent talent in spots on the Bucks, and there will be no shortage of opportunities for Parker to shine. He's happy to be there, and he made this team dramatically better the second he was picked.
Andrew Wiggins, Cleveland Cavs (13/2): You can't argue with a team taking best overall player with the most upside first overall. He is a big talent who fits reasonably well with the core in Cleveland. This team is far from a complete picture, but they have some assets, the coaching has improved, and Wiggins makes this team better now and in the future.
Dante Exum, Utah Jazz (10/1): There was huge value in grabbing Exum at fifth overall after he dropped further than expected. Once the two can figure out how to co-exist, he and Trey Burke can form a very dynamic backcourt in Utah. As a bonus, this pickup should make RFA Gordon Hayward happier about the prospect of sticking around.
Nik Stauskas, Sacramento Kings (18/1): There is some confusion about how he will fit in with last year's first-round pick, and fellow shooting guard, Ben McLemore. I'm not concerned about that. He'll get plenty of opportunity, and he gives this team so much that they need. He is a deadly shooter for a team that can't shoot. He provides plenty of healthy swagger for a team that lacked it. He brings impressive basketball IQ for a team that really lacks it. The Kings have work left to do, but Stauskas was a very good pick who will only look better with time.
P.J. Hairston, Charlotte Hornets (18/1): You can never complain when you get a lottery-caliber player with a 24th pick. The Hornets really got more than that - they traded the 24th pick for Hairston and some other small pieces. Discipline issues in his past are a concern, but he seems to have learned from his D-League stint and grown up. He looks very much like an NBA player, and he is the kind of shooter this team really needs. He has a chance to seriously outperform his position in the draft.
Worst
Clint Capela, Houston Rockets: I hate it when teams use a first-round pick to take a player they are going to stash in Europe, and I especially hate it when it is a high pick like this one. Capela could contractually come over, but he is so raw that he will likely spend at least a year in Europe getting seasoned. He reportedly has plenty of upside, but the Rockets could use some help right now, and there were players available who could have helped them right away. This team isn't good enough to stand pat
C.J. Wilcox, Los Angeles Clippers: In the playoffs last year the Clippers showed that they could use a few more pieces to reach the highest levels. Wilcox is not what they needed. This is a deja-vu pick - they took another athletic shooting wing last year in Reggie Bullock. Wilcox is 23 already, and I just don't see a lot of upside here. This was far from a need, and you can't even justify that he was the best player available.
Josh Huestis, Oklahoma City Thunder: The Thunder took Huestis far earlier than they likely needed to, and he is very similar to Andre Roberson - the player they took last year. There is questionable upside here, and it is hard to see how he makes his team any better. Depth is a luxury, but there were better ways to use this pick.
Dario Saric, Philadelphia 76ers: I have no complaints with the Joel Embiid pick at No. 3 for the 76ers. He was perhaps the top player available, so he was worth the risk even though he is unlikely to play this year. Given his likely absence and the huge amount of help this team needs, though, I hate the decision to take another player in the lottery who they are certain not to have for two years. They aren't even trying to hide their attempts to keep tanking, and that really isn't going to help their mindset long term. There were players as good as Saric who could step in and play right away that would have been a better fit.
Bruno Caboclo, Toronto Raptors: I have a lot of respect for the Toronto management team, but I think that they got too cute with this pick. There is a lot of upside here, but he is a long time away from being a big contributor - years. There was absolutely no indication that they couldn't have picked him much later. They could have traded down for assets or taken him with a later pick and taken a more immediately-ready player in the first round. This team needs game-ready assets now - not down the road.
Doc's Sports has a great offer for new clients. You can get $60 worth of picks from any Advisory Board handicapper for any sport he handicaps. All with no obligation and no credit card needed. Claim your free picks today .
Read more articles by Trevor Whenham