NBA Handicapping: Betting the Sacramento Kings After Mike Malone Firing
by Trevor Whenham - 12/15/2014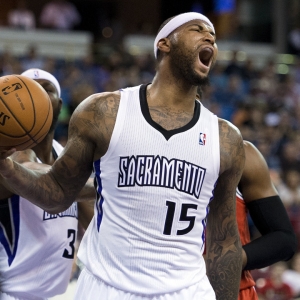 Sunday night certainly wasn't boring in the NBA as news broke late in the evening that the Sacramento Kings had fired head coach Mike Malone partway through his second season with the team. The team had dropped eight of their last 10 games and had lost an especially embarrassing game at home to the Pistons on Saturday in what appeared to be the final straw. Few coaching changes in the NBA are shocking anymore, but this one caught people by surprise because the recent struggles coincided with DeMarcus Cousins, the team's best player, missing the last nine games with viral meningitis. Given those circumstances, it's clear that the problems between Malone and the team ran deeper than the last three weeks.
Ty Corbin, the coach of the Jazz until the end of last season, has moved up from top assistant to interim coach, and that is reportedly for the rest of the season - though few people believe that to be the case.
So, what does this mean for bettors in the near future? Let's take a look at six key factors:
Owner needs to be less Jerry-Jones-like: Vivek Ranadive is the guy who saved basketball in Sacramento. The team looked certain to be heading to Seattle, but Ranadive stepped in, bought the team, and immediately started building a shiny new stadium. The problem is, though, that like Jones or Daniel Snyder, Ranadive doesn't just want to own the team - he wants to play with it like a toy. The only guy who has pulled that off is Mark Cuban, and it took a while for him to figure it out. Ranadive has crazy ideas, and he wants to be a part of everything. That doesn't work - especially when a guy doesn't have any background in basketball. If things are going to turn around for this team - starting with the next coaching hire - Ranadive needs to back off and let his basketball people run his basketball team.
Malone wouldn't just coach: Malone didn't deserve to be fired, but he isn't innocent here. He was a control freak, and he wouldn't just step back and coach. The rift between him and management and ownership seemed to open up when the team considered trading for Josh Smith. He was adamantly opposed to the move, and he let that be known to everyone who would listen. The coach's job is to coach the team he is given, though, and not pick it - especially early in a tenure and when working for a GM who didn't hire you. He forgot that, and it created insurmountable problems. If the next coach can learn his place - or negotiate a different arrangement - then we can be more optimistic.
Cousins and Rudy Gay were Malone guys: Malone spent part of the summer over in Europe supporting Cousins and Gay at the World Championships. He had worked really hard on these relationships, and the result was obvious - Gay's play was a pleasant surprise in Sacramento, and Cousins had matured from a spoiled brat into a budding superstar. This team will go nowhere this year without excellence from those two. If they pout about the change then the team could be doomed.
George Karl is looming - or Chris Mullin?: GM Pete D'Alessandro worked with Karl in Denver, and Karl is desperate to get back into the NBA. There is rampant speculation that Karl will get the nod - and sooner rather than later. There is also a rumor around that Mullin - a Kings legend and influential executive on the team - could have the job if he asked for it. With those two giants looming it will be very tough for Corbin to establish authority and find success.
Watch out for crazy systems: Ranadive made his money in the tech sector, and he views himself as an innovator. Part of the problems between him and Malone stemmed from his desire to experiment and Malone's unwillingness to play along. Ranadive reportedly wants to play a much faster style of play - something that seems like a poor idea with Gay and Cousins at your core. He also wants to play four guys on defense and have the fifth guy ready to cherry-pick points. (This is, of course, a ridiculous idea in the NBA where guys can pass and where open 3-pointers would be available on nearly every possession) The team's D-League affiliate in Reno has already been the site of wild experimentation. If Ranadive succeeds in getting a coach to try some of these things in the NBA then things could really get crazy - and ridiculous.
Nik Stauskas off to a lousy start: Management and ownership loved their first-round pick this year. Stauskas was not off to a good start at all under Malone, though. He had had just one really strong game and has struggled to find minutes. He is a pure shooter, but his percentages have been lousy, and he has second guessed open opportunities and looked for a pass far too often. Lack of development on this front didn't help Malone. If a new coach can help Stauskas settle in then the rookie could be a big asset for the new man in charge.
Read more articles by Trevor Whenham