NBA Handicapping: Injured Superstars
by Trevor Whenham - 1/8/2014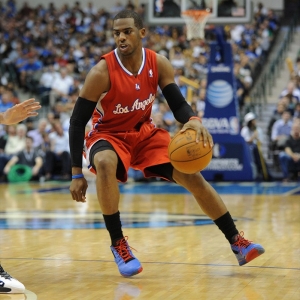 The Clippers get to endure an experience they would be completely fine with missing out on for the next six weeks or so — playing without their best player. Chris Paul is out with a shoulder injury, and he'll be gone for a while. They are far from the only team that has had to endure such a setback — the Bulls have made an art of it the last couple of years. When it does happen that the clear driving force of a team is lost for a while, though, it presents and interesting puzzle for handicappers.
The public is sure to react significantly when an injury occurs — especially early on. Handicappers need to determine if that action is warranted or if there is value in going against the public and more calmly evaluating the situation. Here are seven factors to consider when a true superstar is lost for a significant amount of time in the NBA:
How well had he been playing lately?: Perhaps more than any other league, players in the NBA can rest on their reputation well beyond when they are performing at a level to justify it. It is not uncommon for a player to be viewed as a superstar player, and even get an all-star berth or two, well beyond the time when they are playing particularly well. The first step in evaluating any situation like this, then, is to be sure that the player is a superstar in performance where it counts and not just in the hearts and minds of fans. There are any number of statistical approaches that you could take to doing this, but just be sure that you have come to the important conclusion that what the public thinks of the player is accurate.
Does his play drive the team, or complement it?: Even if the player is performing at a superstar level you can't be sure of the impact of his loss. Some star players are the driving force of their offense. They make things happen, and things run through them. Paul would fit in that category. Other guys — like big men, for example — might produce a lot themselves, but they don't have others as reliant on what they are doing for success. The more a player generates, the tougher he could be to replace.
Who will take his primary minutes?: In some cases this is an easy answer. The team has decent depth, and a clear replacement is in place and easy to evaluate. Other times, though, things aren't that simple. Maybe they don't have a backup who can eat all the minutes effectively. Or perhaps the backup is a different type of player than the injured star. Maybe the star isn't the first injured player the team has dealt with in the position. There is no bigger consideration for handicappers than this, so it warrants the most time and attention.
How is the depth?: It's not likely that a replacement player will be able to eat up all the minutes the superstar played. Almost as important as whom the main replacement will be, then, is how much depth the team has. Again, it's important here that you don't rely on reputation and perception but rather what can actually be reasonably expected from the depth players that will be asked for more than normal, and how your expectations match with likely public perceptions.
Transactions?: Sometimes a team will get aggressive to fill out their roster and try to make things work. The Clippers, for example, quickly signed Darius Morris to a 10-day contract, and they have been rumored to be looking at a wide range of free agents in various roles. Keeping a close eye on those transactions — in terms of what they mean for the line-up, what they tell us about the level of concern of the team, and how the public might react — is important for bettors.
What's the schedule?: Needless to say, it's easier for a team to deal with a superstar absence if they are playing weak teams than stronger ones, and it's easier at home than on the road. Over the course of a long injury a team will play a wide range of teams, so a long-term view isn't particularly helpful. What is most relevant is what the team faces in the days immediately following the injury. If the team faces an easy schedule they could ease into their new reality, but if it is too easy then the public will notice and the potential value in the situation could disappear.
Has the team played without him before?: You definitely need to check whether the player has missed significant time before. If he hasn't then the team is going to be experiencing the situation for the first time, and that could be a challenge for them. If he has missed time before, though, then you can look at how the team adjusted last time, what they did last time and whether they can effectively do the same thing again this year, and so on.
Read more articles by Trevor Whenham