NBA Handicapping: Can Sacramento Kings Sustain Hot Start?
by Trevor Whenham - 11/13/2014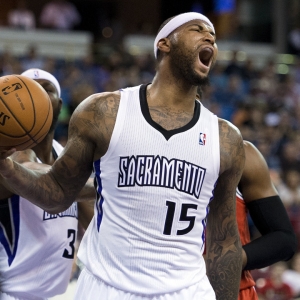 The Sacramento Kings appeared to be a cellar-dwelling team on paper heading into the season. They may still end up being one, but they certainly haven't started out playing like one. After an opening loss they reeled off five straight wins. They have lost two since and blew a huge early lead against the Mavs in the most recent game, so things are not entirely positive. Still, even in the losses they have played better in many ways than seemed likely. So, can the team keep up their strong early play? And, more importantly for our purposes, can they keep covering spreads at a profitable pace? Here are five factors to consider when looking at what fate has in store for the Kings:
Defensively sound: This team has been horrific at defense for at least the seven years it has not made the playoffs. Just terrible. Since hiring Michael Malone as head coach before last season, though, this team has improved on that front, and this year the steps forward are dramatic. They aren't the best defense in the league by any means, but they are dramatically better than they have been and could very easily end the year in or near the Top 10 in defensive efficiency. The team has bought into what Malone is trying to do on this front, and this is one area where the otherwise questionable addition of Darren Collison is paying off - his length is an asset to Malone's vision.
Cousins is a beast: DeMarcus Cousins took a major step forward last year in his fourth year as a pro. This year he is even better. There are very few centers in the league who can perform at the level that he has been at through eight games this year. While his skills are sharper than ever, what really stands out is his maturity - as in he finally has some. His biggest issue in the early stages of his career was that he was consistently tripping over his own stupidity. Now he is not only staying out of trouble more consistently, but he is actually acting as a leader. He is good enough that he can single-handedly carry this team a long way - if he decides he is ready to do so.
Getting to the line: This team does not shoot 3-pointers particularly well - or at least they haven't so far. They have more than made up for that, though, by their efficiency getting to the free throw line. They aren't just good at getting to the charity stripe - they are historically good. In fact, no team since 1998 has been as efficient in this regard as the Kings have been through their first eight games. Gay and Collison have really excelled on this front so far, but it has been a team-wide focus. It is very unlikely that they will remain as efficient as they have been so far, but they are going to be far above average at this, and it's a real positive for the team.
Gay is playing better with others: In Toronto, Rudy Gay was a disaster -- a ball hog who couldn't find the basket. It is no coincidence that the team got significantly better as soon as he left because the rest of the team was able to do what they are capable of. In Sacramento, though, Gay has been more effective. He doesn't hold on to the ball quite as often, and he is far more efficient overall than he has ever been. He's just a better player. It helps being in the lineup with a guy as good as Cousins - Gay can't feel like he has to do it all. It also feels like Gay gained some real maturity from this move to the Kings and from his time with the national team this summer. There is still time for him to revert to his frustrating, wildly-inefficient habits, but right now we are seeing more of the good Gay and less of the bad.
Ownership: Vivek Ranadive is not the most traditional of owners, but for the Kings that is a very good thing. He has been very bold since buying the team. He's overhauled the team's approach to almost everything and enthusiastically embraced analytics and stabilized a franchise that had been in turmoil. Now he is starting to build what will be by far the nicest building in the league - in a market that thought they were going to lose their team until he came along. You can question some of the moves he has made, but you can't question the positive impact of his approach. The team knows that he is for real and that he believes in them, and they have responded to that. Call it the Cuban effect - the Mavs have very often achieved to the upper edges of their capabilities.
Shooting guard woes: To this point we have been very positive, but not all has been sunshine and light this year. There were concerns coming into the season about shooting guard. Two years ago they used their first-round pick to take Ben McLemore. This year they added Nik Stauskas - another shooting guard. It seemed to be a move destined to add confusion and uncertainty. That hasn't been the case, but not for good reasons. McLemore hasn't been very good, but he has looked like an all-star compared to Stauskas, who has struggled horribly out of the gate. This team just does not have the depth or the talent to overcome insufficient contribution from a position as important offensively as the SG position is for an extended period of time. A lack of improvement here - in a hurry - will be tough to overcome.
We would like to offer you $60 of member's predictions free - no obligation, no sales people - you don't even have to enter credit card information. Click Here for $60 in free NBA predictions. Also, for a limited time only, you can get three handicappers NBA picks for the price of one! Click Here for more details!
Read more articles by Trevor Whenham