NBA Handicapping: Toronto Raptors One of NBA's Hottest Teams
by Trevor Whenham - 1/8/2014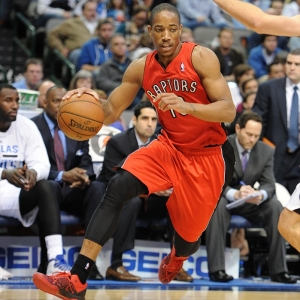 The Toronto Raptors have been one of the biggest surprises in the last month of the NBA season. They are 7-3, and though they have lost two straight, those have come at Miami and Indiana, so they are hardly cause for concern. Even more impressive for bettors, the Raptors covered the spreads in both of those losses and are a stellar 9-1 ATS in their last 10. It's not hard to make money betting on a team like that.
This is a team that still sits one game below .500 heading into their Wednesday night game against the Pistons, and they were an ugly 10-13 ATS before this hot streak. So, the questions that bettors need to ask are obvious: How are they doing it, and how long can they keep doing it? Let's take a look:
Rudy Gay: This is the only factor I am going to look at, because it really all comes down to this. This isn't going to be an exercise in picking on Gay, though I think he's easily one of the most overrated players in the NBA. You can't help but notice that this team is a whole new squad since trading away their most expensive player in a cost-cutting move, though. A team that was 7-12 this year while Gay was on the roster has gone 9-5 since he was traded to Sacramento on Dec. 9.
The team hasn't improved because Gay is a bad guy who was bringing the team down. He just wasn't a good fit for this Toronto team in any way. Gay is a very high-usage offensive player. He has never seen a shot he doesn't like, and when he is on the court, much of the offense goes through him. He is far from a great or efficient shooter, though, so when he is playing a lot of offensive possessions amount to nothing.
With him out of the lineup other players have taken over those offensive possessions, and they almost can't help but be more efficient. They also are inevitably going to be happier and more confident when they get more opportunities to shoot and contribute. Perhaps most significantly, when Gay was in the lineup the players knew he was the top option, and it was easy for them to sit back and let him do what he wanted. Now they have to take responsibility and ownership for the offense, and that is having a big impact. The team as a unit is probably playing above expectations offensively lately, but there is little doubt that this squad will be better overall offensively because of the new makeup.
Gay's departure also has an impact defensively. To say he was disinterested when the opponents had the ball would be kind. Too often, he just didn't care. With him out of the lineup, the overall defensive effort has been better, and matchups are better as well. Gay's starting minutes have been taken over by Terrence Ross, and he is a much more effective defender. Amir Johnson is a great defender, but he was too often left to pick up the mess that Gay had created. Without Gay around, Johnson has been much more obviously effective, and he has the potential to stay that way.
While the turnaround has been dramatic, and can largely be traced back to the departure of Gay both directly and indirectly, it isn't as straightforward as it may seem. The team is playing with an intensity and enthusiasm that has long been missing. Now it falls on the coaching staff — and a largely incompetent one at that — to maintain that enthusiasm through the long season and keep this team bought into what they are doing. That could be tough. There is also the chance for mixed messages and potentially more moves coming from the front office. When they dealt Gay it seemed obvious that they were tanking and looking towards the future — perhaps a future where Canadian Andrew Wiggins could be the star of the team. This success is a wrench in those plans, but it's not like they are going to be a real threat in the playoffs as they are — even if they can hold on to the division lead and host a first-round playoff series.
The front office obviously won't stand in the way of progress for this team, but it is quite possible that they won't necessarily make moves designed to help them succeed now. The players can't help but notice that kind of 'support,' and could react negatively.
It seems likely that this team can maintain their current level of play for a while now, and that will be useful for bettors. In the longer term, though, it still seems reasonable to be cautious regarding this squad. Brooklyn, Boston and New York are all capable of playing well enough to make a bid to win this impossibly lousy division. When that happens, it seems hard to believe that Toronto can hold up and maintain their current supremacy.
Read more articles by Trevor Whenham