NCAA Basketball Betting 3-Point Play: Three Interesting Opening Lines Saturday
by Alan Matthews - 12/26/2014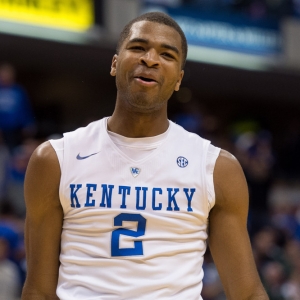 With college basketball's conference schedule set to begin, welcome to the first NCAA 3-Point Play story here at Doc's. Every weekday, for the most part, I will provide you with opening lines on three next-day games of interest -- mostly involving ranked teams but not always -- and give you my recommendations. Now that the NFL regular season is over and the college football bowl season will be soon, it's really time to start focusing on college hoops through March Madness. Here are three choices for Saturday.
No. 1 Kentucky at No. 4 Louisville (+1)
There have been some nice nonconference games in 2014, but this one clearly is the marquee matchup of them all. I hope you aren't driving through the state of Kentucky from 2-4 p.m. ET on Saturday because you aren't going to get any help at stores or gas stations or from the police, etc. That state will be totally shut down for this. Kentucky has been a joke thus far, leading the NCAA in average margin of victory. I mean, beating Kansas by 32? North Carolina by 14? UCLA by 39? That's absurd. The team that played UK the best was little Columbia. And that game is why I believe Kentucky won't run the table. It's hard to stay focused for 30-some regular-season games. That said, if Kentucky doesn't lose here I can't pinpoint a loss before the NCAA Tournament. The SEC is lousy, without another ranked team. Florida isn't its usual self. The second-best team right now in the conference is probably Arkansas, and the Cats don't have to go to Fayetteville. The two games to circle would be back-to-back: Feb. 7 at Florida and Feb. 10 at LSU. No question Kentucky will be favored in every game.
Louisville has beaten every team by double digits except one: 64-55 against Ohio State on Dec. 2 in the ACC/Big Ten Challenge. That's the only ranked team that Louisville has played. The Cardinals did play a decent Indiana team and routed the Hoosiers by 20. U of L has a guy who could give that huge Kentucky frontcourt trouble in potential ACC Player of the Year Montrezl Harrell. He averages 16.7 points and 10.0 rebounds. Harrell has to be the best player on the floor for Louisville to win. At Louisville, Rick Pitino is just 1-6 against John Calipari since Coach Cal arrived in Lexington. That win was the last meeting in Louisville in 2012, but that has been Calipari's worst team. This might be his best.
Key trends: The underdog is 6-0 ATS in the past six meetings. Louisville has covered one of its past eight nonconference games.
Why take the points: The young Cats have yet to play a true road game and that matters.
No. 8 Gonzaga at BYU (+4.5)
Coach Mark Few has had some excellent Gonzaga teams, to be sure, but this might be his best. The Zags look to be the second-best team out West. Their only loss was to the likely best one: Arizona. The Cats beat visiting Gonzaga 66-63 in overtime on Dec. 6. Otherwise, the Zags have rolled just about everyone, including a 16-point win over a ranked SMU team and 13-point win at UCLA. Few has welcomed two transfers who are having huge impacts in Kyle Wiltjer and Byron Wesley. Wiltjer, from Kentucky, leads the team in scoring at 16.8 points per game in just 25.3 minutes. Wesley, from USC, is second at 11.8 points per game. This is a very veteran team.
It's the West Coast Conference opener for the teams, and it's the type of game BYU needs to win to bolster the Cougars' NCAA Tournament resume for an at-large bid. The Cougars lead the nation in scoring at 88.0 points per game. Their three losses all are pretty acceptable: 92-87 in double overtime against San Diego State in Hawaii, 87-85 in overtime to Purdue also in Hawaii, and 65-61 at home to ranked Utah. Tyler Haws' is the Cougars star, ranking No. 5 nationally in scoring at 22.3 points per game.
Key trends: Gonzaga has covered eight of its past 12 vs. teams with a winning record. BYU is 1-5 ATS in its past six at home. The Zags have failed to cover their past four at BYU.
Why take the points: BYU was 1-2 against Gonzaga last year but won the game in Provo, 73-65. This is clearly the game of the season there, and the Cougars will rise to the occasion.
Georgetown vs. Indiana (+3)
This game is from Madison Square Garden and the nonconference finale for both. Indiana should get into the Top 25 with a victory, yet Coach Tom Crean still hears criticism. The latest: Celtics coach Brad Stevens could replace Crean if Crean is fired after this season (Stevens is not leaving the Celtics for Indiana, sorry Hoosier fans). I can't explain Indiana's loss to Eastern Washington, but there's no shame in losing to Louisville. IU has beaten ranked teams SMU and Butler. The Hoosiers have the Big Ten's top freshman in James Blackmon Jr. He leads all freshmen nationally in scoring at 17.6 points per game. Indiana is a good offensive team, ranking No. 4 nationally in scoring and No. 5 in 3-point shooting.
Georgetown definitely needs a quality nonconference win with just a 7-3 record. But, again, the Hoyas' losses are acceptable, coming to Wisconsin, Butler and Kansas, and all three were close. Georgetown's best win is over Florida. The Hoyas are No. 26 in both polls, meaning they have the most "others receiving votes." The Hoyas are nowhere near the offensive force that Indiana is, but Georgetown is much better defensively. The Hoyas also have mammoth center Joshua Smith to patrol the paint. He has stayed largely in shape -- listed at 6-10, 350 pounds -- and is averaging 12.7 points and 6.5 rebounds.
Key trends: Indiana is 5-1 ATS in its past six Saturday games. Georgetown has covered one of its past six after a win.
Why give the points: It's basically a home game for the Hoyas, and I don't think Indiana can compete in the post or on defense.
Read more articles by Alan Matthews
---
Most Recent College Basketball Handicapping