NCAA Basketball Betting and Handicapping: Scouting the Week Ahead
by Alan Matthews - 3/11/2014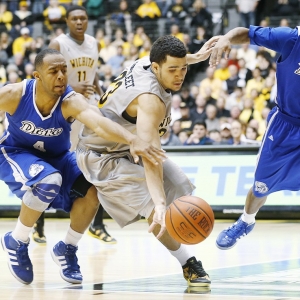 It's Championship Week, or whatever clever little moniker ESPN is using these days for conference tournament action. All the legitimate National Championship contenders are simply playing for seeding. It would appear that three of the top four seeds in the Big Dance are occupied by Florida, Wichita State and Arizona. The Shockers, shockingly, could be the No. 1 overall seed should the Gators lose early in the SEC Tournament. WSU is already through the Missouri Valley Conference Tournament with its unbeaten record intact. I wonder if all that time off could be a bad thing come NCAA Tournament time?
The fourth No. 1 seed is likely Villanova's to lose. I say that because Duke's loss March 5 at Wake Forest probably cost the Blue Devils a shot. Ditto Virginia's loss in the regular-season finale at Maryland. Villanova can't beat Creighton but handled everyone else in the Big East. Kansas' shot for a No. 1 seed is likely a goner after the Jayhawks dropped their season finale at West Virginia and with the news that star freshman center Joel Embiid has a stress fracture in his back. He will miss the Big 12 Tournament and at least the first two rounds of the Big Dance. That's huge. KU should win its first NCAA Tournament game against a No. 14-type seed without Embiid, but the Jayhawks better hope they don't get a solid team with size in the Round of 32. I'm a bit surprised KU is still the +600 second-favorite to win the national title on Sportsbook.ag. I'd drop the Jayhawks a bit now.
Here is a look at some of the major conference tournaments, Sportsbook.ag odds to win those tournaments and which bubble teams need a few wins.
AAC
The American Athletic Conference will have five in the Big Dance: Louisville (-140), Cincinnati (+400), SMU (+400), Memphis (+450) and UConn (+1200). That's it, no real bubble teams. I wonder if the Cardinals could steal a No. 1 seed by taking the tournament title? They closed winning nine of 10 and are back up to No. 5 in the polls.
ACC
Duke is the +150 favorite, followed by UVa (+400) and Syracuse (+450). I do think the Cavaliers are a bit overrated as they did most of their damage at home. Because the ACC Tournament is in Greensboro, N.C., I'm sure either Duke or North Carolina (+700) wins it. They are on opposite sides of the bracket. Those four schools mentioned are all NCAA Tournament sure things. The only bubble team is Pittsburgh (23-8, 11-7), which lost four of its final seven games. The Panthers haven't beaten a ranked team all year and better not lose their tournament opener to Wake Forest/Notre Dame.
Big East
All signs point to a Villanova (+150) rematch with Creighton (+175) and likely national player of the year Doug McDermott in the final. The Bluejays smoked Villanova twice during the season. Xavier (+1000) is on ESPN's "Last Four Byes" in terms of having to play in the First Four. St. John's (+600), Georgetown (+800) and Providence (+1200) are all on the wrong side of the bubble.
Big Ten
Michigan could steal that final No. 1 seed if the Wolverines (+350) add the Big Ten Tournament crown to their outright regular-season championship. They enter on a five-game winning streak, but I believe UM's lack of size catches up to it sooner or later. I still say Michigan State (+350) is the best team in that conference. Those two, Wisconsin (+400), Nebraska (+1500), Ohio State (+450) and Iowa (+450) seem safe for the Big Dance. Minnesota (+2000) may need to at least reach the championship game. It opens the Big Ten tournament Thursday against Penn State.
Big 12
I don't see Kansas (+200) winning this tournament without Embiid. even though it's in Kansas City. In fact, I see KU losing on Thursday to Oklahoma State (+400), presuming the Pokes take care of business Wednesday against Texas Tech. OSU's late-season surge should get it in unless it loses to the Red Raiders. Baylor (+500) also is surging but doesn't want to play with fire by losing its tournament opener to TCU. ESPN has seven Big 12 teams in with really no bubble club.
Pac-12
ESPN has six teams in the Big Dance: Arizona (-120), UCLA (+450), Oregon (+700), Arizona State (+1000), Stanford (+1000) and Colorado (+1500). The Cardinal are considered a bubble team for having to play in the First Four. They better not lose Wednesday to Washington State. California (+1200) got a big overtime win against Colorado in the regular-season finale and handed Arizona its first loss of the year. But the Bears are currently among the "First Four Out."
SEC
You wonder if Billy Donovan would prefer his Gators (-130) lose instead of carrying a 26-game winning streak into the Big Dance and the bulls-eye of the favored role. The thing I'm watching here is what Kentucky (+400) does. The Cats are in the NCAAs but have lost three of four. They still probably play UF in the championship game because the SEC is lousy. ESPN also has Tennessee (+500) and Arkansas (+1500) as two of the "Last Four In." Both could use two wins at a minimum. Missouri (+2500) is in the "Next Four Out."
Doc's Sports has the best group of March Madness handicappers on the planet with our awesome Advisory Board lineup of experts. New clients can try out March Madness picks for free from any Advisory Board handicapper on the Web site. Click here to get two days of college basketball picks for free - no hassle and no credit card needed.
Read more articles by Alan Matthews
---
Most Recent College Basketball Handicapping