NCAA Football Betting: Fading the Top 25 Weekly Free Picks
by Aaron Smith - 12/2/2014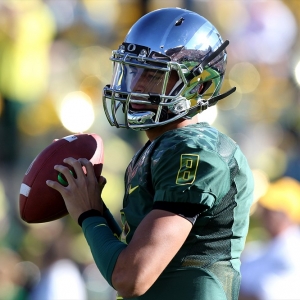 Welcome to the final edition of the Fading the Top 25 Weekly report. Last week's Fade the Top 25 selections went 2-1 to put the picks into the green for the first time all year. Some poor plays early in the year dug us a significant hole, but consistent profits down the stretch have finally brought us into the green. Last week's winning picks were on Florida +7.5 and Alabama -9.5. The lone loser from last week was Texas +7. The Longhorns didn't show up to play, and TCU rolled to a win. Alabama ended up on top in what was an absolutely wild Iron Bowl. Florida had many chances to win outright, but they came up just short. That's been a common theme in teams who face Florida State this season.
This has been the first year we have tracked how the Top 25 fare against the spread, and it has been a very interesting experiment. The thinking behind this weekly article was to track how top teams do ATS since most of the attention in the media is paid solely on how a team does straight up. Doc's Sports plans on doing this same article once again next season. It's a great way to monitor how the top teams do against the number over the course of the season.
Last week the Top 25 went an even 12-12 (Oklahoma had a bye week). For the year as a whole, the Top 25 teams have covered a little more than 48 percent of the time while failing to cover almost 51 percent of the time. This isn't a huge spread, but it does show that blindly backing top teams can be dangerous for your bankroll.
It's Conference Championship week in college football. Since the Big 12 has no title game, they will be playing regular-season games. With an abbreviated schedule, there won't be as many Fade the Top 25 selections this week.
Play #1- Georgia Tech +4.5 (#126) vs. Florida State: Florida State has a tough task ahead of them this week. The Seminoles are coming off a very hard-fought rivalry win over Florida. That was a physical game, and it will take some time to recover. Now, they must play against a team that is really tough to prepare for in one week. Georgia Tech's triple-option offense is tremendous with Justin Thomas under center. Paul Johnson's team will try to move the ball on the ground with the option and keep Florida State's offense off the field. The Georgia Tech defense has been up and down all year, but they have been much better in recent weeks. Their outings against Clemson and Georgia give us plenty of reasons to be encouraged. It certainly wouldn't be surprising if Florida State ends up pulling this game out, because that's what they've done all year long. At the same time, it won't be surprising if it's by four points or less. Florida State has been a major money-burner all year long. The Seminoles are 3-10 ATS in their last 13 games overall. Georgia Tech is a tough matchup, and we'll fade the Seminoles for a second straight week.
Play #2- Arizona +14.5 (#107) vs. Oregon: The last two times these teams have met, Arizona has won outright as an underdog of 20.5 and 21.5 points, respectively. The Wildcats are unlikely to be able to pull off another outright win over Oregon, but staying within two touchdowns isn't too much to ask. Rich Rodriguez has done an excellent job with this Wildcats program. Arizona is playing their best football of the season right now. Their dominating win at Utah (a very tough place to play) two weeks ago told me a lot about this team. The Wildcats have obviously found a formula that works well against Oregon. They have done a better job than most containing Marcus Mariota, and that's obviously a major key. Mariota will have a better game here, but the Oregon defense isn't likely to shut down Arizona. This Ducks defense ranks No. 89 in the nation in total defense. Oregon wins this one but fails to cover the spread.
We'll see you back here next season for the college football Fading the Top 25 weekly report!
Fade the Top 25 Selections Year to Date: 24 Wins 21 Losses ($90)
Overall Top 25 ATS Record Last Week- 12 Wins 12 Losses
Overall Top 25 ATS Record This Season - 144 Wins (48.3%) 151 Losses (50.7%) 3 Ties (1.0%)
Read more articles by Aaron Smith