NFL Survivor Pool Picks and Expert Advice: Week 10
by Matt Severance - 11/5/2014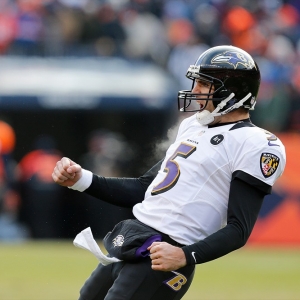 So how many of you were sweating profusely when the Oakland Raiders rallied from a 24-3 halftime deficit in Seattle on Sunday to pull within 30-24 on a 1-yard TD pass from Derek Carr with 1:52 left? And the Raiders had a legitimate chance to recover the onside kick as Sebastian Janikowski's boot was misplayed by Seattle's Cooper Helfet, but Jermaine Kearse fell on the loose ball. I'm certainly not saying Oakland would have scored the winning touchdown had it recovered the kick, but I really would have liked to have seen the opportunity.
I did have Seattle as my Lock of the Week, but that didn't exactly require a PhD to pick. I mentioned perhaps staying away because the vast majority of your pool would lean the same way and sometimes it's smart to play defense in a Survivor Pool, if you get my drift. However, one of my two Extremely Confident picks was upset: San Francisco at home to St. Louis. That stunned me and probably did knock more than a few people out of your competition. It was really the only pool-shaking upset. Frankly, you may want to ignore all my recommendations for a while. For the second straight week I left Ben Roethlisberger on my fantasy bench (hey, I have Drew Brees!) in Week 9. For the second straight week, he threw six touchdown passes. For the second straight week, I lost when I would have won. DOH!
On the bye in Week 10 are Indianapolis. Minnesota, New England, San Diego, Washington and Houston. Like last week, there appear to be three clear-cut favorites with the other games all having the potential to go either way. Still, I'm leaning every home team (not including Jags' "home" game across the pond) but one.
Lock of the Week
Baltimore vs. Tennessee: As competitive as the AFC North is, the Ravens absolutely can't afford an upset loss here, and I find it hard to imagine they would lose. Baltimore enters on a two-game losing streak in which its defense allowed a combined 70 points, but those were on the road. Tennessee, meanwhile, has topped 20 points only twice this year. Yeah, the Titans come out of a bye week, but I have zero confidence in Zach Mettenberger. Plus, Baltimore can go full bore as its bye week is up next.
Extremely Confident
Denver at Oakland: I really have no doubt that Denver wins, but like last week the Raiders could put a scare into folks. Why? The Broncos are going to be a bit deflated off last week's one-sided loss in New England. After a stretch playing the 49ers, Chargers and Patriots, how can Denver not overlook the winless Raiders? For what it's worth, Denver may get back running back Montee Ball this week, but he's expected to back up Ronnie Hillman.
Seattle vs. NY Giants: Something is obviously off with the Super Bowl Champions, but the defense has stepped up the past two games. Yes, the Raiders scored 24 points last week, but I believe that Seattle simply lost interest in the second half. Tough trip across the country for the Giants off a short week and getting pounded Monday night at home against the Colts.
Cincinnati vs. Cleveland (Thursday): I pondered this as a Lock option, but you should always stay away from the quick turnaround matchups as well as rivalry games. Plus, the Bengals are expected to be down three starters: running back, Gio Bernard (although rookie backup Jeremy Hill is a fine replacement), offensive tackle Andre Smith and cornerback Leon Hall.
Detroit vs. Miami: I don't know what to make of either team. Legitimate contenders for its conference title? Frauds? Miami is probably the most-improved team in the NFL the past three weeks. The Lions will get Calvin Johnson and Reggie Bush back and come off a bye week.
Equally Unconfident
Arizona vs. St. Louis: Will be honest in that I pondered this in my Upset of the Week. The Cardinals have the best record in the NFL and have won four straight. My worry about that winning streak is the QBs the Cards faced were Kirk Cousins, Derek Carr, Nick Foles (not near what he was in 2013) and Brandon Weeden. Not saying the Rams' Austin Davis is much better than those guys, but St. Louis already has beaten Seattle and San Francisco. Just smells like a letdown game for the Cards as they might be feeling a bit too good about themselves.
Green Bay vs. Chicago: OK, I'm trying to be impartial here because I'm a Bears fan but also a really pi**ed off one. Why do I think they have a shot even though the Bears simply never beat Aaron Rodgers? Well, Chicago's three wins this year are all on the road and games that started outside the 1 p.m. Eastern Sunday window. If they lose this to fall to 3-6, the playoffs are gone, and so might be Marc Trestman after the year. I also officially switch to the Bulls and Blackhawks the rest of the year.
Buffalo vs. Kansas City: This could be a very important game for wild-card implications with both teams at 5-3. The Bills are 3-1 under Kyle Orton, and that loss came against red-hot New England. Buffalo also comes off a bye week. The Chiefs have won three straight, all by at least 14 points. This marks the third straight year the Chiefs visit Buffalo. They had lost six straight road regular season or playoff games in Buffalo dating to 1986 before winning 23-13 last season.
Dallas at Jacksonville (in London): Just stay away from this because of Tony Romo's status. I'd probably lean Jaguars if Brandon Weeden has to start again.
New Orleans vs. San Francisco: Saints are of course always nearly impossible to beat in the Superdome, but this could be the 49ers' season. How does the San Francisco offense manage just 17 points in Denver in Week 7 and then 10 last week off a bye at home against the Rams? Something is really amiss out there. Maybe the players have tuned out Jim Harbaugh. The team can't afford to fall to 4-5, not with a cross-country early start next week at the Giants plus two games still left with Seattle.
Philadelphia vs. Carolina (Monday): Do you really trust Mark Sanchez that much? I'm not a fan of Cam Newton, but I trust him more. Maybe any quarterback will succeed in Chip Kelly's system, but I want that proven over a few games first.
Upset of the Week
NY Jets vs. Pittsburgh: Perhaps I'm taking the Jets here simply out of bitterness over Roethlisberger (still not playing you this week, pal!). All I'm saying is that in Pittsburgh's three-game winning streak and offensive explosion, those were all at home. I'll just remind you of the team's last road game: 31-10 loss in Cleveland. Michael Vick gives the Jets a realistic shot here in what is New York's only home game in a month (road last week, then a bye after this followed by trip to Buffalo).
Yawn!
Tampa Bay vs. Atlanta: Thought both would be much improved this year. Oops. The Bucs are going back to Josh McCown over Mike Glennon at quarterback. Maybe they should also go back to Greg Schiano over Lovie Smith. The Falcons are 0-4 on the road, losing all by at least 10 points. They do come off a bye week. I'm a tad surprised Coach Mike Smith wasn't fired during the week off. Smith is 6-18 over his last 24 games after going 56-24 over his first 80 contests with the Falcons.
Doc's Sports has been a leader in NFL handicapping for more than 40 years. Now we have a great offer for new clients. Get $60 worth of NFL picks absolutely free. No obligation. Nothing else to buy. You don't even need a credit card. Just click here to get started.