NFL Survivor Pool Picks and Expert Advice: Week 14
by Matt Severance - 12/3/2014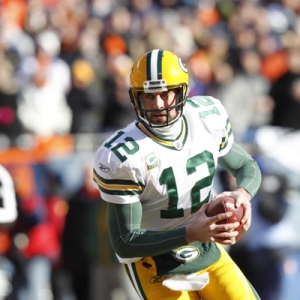 I guess I had nothing to worry about with perhaps my shakiest Lock of the Week ever in a Survivor Pool competition this late in an NFL season. I was not super comfortable taking the 4-7 Rams last week at home against Oakland, but it was a 52-0 whitewash. Look out next season for St. Louis if it can get a quarterback! The defense is in place and so, apparently, is a game-breaking running back in rookie Tre Mason.
There were really no huge upsets in Week 13. Tampa Bay probably should have beaten visiting Cincinnati, and that was my projected Upset of the Week. However, the Bucs are literally the dumbest team in the NFL this season and lost because they apparently don't know that you only get to have 11 men and not 12 on the field at a time. I really don't miss Lovie Smith as coach of the Bears.
The Jets nearly pulled a big upset Monday night against Miami by going old school and rushing the ball a whopping 49 times, but of course Gang Green folded when it mattered. I warned you against the Fins there. I was moderately surprised that New Orleans won at Pittsburgh and San Diego at Baltimore, but certainly you didn't take the road Saints or Chargers last week. I was not at all surprised that fading Arizona lost at Atlanta. The Cardinals are starting to regress to the mean.
A ton of good matchups this week as the NFL rounds the quarter-pole on the 2014 season with 26 teams mathematically alive for a playoff spot. Twenty-one are either currently in the playoffs or within one game of a spot. The AFC is a total mess, but in a fun way.
Green Bay, Denver and New Orleans are the biggest Week 14 favorites but each also facing possible trap games.
Lock of the Week
Green Bay vs. Atlanta (Monday): I have used the Packers already and I can smell a bit of a letdown game here after the big win over New England, but I don't see a way that Atlanta actually goes into Lambeau and wins even though the Falcons are playing better and should get back receiver Roddy White off injury. The Pack, especially Aaron Rodgers, have been unbelievable at home and they still have plenty to play for, namely the top seed in the NFC. If Green Bay can avoid a trip to Seattle in these playoffs, the Pack are the team to beat in the conference.
Extremely Confident
San Francisco at Oakland: The Raiders got that one win out of the way, so they can go ahead and lie down the rest of the season to get the No. 1 overall pick. The 49ers are in major desperation mode and would miss the playoffs if they started today. They 100 percent must win this game -- don't you dare look ahead to next week at Seattle -- and should without much trouble even though the offense hasn't looked good in nearly a month. Niners coach Jim Harbaugh can scout his next team here (sorry Michigan fans).
Detroit vs. Tampa Bay: You may be tempted to use Detroit this week as your No. 1 overall choice, and on paper that seems logical. After a lousy first quarter on Thanksgiving vs. Chicago, the Lions dominated the rest of the way. Matthew Stafford and Calvin Johnson finally looked like themselves. Detroit also gets a few extra days rest for this one, and the Bucs flat-out stink. However, in Week 12 last year the Lions hosted a bad Tampa Bay team and sucked me in. Of course, Tampa won 24-21. Just saying: Never trust Detroit 100 percent.
Denver vs. Buffalo: The Broncos aren't the dominant team they were a season ago but appear to have their mojo back following wins over Miami and Kansas City. They are now back in a tie with New England for the best record in the AFC, so Denver has every reason to keep the pedal to the metal to try and get that top overall seed and avoid a trip back to Foxboro (Pats hold tiebreaker) in the playoffs. I do think this will be closer than people think as Buffalo has a very good defense.
New Orleans vs. Carolina: Every time I think I'm out, they pull me back in! No, I'm not taking Godfather III, but the Saints. They were my NFC Super Bowl pick in the preseason and still could make the playoffs at 5-7 as they co-lead the NFC South with Atlanta. I don't know what to make of this team. It had lost three straight at home then went to Pittsburgh last Sunday and played great in a 35-32 upset. Win here, and with Atlanta expected to lose Monday, and New Orleans has first place to itself. The Panthers have quit, losers of six straight. Ron Rivera could be fired a year after winning NFL Coach of the Year. If you give Cam Newton a huge extension, you aren't paying attention.
Equally Unconfident
Dallas at Chicago (Thursday): Just when you start to trust the Cowboys, they lay an egg like they did on Thanksgiving. But then all their eggs have been at home, while Dallas is 5-0 on the road, the only team in the NFL without an away loss. My Bears flat-out blow chunks, but it wouldn't surprise me if they pull the upset here just to ruin draft position and save Marc Trestman's job. Please don't!
Cincinnati vs. Pittsburgh: The Steelers are pretty schizophrenic as they looked terrible in last week's home loss to New Orleans. They are expected to get a few defensive starters back off injury vs. the Bengals, but Pittsburgh has not played well on the road this year at all. The Bengals have won three straight, although they played worse in each one. This is the first meeting of the season, and if Cincy wins it should take the AFC North.
St. Louis at Washington: I was one of those who liked the Rams as a dark-horse playoff team this season, at least until Sam Bradford blew out his paper mache knee again in the preseason. St. Louis has some incredibly impressive wins this year but also baffling losses. Considering the team has alternated losses and wins in the past eight, it's due a defeat here even though Washington is terrible. Shaun Hill vs. Colt McCoy here. Fun stuff.
Miami vs. Baltimore: Huge, huge game in terms of wild-card implications as I don't think the loser makes it. These are two of six 7-5 teams in the AFC, with the Dolphins holding down the final playoff spot currently and Baltimore at No. 9 overall in the conference. The Ravens are really going to regret blowing that late 10-point home lead to San Diego last Sunday. The Dolphins did something they haven't done much in recent years on Monday: rallied for a win on the road. It wasn't pretty vs. the Jets, but that doesn't matter.
Indianapolis at Cleveland: I'm assuming Johnny Manziel starts here. I have no statistical reason for thinking that the Manziel-led Browns could upset Andrew Luck's Colts, but it would make some sort of karmic sense, wouldn't? Plus, you can see that being the lead story on NFL Primetime on Sunday night and all that's talked about next week. If Brian Hoyer starts, Colts should win.
Arizona vs. Kansas City: Cards coach Bruce Arians recently said he remains committed to Drew Stanton as his quarterback. Who else is he going to play? Logan Thomas? Ryan Lindley? Neil Lomax? For a while there former Michigan State signal-callers ruled the NFL! Not so much any longer. Stanton simply isn't very good, plus Arizona will for sure be without excellent safety Tyrann Mathieu and probably running back Andre Ellington in this one. I only pick Arizona to win because of its defense as I don't see the Chiefs doing a lot offensively, although a K.C. victory surprises me none.
Seattle at Philadelphia: Flip a coin here. Never easy for a West Coast team to play on the East Coast, but at least this isn't a 10 a.m. Pacific time start for the Seahawks. Seattle's defense has been dominant in winning two straight, but the Eagles' attack will be a bit tougher to slow than that of Arizona and San Francisco, which each managed just three points vs. Seattle. The Eagles also are unbeaten at home.
San Diego vs. New England: Flip a coin here too. The Patriots almost never lose back-to-back games, and it's not like they didn't play well last Sunday in Green Bay. The Chargers still have a shot at the AFC West title but have a murderous final four games. I'm not sure if they are lucky or good in winning three straight by a combined 11 points. This should be a shootout on Sunday night, that's about all I'm sure of.
Upset of the Week
Jacksonville vs. Houston: Ryan Fitzpatrick threw six touchdown passes last week for the Texans, possibly the most unlikely six-TD game in NFL history. Thus to get back to his usual statistical two-game average, Fitz will throw minus-4.5 touchdowns this week. Guess that means plenty of defensive scores for the Jags. Jacksonville actually swept Houston last season.
Yawn!
Tennessee vs. NY Giants: Teams on a combined 13-game losing streak here. I'd rather watch reruns of "Hee Haw" from Nashville than this game.
Minnesota vs. NY Jets: I'm thoroughly enjoying my New York hatred these days with the sad state of the football teams (and basketball teams ... and baseball teams). Unlike the Giants, at least the Jets -- who are on a short week -- are playing hard for their lame-duck coach. If the Vikings weren't starting a rookie quarterback, I would have them under Extremely Confident.
Doc's Sports Handicapping Service wants to offer you $60 worth of free, no obligation member's picks. You don't even need a credit card to sign up and get started. Click here now.