NFL Survivor Pool Picks and Expert Advice: Week 16
by Matt Severance - 12/17/2014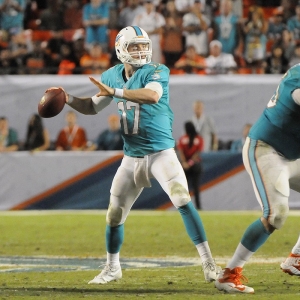 Here's hoping that Week 16 is doubly profitable for you just as I'm hoping it is for me: Winning your fantasy football league championship (nearly all leagues have their championship game this week) and your Survivor Pool. Thank you Drew Brees for your big game on Monday night against my Bears as that got me into my fantasy final. Sad I root against the Bears these days, but it's the most unlikable Chicago sports team in years. But let's not get off topic.
There are still eight playoff berths available in the NFL, including every division title in the NFC. That means every game matters this week except for two: Titans-Jaguars and Giants-Rams. That's a good thing for Survivor Pool (and fantasy football) purposes because you know coaches are still going to play their starters and to win. It's pretty rare to have 14 games of significance this late in the season.
Last week my lock was Baltimore at home against Jacksonville, and the Ravens didn't play particularly well in a 20-12 victory. I'll take it. I don't believe there was a big enough upset last week to shake things up in your Survivor Pool. I actually called Buffalo's home win against Green Bay as my Upset of the Week -- the Bills would be a scary playoff team right now with that excellent defense. Alas, they are unlikely to end the NFL's longest postseason drought.
Note that there are two Saturday games this week, and it's also the final week of Thursday and Monday night games. The season flew by.
Lock of the Week
Miami vs. Minnesota: I will admit I don't love this because the Dolphins went into a late-season fade last season to cost themselves a playoff spot and they are in the middle of another one, having lost two straight. Miami isn't officially eliminated from the playoffs but would need a miracle to get in -- Coach Joe Philbin will be fired, guaranteed. The Vikings haven't been very good on the road, as one would expect with a rookie quarterback. Plus, maybe they are out partying in South Beach on Saturday night.
Extremely Confident
Buffalo at Oakland: I was tempted to move the Bills up to the Lock of the Week, and if this game were in Buffalo instead of the team having to travel cross country I would. I could see it being a bit of a letdown game after that upset of the Packers last week where the Buffalo defense made Aaron Rodgers look like Jay Cutler. FYI: That's not a compliment. Still, the Bills have to win to stay alive and should.
Seattle at Arizona: Seattle is clearly the best team in the NFC now and it can see home-field advantage throughout by winning its final two games (needs Dallas to lose one). I think that excellent defense might have just a tad bit of success against Cardinals third-string QB Ryan Lindley.
Detroit at Chicago: I'm not even going to talk about the Bears other than this better be the final home game for Coach Marc Trestman and his entire staff as well as Cutler. Sadly, Cutler makes too much money, so he'll be back next season to torment me. The Lions have lost their past two road games and might be peeking ahead to Week 17's potentially huge matchup in Green Bay, but the Bears have given up.
Baltimore at Houston: If you haven't used the Ravens yet, feel free to here as they will face either Case Keenum or Thad Lewis at quarterback for Houston. Enough said. Maybe the Texans should just use J.J. Watt there. He can do everything else.
New Orleans vs. Atlanta: The Saints will win the NFC South with a victory and Carolina loss to the Browns. I think the "good" Saints will show up, not the team that has lost four straight at the Superdome. Brees looked great on Monday, and the Atlanta pass defense is actually worse than Chicago's. Come on Drew, have another big game!
Green Bay at Tampa Bay: I would say this might be a trap game if the Packers hadn't lost in Buffalo last week. No way they lose twice in a row, even though the Packers have been rather average for the most part away from Lambeau Field.
New England at NY Jets: Leave it to the Jets to win this game and drop further down in the draft. Nah, won't happen. The Patriots still have motivation to ensure the top overall seed in the AFC. I do think this will be closer than people expect because Gang Green gets fired up to face the Pats.
Equally Unconfident
San Francisco vs. San Diego (Saturday): I don't know what to make of this game. Clearly the 49ers are more talented, but they appear to have tuned out lame-duck coach Jim Harbaugh. The Bolts have to win to keep their playoff hopes alive but won't have top receiver Keenan Allen.
Carolina vs. Cleveland: I would move Carolina up a category if Cam Newton was for sure playing, but he's still up in the air following last week's car accident. Definitely don't trust Derek Anderson. That said, I'd take him right now over Johnny Manziel after how bad the Heisman winner looked in his first NFL start last week.
Pittsburgh vs. Kansas City: The Steelers are in the playoffs with a win, but the Chiefs HAVE to win to stay alive. Always be wary of a desperate team.
Dallas vs. Indianapolis: I would have had this game in this category regardless, but now I have no idea whether the Cowboys will win because of the uncertain status of star running back DeMarco Murray. How could you possibly hold on to the football with a cast on a broken hand? But the Cowboys have to play him if he can go because Dallas could still miss the playoffs with consecutive losses to close the season. The Cowboys have lost three straight at Jerry Jones' playpen.
Cincinnati vs. Denver (Monday): Flip a coin here, but the Broncos haven't looked great for a while -- especially Peyton Manning. The Bengals ran the table at home last season but have lost their past two there this year. The Broncos clinch a first-round playoff bye with a win, while the Bengals clinch a playoff berth with one. Nice way to end the Monday Night Football schedule; it almost makes up for the Thursday game.
Upset of the Week
Philadelphia at Washington (Saturday): Mark Sanchez is starting to show why the Jets got rid of him, with his fourth two-interception game already last week in the home loss to Dallas. I actually trust Robert Griffin III more than Sanchez, which is scary. Look for a big game from Redskins receiver DeSean Jackson, who wants to stick it to his former team again. He had an 81-yard touchdown catch against the Eagles in a Week 3 close loss in Philly.
Yawn!
Jacksonville vs. Tennessee (Thursday): Worst Thursday night NFL Network matchup ever? Worst prime-time game this decade? If this ugly game draws big ratings, then the NFL is truly king. I'll be watching the NBA. It benefits both two-win teams to lose to improve potential draft position.
St. Louis vs. NY Giants: I really have nothing to say about this game other than it's the Rams' home finale and that's why I would lean them.
Doc's Sports has been successfully handicapping the NFL for years - more than four decades in the business - and wants to give new clients a chance to try our service for free. Click here for the hassle-free sign up and get $60 in free NFL picks today . Also, get three handicappers for the price of one when you sign up for a full-season football package! Click Here for details.