NFL Survivor Pools Strategy Advice and Predictions: Week 3
by Trevor Whenham - 9/15/2014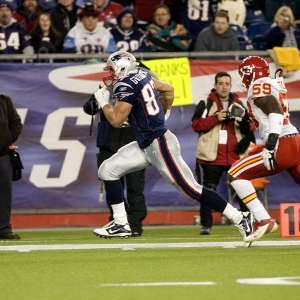 If you are still alive and going strong in your survivor pool then you should probably buy Brian Hoyer a drink the next time you see him. The guy who isn't even supposed to be Cleveland's starting QB took advantage of the horrific New Orleans defense to pull off a late win and knock a lot of people out of their pools. That makes it easier for those of you who are still surviving. San Francisco's failure to show up for the fourth quarter against the Bears also likely cost some people. It was a topsy-turvy week for sure. We always have to keep looking forward in this game, though, so let's look ahead at what opportunities next week presents for us:
New England (+14.5) vs. Oakland: Sometimes there are situations in Survivor pools in which the key is just not to get in your own way and over think things. This is one of those situations. Simply put, if you haven't picked New England yet then just quit reading this article and send in your darned pick because there is absolutely no question here. After a shaky first game the Patriots rebounded last week. They played angry, and an angry Tom Brady is very tough to beat. Now they are playing what is easily the worst team in the league. The Raiders are a sloppy mess. They have to travel all the way across the country for this one, and we have seen time and again how tough that can be. New England could lose but only because absolutely anything is possible in the NFL. This is not only the simplest pick of the week but also the simplest pick of the entire season. Just pick the Patriots.
If you can't or, for some reason that would surely make my head explode, won't pick New England then there are other options among the games with a spread of at least a touchdown:
Indianapolis (-7) at Jacksonville: I don't yet know how Indianapolis played on Monday night or if they stayed healthy, but assuming that there were no glaring issues then this is a comfortable pick. Jacksonville is a franchise making good decisions and slowly moving in the right direction, but the sad fact is that they aren't going to get anywhere at all if they can't protect the quarterback any better than they did on Sunday. That was just plain ugly. Chad Henne was thrown to the wolves and had no chance for success. Indianapolis will learn from that and find similar ways to cause troubles, and if that happens then this isn't a fair fight. If New England wasn't such a no-brainer then Indy could be a good pick here, too.
Cincinnati (-7) vs. Tennessee: This is another one that could be a fairly comfortable pick. Tennessee is not in a good place right now, and it is going to be tough to trust them on the road against what has proven to be a pretty good team. The big reason I would pass on this one unless I had somehow already used up both New England and Indianapolis in the first two weeks - which virtually no one has - is because of the uncertainty of injuries in Cincinnati. The Bengals were beaten up on Sunday. A.J. Green hurt his toe and may be out. Vontaze Burfict left the game twice and ultimately sat with what is being reported as a stinger. The status of both players is uncertain, but with a bye week following the Titans' game it seems unlikely that they would be rushed back. Add in injuries and unknown status for a starting guard, defensive end and tight end, and there is a chance that this team will be faced with a lot of uncertainty and short-term change. That all doesn't mean that Cincinnati can't and likely won't win the game - they are still far superior. It just doesn't make the game nearly as comfortable.
Atlanta (-7) vs. Tampa Bay: I wouldn't touch this game unless I was forced to. The Falcons looked good in their opener when they beat the Saints, but then they were right back to being the Falcons last week. It's not that they should be ashamed for losing in Cincinnati, but they certainly should be ashamed of how disinterested they looked in the game once things got tough. They struggled so badly last year because some depth issues in spots were compounded by a horrific attitude that permeated the team. That was supposed to be better this year, but last weekend wasn't convincing on that front. Tampa Bay has lost both of their games, but they have been in both of them until the end and have the ability to be better than they have been. There is just no upside in trusting the Falcons right now.
Great offer! Doc's Sports has been a leader in NFL handicapping for more than four decades, and we are offering new clients $60 in free picks for any NFL handicapper on Doc's Sports Web site. You cannot afford to miss out on this great offer - click here. Also, get three handicappers for the price of one when you sign up for a full-season football package! Click Here for details.
Read more articles by Trevor Whenham