NHL Handicapping: Betting and the Buffalo Sabres Hot Streak
by Trevor Whenham - 12/19/2014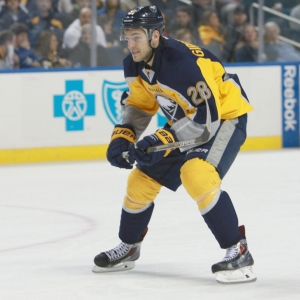 Out of the gate it seemed certain that the Buffalo Sabres were going to be the worst team in the NHL. On Nov. 13 they were just 3-13-2 and seemed poised to challenge historical records for futility. Since then, though, they have been a different team. They have won seven of their last 10 games, and 10 of their last 14, and are like an entirely different team. It's a shocking turnaround - and one that has been very lucrative for those bettors who were savvy enough to get on the bandwagon early.
So, how are they doing it? And what can we expect going forward? Here are eight factors to consider going forward when thinking of this team:
Jhonas Enroth: The 26-year-old Swedish goalie is 9-2 in his last 11 starts, and he is a big key for the team's success. His style is unconventional enough to hurt your eyes at time, but it is sure working right now. He's playing well above expectations at this point, but it is at least possible that he isn't just overachieving - perhaps he has sorted his game out and grown into himself as a goalie. As long as he stays as hot as he is, though, this team will continue their success.
Ted Nolan: Nolan's coaching career has been an odd one - especially for a guy who coaches as well as he can. He coached the Sabres from 1995-97 and won a Jack Adams Award for coach of the year in that time. He left the team in a bizarre contract struggle the year he won the award, though. He should have been picked up immediately by another team, but he found himself in an NHL exile for reasons we'll never really understand. He had two decent years coaching the Islanders but was fired there, and was again out of the league until getting the call in Buffalo last year on an interim basis. He has been, frankly, brilliant. This is not a good team on paper, but he is clearly getting the most out of them. With Nolan in town, this is a team to watch.
Zemgus Girgensons: In one of those great stories, this second-year player has nearly twice as many all-star votes than any other player in the league. How? Thanks to the Internet, his home country of Latvia has been able to support him en masse. He's not truly an all-star yet, but he will be. The numbers for the center are decent - 17 points in 32 games. Three things stand out, though. He is a very gritty, physically-involved player, yet he manages to avoid the penalty box remarkably well. He also plays very intelligently - for a player of his or any age. Most significantly, though, he is an incredible leader. Most young players, and especially Europeans, take quite a while to get comfortable and find their voice. I would bet that if Brian Gionta were to leave this team, his teammates would vote Girgensons in as captain. He's an impressive guy who is a big part of this success.
Youngsters on blueline: Team success is usually built on a foundation of strong defensive play. Buffalo is enjoying some surprising excellence on the backend lately thanks to the emergence of Rasmus Ristolainen and Nikita Zadorov. They are just 20 and 19, respectively, but they are playing much better than guys their age typically do on defense. It has been impressive to watch and a key to success.
Trade deadline looms: Tim Murray faces some tough choices now and leading up to the trade deadline. Chris Stewart is about to be traded, and that could be the first of several moves or the only one. This team is in the midst of rebuilding and obviously wants to do it as quickly as possible. They need to find a way to balance the need to think long term with the desire to stay competitive this year if the playoffs are even a possibility - which they could be if they keep winning like they are for a while. This all could be a distraction for the team as the March 2 trade deadline nears.
Motivation: The team is in a tough spot. They are only six points out of the final playoff spot in the East right now, yet only three teams have fewer points than them in the league. This year, more than most years, there is a lot of motivation to stay near the bottom unless you are really confident you can make a run. Connor McDavid and Jack Eichel are all but certain to be the top two picks in the upcoming NHL Draft, and both are potentially franchise-changing players. If a team isn't playoff bound then having more balls in the draft lottery would be in their best interest. In the long term, then, management might not actually be interested in success this year. That could create to some interesting decisions to be made - in Buffalo and several other cities.
Schedule: The team has played just five road games in their current 14-game streak of success and no more than two in a row. That has certainly made it easier for them to succeed. Starting on Dec. 21, the team plays 12 of their next 18 on the road, including four- and five-game trips. It only makes sense to temper the enthusiasm you may feel about this team until we see if they can match their current level of excellence when they aren't sleeping in their own beds so much.
Read more articles by Trevor Whenham