NHL Post-Olympics Futures Odds Update with Picks and Predictions
by Alan Matthews - 2/25/2014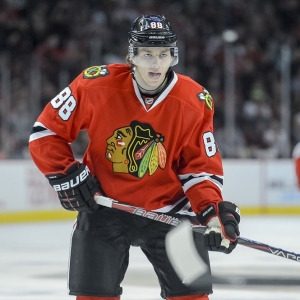 If you are like me, the Olympic men's hockey tournament is the most exciting hockey you will see, and that includes the Stanley Cup playoffs. Thus, it will be shame if NHL owners don't let their players compete in 2018 in South Korea, which seems rather likely. In all honesty, the NHL hasn't seen any tangible boost in popularity from allowing pros to play in the Olympics, so it makes no business sense for the owners to shut down for nearly three weeks in the middle of the season. The players love it, however, and will fight any effort to keep them out.
You can get some great betting value in the wake of the Olympics because the star players will flat-out admit that they have a post-Games hangover. It's not quite as exciting playing the Carolina Hurricanes as it is Team USA. Plus, you have the travel back and different body clocks to readjust. This could affect playoff races. Seven Cup contenders sent at least seven players to Sochi: the Chicago Blackhawks, St. Louis Blues, Anaheim Ducks, Vancouver Canucks, Montreal Canadiens, Pittsburgh Penguins and Detroit Red Wings.
The Islanders and Wings were big losers in Sochi. New York probably wasn't going to make the playoffs regardless but definitely won't now that captain and NHL third-leading scorer John Tavares was lost for the season after suffering an injury in the Games. Detroit's second-best player, Henrik Zetterberg, had to have back surgery and may be done for the year. You can't really blame the Olympics on that as Zetterberg had been dealing with this all season. He has 48 points this season, including 16 goals. He's also a team-best plus-19. Detroit is eighth in the Eastern Conference and hasn't missed the playoffs since 1990.
One of the teams right behind Detroit is Washington, and it will be interesting to see how superstar Alex Ovechkin comes out of the Olympics after he and Team Russia flopped in Sochi. Now we apparently know why Ovechkin was quiet as his father experienced some heart troubles after Russia's preliminary round game on Feb. 16 that eventually required surgery. Thus, Ovechkin is still in Russia. He certainly won't play in the Caps' post-Olympic opener at Florida on Thursday, and every game missed could be crucial as the Capitals fight for their playoff lives.
The other major injury to a contender to monitor is that of Tampa Bay star Steven Stamkos. He missed the Olympics for Team Canada with a broken leg suffered Nov. 11 at Boston. Stamkos has 14 goals and 23 points in 17 games this season, and his injury certainly helped Sidney Crosby's efforts to win the Hart Trophy and scoring title. Stamkos is hoping to return March 6 against Buffalo.
March 5 is another date to keep in mind as that's the NHL trade deadline. The biggest names you hear bandied about are Islanders forward Thomas Vanek, Sabres goalie Ryan Miller and Tampa Bay's Martin St. Louis. There are reports St. Louis is peeved at Lightning boss Steve Yzerman for Yzerman keeping him off Team Canada's original Olympic roster -- St. Louis eventually replaced Stamkos. The New York Rangers have called about St. Louis. I find it hard to believe that Yzerman would deal St. Louis, who has 56 points (25 goals) this season at age 38. The Lightning are surprisingly third in the East with 71 points.
Now is as good a time as any to look at the NHL's futures odds at Bovada with play resuming Tuesday night. I'm a bit surprised that St. Louis is the 11/2 Stanley Cup favorite, just ahead of Chicago and Pittsburgh (6/1). The Blues are tied with Chicago for the second-most points in the league with 84, and in the new division format those two are going to be on a collision course in the Western semifinals. The Blues do everything well, ranking No. 2 in goals scored per game, No. 3 in goals against and fourth in power-play and penalty-killing percentages. The Blues have five guys with at least 40 points, including Team USA shootout hero T.J. Oshie. However, they don't really have that superstar.
The Blackhawks lead the NHL in scoring and are third on the power play but 13th in goals against and 26th in penalty killing. For some reason, the Blackhawks have struggled mightily in overtime and shootout games this season -- of course they won't have to worry about shootouts in the playoffs. The Hawks have two superstars in Jonathan Toews and Patrick Kane, and they both obviously know how to win the Cup. The Hawks won the 2010 Cup following the Vancouver Games, so maybe that's good Olympic karma. The Blues are 4/7 to win the Central Division, with the Hawks at 7/5. I happen to think St. Louis does win that because Chicago really doesn't care all that much, and the Hawks' stars are going to take a while to get going after the Games.
Pittsburgh visits Chicago at Soldier Field on Saturday night in the most-anticipated game the rest of the way. The Penguins are tops in the East with 84 points, are first on the power play, No. 2 on penalty kills, fourth in scoring and seventh in GAA. Crosby is all but assured of winning another MVP. Are you ready to trust goalie Marc-Andre Fleury in the playoffs? I'm not.
The Anaheim Ducks lead the NHL with 87 points but are only fourth-favorites to win the Cup at 7/1. The Ducks were invincible at home much of this year but lost three straight there right before the break. They've also lost their past two games against the Blackhawks. Anaheim's Ryan Getzlaf (29 goals, 38 assists) is probably Crosby's top competition for the Hart and is second to Crosby in scoring.
I believe we are looking at something similar to what happened in the 2008 & '09 Stanley Cup Finals. In '08, the Western Conference's Red Wings beat the East's Penguins in six games. The next year Pittsburgh beat Detroit in seven. Thus, I like Boston (8/1 to win Cup, 7/2 to win East) to beat Chicago (13/4 to win West) in seven this summer. I could see the Bruins adding Vanek before the trade deadline as Boston nearly added Vanek in a trade for Tyler Seguin at last summer's draft.
Doc's Sports is offering new clients a great deal for $60 in free hockey picks from any of their expert NHL handicapping experts. This offer has no hidden fees or obligations, and you will never have to deal with a salesperson or enter any credit card info. Get your free hockey betting picks here - quick and easy. Also, for a limited time get three hockey handicappers for the price of one! Click here for our 3-for-1 NHL picks offer.
Read more articles by Alan Matthews