2014 Odds to Win the Pac-12 Conference for College Football with Picks and Predictions
by Trevor Whenham - 7/21/2014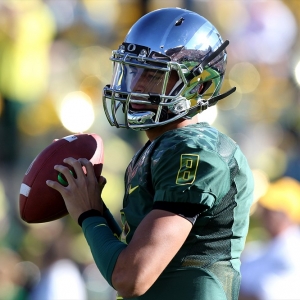 Before even discussing anything else, the Pac-12 has a huge edge on the other conferences in the country -- its name actually reflects the number of teams in the conference. That's not all the Pac-12 excels at, though. What was, not long ago, a completely dull conference featuring USC and no one else, is now one of the deeper and most compelling conferences in the country. Many of the programs are well-coached, the talent pool is deep, and highlight plays are a certainty every week. For handicappers, it's a lot to decode. To help with that, here are the odds to win the Pac-12 for college football ( from Bovada Sportsbook), with picks and predictions thrown in.
The odds
Oregon (11/10)
UCLA (3/1)
USC (5/1)
Stanford (6/1)
Arizona State (12/1)
Washington (14/1)
Arizona (25/1)
Oregon State (33/1)
Washington State (33/1)
Utah (66/1)
California (200/1)
Colorado (200/1)
Breaking it all down
Oregon: It all comes down to one player for the favorites in this conference - QB Marcus Mariota. Really it's not as simple as that, of course, but a tremendous responsibility does rest with Mariota. He is in command for his third year, could have been a high draft pick last year, and is a Heisman favorite this year. If he can elevate this team then they have the tools to be really dangerous. He needs to display a killer instinct that hasn't always been on display, though. We'll get a very good early test of where this team is at before conference play because they will clash with Michigan State. That will have no bearing on winning the conference, but it will tell us if this team is as ready for prime time as the odds would suggest. Win or lose that game, though, my gut tells me that this is a team that isn't as sharp as they could be under the new regime and that this price is dictated by reputation more than anticipated performance. I wouldn't be shocked if they won the conference, but I really wouldn't bet them at this price -- especially given their habits in big games in recent years.
UCLA: I have a good friend who is a diehard UCLA fan, and he is living in terror right now. The hype around his team - driven by the exceptional Brett Hundley at quarterback - is at almost unprecedented heights. Whenever things look like they could go well for the Bruins, though, they always find a way to disappoint. Things could be different this time around, though. They have the best coaching they have had in decades and the personnel to really impress. Their division is theirs to lose, and I am cautiously optimistic. I will say this - I like them a lot more at this price than I like Oregon at theirs.
USC: The Trojans are on the rise again as the foul odor of the Kiffin era fades from memory. They are reloading with talent, and the coaching is much more stable. Things are pretty good. That being said, it is just too early to jump on the bandwagon. Steve Sarkisian was an underwhelming choice to coach, and he needs to prove that he can do more here than he ever did at Washington. There are still holes after recruiting restrictions. Quarterback is much more of a theory than a certainty at this point. I could accept that this team is moving in the right direction, but their time is still a year or two away -- at best.
Stanford: David Shaw is widely viewed as the best coach in what is a very well-coached conference, He is going to have to do his best job yet this year to deliver to those who invest at these odds. There is huge turnover at offensive line and on defense. Trent Murphy, Tyler Gaffney and Ed Reynolds were arguably the three most important players on the team last year, and all are gone. There are a lot of holes to plug, and given the challenge of their division I find it very hard to imagine Shaw getting them all plugged satisfactorily.
Arizona State: I liked a lot of what this team did last year but never did shake the feeling that when things were going well they were overachieving somewhat. They haven't done enough to improve this year to make me expect excellence just yet from them. I don't like betting that a team will overachieve, so I'll pass.
Washington: If this team were a stock I would buy it. In bulk. Steve Sarkisian was a serious disappointment here, and he didn't accomplish enough with his talent. Chris Petersen is a far better coach, and I am very excited to see what he can do once he gets his culture installed when he can recruit from a much deeper pool. It will be fun to watch, but this is too soon to expect results.
The rest: Remember when Colorado was relevant in football? I do, but only because I am old. Utah was once relevant too, but then Urban Meyer got a new job. These two are completely irrelevant. So is Cal, a total mess of a program that could make progress under a coaching regime entering their second year but not until a whole lot of changes are made. Arizona showed last year that they could shock the world when they beat Oregon, but they are a long way from a finished product and face some key personnel changes. I wouldn't sleep on them in any given game, but I have no faith that they could keep it together all year. Oregon State and Washington State will both be elevated by strong coaching, but they don't have the players to mess with the big boys.
Want free sports betting picks? Doc's Sports has you covered - get $60 worth of picks free from any of Doc's Sports expert handicappers. Click here for free picks (new clients only).
Read more articles by Trevor Whenham