Vinceremos Odds to Win the 2014 Kentucky Derby with Picks and Predictions
by Trevor Whenham - 4/30/2014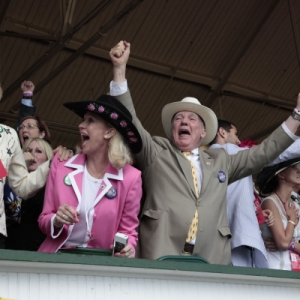 I have previewed every horse in the Kentucky Derby field - and a couple that were supposed to run but were scratched. It is no coincidence at all that I left Vinceremos until last. I felt sure that the connections would realize what a total waste of time it was to run this horse here, and that they would move aside for a more fitting horse to enter. Here we are, though, and it doesn't look like he is going anywhere.
That leaves me to ask a question that I am pretty certain I know the answer of - can Vinceremos win the Kentucky Derby? Like me, oddsmakers don't seem to hesitate at all before giving their opinion - Vinceremos' odds to win the Kentucky Derby sit at +7500 at Sportsbook.ag, which puts him well behind the rest of the field. He was at +9000 earlier in the week, so there is some improvement, I guess - though the change is hardly cause for optimism.
When figuring out if there is any reason at all to bet on this horse (hint - I can't find one), here are five factors to consider:
The Blue Grass Stakes: The last race for this horse was, without question, the worst prep outing by any horse in this field. There haven't been many performances all year at any level worse than that race. He got stuck five wide through the first turn, never looked interested, and all but stopped in the stretch. He was dead last in the 14-horse field, and it wasn't even close. Needless to say, it's more than a little alarming when a horse performs this poorly weeks before the biggest race of his life. There is an obvious excuse, of course. That race is run on a synthetic surface at Keeneland, and this horse obviously didn't take to the surface at all. It was his first time running off the dirt, and for some horses - like him, obviously - that surface just doesn't work at all. While it is a potentially acceptable excuse, there is a big problem. It is uncommon for a horse to bounce back from such a terrible synthetic experience and run a big race on dirt, and it really doesn't happen in the Derby.
Prior experience: Vinceremos ran four times before his Blue Grass debacle. He debuted at the end of November, and then he came back to break his maiden in January. After that it was stakes time. He won first time out in the Sam F. Davis at Tampa Bay Downs, though that was against a field that hasn't established itself well yet. Next, he came back in the Tampa Bay Derby. He finished second to Ring Weekend, a horse that was scratched from the Derby earlier this week due to illness, in an effort that looked solid at the time. The value of that second-place showing was dramatically devalued, though, when Ring Weekend underwhelmed next time out. Basically, Vinceremos was convincingly beaten by a horse that I would have tossed without thinking when handicapping the Derby before he was scratched. That's hardly a ringing endorsement for this horse.
Trainer: I'm not going to spend a lot of time dwelling on Todd Pletcher and his woes in the Derby - I have covered it many times before. Basically, despite being the best trainer in the country all year, he is lousy on the first Saturday in May. He has had 36 starters and just one win. Many of his horses have been just lousy in the Derby. He struggles to get his best ready for this race, and this is a long, long way from his best. Pletcher has never met a three year old he wouldn't aim to the Derby, so it is more than a little telling that he was hesitant to enter this horse, and he likely wouldn't have if the owners hadn't insisted.
Jockey: There has been plenty of change here, and it doesn't inspire any more confidence than all that has come before. Edgar Prado rode the first four races, and he looked decent doing it. He was hurt the day before the Blue Grass, though, so Julien leparoux got the nod in that race. Leparoux is normally very good, but it's no surprise Pletcher didn't want to go with him again after that mess of a race. Instead, Joe Rocco Jr. got the nod. It's frankly a bizarre choice. The ultimate journeyman, Rocco didn't win a graded stakes race until the 13th year of his career. He has rarely ridden at the highest levels, and his win percentage in the races he does ride is far below the level of the riders in this race. Choosing Rocco when there are several more experienced jockeys looking for a ride is almost like giving up.
Breeding: If there is a single glimmer of hope with this dismal horse, it's with his breeding on the sire side. Pioneerof The Nile was second in the Derby in 2009. His sire, Empire Maker, was also second in 2003. Empire Maker was sired by Unbridled, the 1990 Derby winner. Needless to say, the distance isn't a concern on that side of the pedigree. On the dam side, though, things are less inspiring. His dam was a sprinter but not a very good one. His damsire is More Than Ready. That horse was a respectable fourth in the Derby in 2000 himself, but he was better later in his career as a sprinter and has proven to be a strong sire of horses at shorter distances. The breeding could be worse - and several horses in the race have lesser stamina breeding - but this factor alone isn't enough to make the horse attractive. If the dam side was stronger it might be interesting, but that's not the case.

Doc's Sports has established ourselves as the best in the business for well over 40 years. We want you to see why! That is why new clients can get $60 worth of member's picks free by clicking this link for a no-hassle signup.
Read more articles by Trevor Whenham