2015 Al West Predictions with Odds and Expert MLB Betting Picks
by Robert Ferringo - 3/12/2015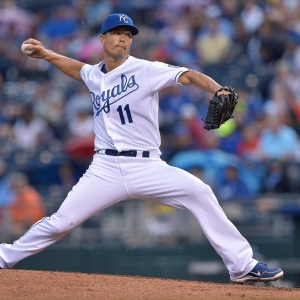 The American League West was the best division in baseball last year. Not only did they host the league's top regular-season team, but three clubs won 87 or more games and they were just two games (and a late Kansas City surge) away from sending three teams to the playoffs. It was a banner season for this bunch.
I hope the West teams enjoyed it, though, as there are some troubling signs for this division heading into 2015.
Retooled pitching staffs, remade rosters, key free agent losses, all manner of statistical indicator pointing toward a regression, and injuries to star players have littered the offseason for the five teams in the American League West. I don't know that any one of the five teams actually got better over the winter. And if the numbers don't lie then several groups that were instrumental to last year's success - Seattle relievers and Los Angeles starting pitchers; I'm looking at you - will come back to earth this season.
Here is a look at Doc's Sports 2015 A.L. West picks with some betting predictions ( with odds courtesy of Sportsbook.ag):
Los Angeles Angels
2014 Record: 98-74 (+2140)
2015 Wins Over/Under: 87.5
Odds To Win 2015 AL West: +160
Odds To Win 2015 AL Pennant: +500
Odds To Win 2015 World Series: +1200
Outlook: The Angels were finally, finally able to hold everything together last year and were the best team in baseball during the regular season. They got over 600 at-bats apiece from both Mike Trout and Albert Pujols (with Josh Hamilton chipping in 338), and the starting staff stayed healthy the entire season. The results spoke for themselves. But what are the odds that all the pieces fall into place again this time around?
Hamilton had an unfortunate relapse this offseason and is facing a significant suspension, so you can count him out already. The Angels likely still have enough offense to stay in the top tier of this division without him. But they are now in a position where any injury to Pujols or Trout puts them behind the eight ball (pun intended). Matt Joyce and David Freese are both streaky. And if Erick Aybar and Kole Calhoun can repeat their 2014 slash lines then the Angels should be OK. But it is a tenuous position for a team that's had several recent seasons submarined by injury issues.
The Angels had six arms make a combined 153 starts last year. That reliability was huge for them. Jered Weaver was not dominant. But he was crafty enough to earn 18 wins, 169 strikeouts and 213 innings. Garrett Richards was the staff's best arm, going 13-4 with a 2.61 ERA and 164 strikeouts in 168 innings. Los Angeles needs C.J. Wilson to be better. And they have to cross their fingers and hope that Matt Shoemaker's career year (5-to-1 K-to-BB ratio while going 16-4) was not a fluke.
Los Angeles had a very solid bullpen last year, and Angel relievers logged the most innings of any pen in the Majors. But they have completely overhauled that part of the staff, and there will be a lot of new faces trying to hold things down in the late innings.
The Angels are the pretty clear favorites to defend their West crown. But that's mainly because they haven't fallen off as much as everyone else in this division. I don't think there's any way they will be as fortunate with the good health of their starting pitching. And the bullpen and starting lineup could cut either way. This team isn't going to win 95-plus games again. But I think they can threaten 90 and maintain control of this group.
Seattle Mariners
2014 Record: 87-66 (+360)
2015 Wins Over/Under: 86.5
Odds To Win 2015 AL West: +170
Odds To Win 2015 AL Pennant: +700
Odds To Win 2015 World Series: +1500
Outlook: Seattle improved by 16 wins last year and posted their first winning season since 2009. They barely missed the playoffs, and this team enters 2015 with fresh expectations and a positive outlook. They were one of the few teams to parlay big offseason acquisitions into a profitable year on the diamond and are hoping that this winter's major signing (Nelson Cruz) pays the same dividends that Robinson Cano did last year.
Pitching was at the heart of Seattle's resurgence last year. Felix Hernandez is on track to be an all-time great and is one of the two or three best pitchers in baseball. Hisashi Iwakuma proved again that he's an underrated No. 2 and was one of four guys with at least 13 starts and an ERA of 3.85 or below. Seattle also benefitted from by far the best bullpen in the Majors (2.59 ERA), and Fernando Rodney saved 48 of 51 games. It will be tough to reproduce those results even with a lot of the same guys back.
Seattle's pitching was outstanding. Their offense was pathetic. Only one guy with over 250 at-bats, Cano, hit over .260. Kyle Seager had a nice season. But that was it. Everyone else was pretty awful. Cruz led the league in home runs. But that was in Baltimore. He is familiar with the A.L. West from his time in Texas. But I think his numbers will backslide a bit playing in pitcher-friendly Safeco. I think the M's will waste a lot of great pitching (again) with this fizzling offense.
The last three times the Mariners finished over .500 were 2003, 2007 and 2009. Their win totals the following seasons amidst renewed expectations: 63, 61 and 61. So we've seen this movie before. Their lineup will be better with Cruz. But I don't think their pitching will stay at the same level as last year. Seattle is just lucky that three other teams in the division each got worse this offseason.
Oakland Athletics
2014 Record: 88-74 (-1600)
2015 Wins Over/Under: 81.5
Odds To Win 2015 AL West: +500
Odds To Win 2015 AL Pennant: +1100
Odds To Win 2015 World Series: +2800
Outlook: Late last August the A's had the best record in baseball and the inside track to a third straight A.L. West title. But they collapsed down the stretch and lost in the Wild Card game for a disappointing end to their season. Now the question is whether that was the end of their reign. Oakland has overhauled its roster, and most prognosticators are predicting a large regression out of this group.
The A's have had one of the best offenses in baseball the last two seasons, finishing in the Top 5 in runs scored in both 2013 and 2014. However, their odd midseason trade of Yoenis Cespedes was really the turning point for this team, and they struggled to score as the year wore on. Brandon Moss and Josh Donaldson are also long gone, and the A's lineup is essentially starting from scratch.
Oakland made a nice move to get professional hitter Billy Butler from Kansas City. But beyond that they are just crossing their fingers with a group of guys (Ike Davis, Josh Reddick, etc.) with histories or injuries or ineffectiveness.
Pitching is never a problem for the A's. But after making major moves to acquire Jeff Samardzija and Jon Lester, the A's lost both in the offseason. They still have a seemingly endless supply of quality young arms, though, led by stud Sonny Gray. They need Scott Kazmir to find his first-half form and either Jesse Chavez or Jesse Hahn to step up.
The A's have certainly shuffled the deck. But I've seen them exceed expectations with worse rosters than this one. Texas and Houston are still non-factors in the West. This Seattle franchise always struggles with success. So there is still some wiggle room for the A's, and I think they will be a steady underdog earner all season long.
Texas Rangers
2014 Record: 67-95 (-2050)
2015 Wins Over/Under: 77.5
Odds To Win 2015 AL West: +600
Odds To Win 2015 AL Pennant: +1800
Odds To Win 2015 World Series: +4000
Outlook: One out. The Rangers were one out from a World Series title in 2011. Since failing to get that one out it has been a slow, steady bleed for this organization. Last season was a full-bore bloodletting as they lost more games due to injury than I thought possible for one team. Texas bottomed out with just 67 wins, had their manager quit during the season. They entered the offseason as a club that looked lost and without an identity.
Unfortunately, injuries are still crippling this team. Jurickson Profar is out for the year and Yu Darvish is right behind him.
Texas desperately needs a healthy and productive year out of the middle of the order. Shin-Soo Choo, Adrian Beltre and Prince Fielder can put some fear into people. And if Elvis Andrus can bounce back and Mitch Moreland finally breaks through then this team is in business. That is a lot of "ifs," and the rest of the roster is a who's who of "Who's He?" They've gone with a youth movement, and it remains to be seen if any of these guys can offer quality support to the aging stars.
The loss of Darvish is a crippling blow to this team. The Rangers had the third-worst ERA in baseball last year and got the third-fewest innings out of their starters. Now they are left praying that Derek Holland can be the staff ace (stop laughing) or that new acquisition Yovani Gallardo can finally find some consistency (seriously, stop laughing). The bullpen is patchwork, and the staff doesn't get much help from a defense that was second-worst in fielding percentage.
The Rangers simply aren't going to be much better than they were last year, and I'd be absolutely stunned if they threatened .500. They are simply below average in too many areas and can no longer lean on big bats to make up for their deficiencies.
Houston Astros
2014 Record: 70-92 (+100)
2015 Wins Over/Under: 76.0
Odds To Win 2015 AL West: +2500
Odds To Win 2015 AL Pennant: +4000
Odds To Win 2015 World Series: +6000
Outlook: A lot of people looked at Houston's 70-win campaign in 2014 as a major positive and a step in the right direction. Not me. I think it was a fluke after watching the Astros lose at least 106 games in the three seasons prior. The Astros won a bunch of games they shouldn't have in 2014, and I do not think their "progress" will continue this year.
I'm a big fan of Jose Altuve. Who isn't? The 5-foot-6 dynamo is a pure player and a great hitter. But I think the Astros are being way optimistic if they think that Chris Carter and George Springer will combine for nearly 60 home runs again. The duo combined to hit below .230. Dexter Fowler's numbers dipped once he got outside Coors Field, and there just aren't a lot of answers throughout the rest of the roster
Dallas Keuchel and Collin McHugh each had career years, and I think they will both be hard-pressed to repeat their sub-3.00 ERAs and 350 combined innings. They join with Scott Feldman to create probably the least intimidating 1-2-3 starters in the Majors. Houston did make some nice moves to bolster a weak bullpen. They have some vets in the back end now that should be able to stabilize that group and assist their overmatched starters.
Houston is not a good team. At all. And they aren't a quality organization. Several players that have passed through have complained about the penny-pinching, sabermetric-worshipping approach the front office takes. They are on their third manager in four years, and as I look around I just don't see much talent. I think they'll be closer to 100 losses than they will be 70 wins this season.
2015 American League West Picks and Predictions: Predicted Order of Finish
1. Los Angeles Angels
2. Seattle Mariners
3. Oakland A's
4. Texas Rangers
5. Houston Astros
Robert Ferringo is a professional sports handicapper for Doc's Sports. He is considered one of the top MLB cappers in the country and has turned a profit in five of the last seven years on the diamond with his baseball picks. He closed 2012 with an amazing $11,700 in earnings over the last four months and this summer will try for three straight profitable years. He is looking forward to a great upcoming season against the MLB odds. Click here for more information on his MLB picks.
Read more articles by Robert Ferringo