American Pharoah Odds to Win the Belmont Stakes with Picks and Predictions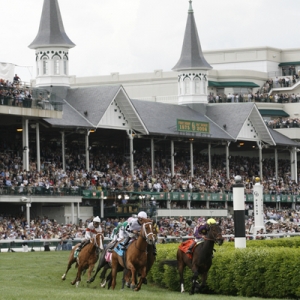 We are now inside of two weeks away from yet another shot at Triple Crown history in the 2015 Belmont Stakes. American Pharoah is the latest horse with a shot at immortality. I must be jaded by all the near, and not-so-near, misses over the years, because though American Pharoah is one of the very best horses to have had this opportunity I am almost accepting in advance that he won't win. After you abuse your soul too many times with massive disappointment it grows scars, I guess. Putting that aside, though, we have a real shot this year. American Pharoah is a very impressive horse that has done all that has been asked of him.
So can he do it? Most significantly for you if you are reading this, what are American Pharoah's odds of winning the Belmont? Let's take a look ( all odds are from Bovada):
American Pharoah (1/1): There is some symmetry here - at this time last year California Chrome was also sitting at even money in his Triple Crown quest. He, like American Pharoah, had dipped lower in early action before bouncing back to this level once the field came together. He wound up going off at less than even money on race day - as I would expect American Pharoah to do at this point.
There are good arguments on both sides when it comes to this horse. In his favor, his win in the Preakness was incredibly classy and impressive; he has largely toyed with his opponents; his trainer and jockey both know more about facing this challenge than anyone else given that Bob Baffert has run in the Belmont for the Triple Crown four times, and Victor Espinoza will be trying for the third time; and the horse is bred to give us reasonable confidence that he can handle the grueling Belmont distance.
There are knocks on the other side, though. The Preakness effort was tougher than the margin of victory would appear and could have taken a lot out of him. Even if it were just a normally taxing race this will be his third outing in five weeks, and many of his top opponents have rested for a month or more. He also may be vulnerable because he is a horse that likes to be near the lead and seems to be at his best when he is on the lead. There are horses in this field with nothing to lose that could make things crazy early on, and that could disrupt the horse. He's also facing a much stronger field than a lot of horses have faced in his position - certainly much deeper than what California Chrome faced.
He'll be heavily and deservedly favored, but I'm still not convinced that there will be any value in betting on him.
Frosted (5/1): There is a lot to like about this horse. He was fourth in the Derby - the highest-placed challenger to American Pharoah in this race. He made an incredible move around the final turn in that race, picking off horses in bulk. And though he was slower in the stretch, he was still one of the few runners moving forward in the final furlong. It was an impressive showing, and it feels like we haven't yet seen his best.
I like him, and would like him more if I could ignore his breeding, which isn't ideal.
Materiality (15/2): I absolutely hated this horse heading into the Derby. He was unbeaten and obviously talented and classy. He had only run three times, though, and that lack of experience and maturity is just death in the Derby. That immaturity haunted him early in the Derby - he was flat-footed when the gates opened and was stuck at the back of the pack. I really liked that he shook off the setback, and the dirt he was forced to inhale, and moved up nicely to finish sixth.
I still think he'll be a bigger factor in the late summer than now, but he could be catching up to himself and maturing now that he has faced some adversity.
Mubtaahij (14/1): I was left thoroughly unimpressed by this Middle Eastern invader in the Derby. He was, in a word, flat. Though it's a good thing that he has been training over here and will be better acclimated for this race, and that he will have an American jockey, I just can't get excited about him. I don't trust that he is good enough to contend with the best here, and I really question whether he can get the distance.
Carpe Diem (16/1): I am truly and completely shocked by this price. If he went off anywhere close to this price - and by that I mean double digits - it would be a steal of serious proportions. He was the third choice heading into the Derby. Sure, he was lousy in that race, but he was a hyped horse trained by Todd Pletcher, so Derby failure was almost a given. He's bred well - with the speed to be in the mix early but the stamina to stick around until the end.
Pletcher is much better in this race than the Derby, and he'll have this horse rested and ready. In my eyes he's the biggest threat American Pharoah faces - hence the bargain. The favorite is a better horse, but not 16 times better.
Doc's Sports has a fabulous offer for new clients. Get $60 in free Belmont Stakes picks with no obligation whatsoever! All you have to do is sign up here, and you will not be required to enter credit card information and you will never have to deal with a salesman.
Read more articles by Trevor Whenham