2015 Belmont Stakes Betting Advice: Long Shots to Wager on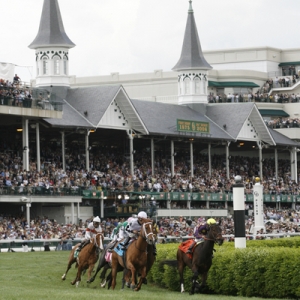 How good is American Pharoah? Trainer Kiaran McLaughlin wasn't paying close attention to his Belmont horse, Frosted, jogging on the Belmont track on Monday morning because he was too busy watching American Pharoah's timed work at Churchill Downs live on his iPad. And a group of other trainers were crowded around to watch as well. He is certainly feared, but he isn't unbeatable. No horse is in the Belmont - as Big Brown, Silver Charm, Smarty Jones and so many others have shown. And, because he is so popular, there are going to be some nice prices on other horses to be had.
Free $60 in Member Belmont Picks No Obligation Click Here
So, which long shots stand out as the most intriguing? Here are three:
Madefromlucky (12/1): It's not often that the fourth choice in a race qualifies as a long shot, but this horse is all but a lock to go off at double-digits, so that counts in my book. I'll say this before anything else - I like this horse a whole lot more than I do Todd Pletcher's other runner, Materiality. For starters, he is coming off a win in the Peter Pan Stakes here at Belmont, which is the same path that Tonalist took to his victory last year in the Belmont. That race hasn't consistently produced Belmont success, though - the last dual winner before Tonalist was A.P. Indy in 1992. While the trend might not excite, what was impressive was the change in the horse we saw in that race. It was his first race under Javier Castellano, who has the mount again here. He was seemingly more assertive early on, was aggressive in taking the lead at the top of the stretch like we haven't seen before, and seemed in command the rest of the way. In a word, it was the first mature performance we have seen from the horse in his career.
He has been no match for American Pharoah in two previous meetings, but that was before this last outing, so perhaps we will see something different here. He has reasonable breeding for the challenge, so it at least seems reasonable that he could like the distance well enough. We know he likes the track. At the price he is one to watch.
Mubtaahij (16/1): This is a challenging horse to get a sense of. When we watched the replays of his efforts in Dubai - especially the UAE Derby on the Dubai World Cup undercard, which earned him his spot in the Kentucky Derby - we saw a dominant, explosive horse that was always in command. It was impressive. In the Derby, though, we saw an incredibly flat horse who never showed much spark, looked outclassed and intimidated, and who tired notably down the stretch.
If I could be sure I would see that former horse, I would be all over him here. The Derby horse, though, just isn't good enough. So which will we see?
On one hand, that Derby performance puts into real doubt his ability to handle the distance - and his breeding isn't ideal, either. On the other hand, he has had a chance to become much more acclimated to North America before this race. After the UAE Derby he had to travel all the way from Dubai and deal with quarantine, a different climate, and a whole new style of racing. Since then, though, he has stayed in the U.S., and will be much more comfortable this time around. He also has a jockey, Irad Ortiz Jr., who knows the Belmont track very well - unlike the European jockey who knew nothing about the Derby or Churchill Downs who was on board last time.
Add it all up and at this price he seems like a bit of a value play in my eyes.
Tale of Verve (20/1): He was second in the Preakness, so the price here is a mild surprise - though not really given the rested Derby horses in the field, his lack of rest, and how little he had done before. Still, after a legitimate Preakness effort I have to give him some respect here - more than the oddsmakers.
He ran a very nice race last time out and deserved what he got. We need to start with the obvious issue: horses that come from off the pace have not traditionally done well in the Belmont, and with the defections that have happened in the last week there is a good chance that the Belmont pace will not be crazy early on. That's bad news for closers. In the last three races, though, this horse has mostly given up on his deep-closing ways and has run his three best races. Even in the Preakness, when he was near the back of the pack and well off the lead early on, he made more of a gradual, sustained move than the one big one that most closers make and that he was trying unsuccessfully to make earlier in his career.
With Gary Stevens on board we know that the horse will be positioned well and that the pace will be managed well for him. His breeding is solid, and he has gotten better as the races have gotten longer. He's not good enough if everyone has their best day, but if the race were to fall apart somehow - like if American Pharoah gets locked into a speed duel early - then this horse could be well positioned to pick up the pieces. At the very least, I feel like he is much more the horse that has a win and a second in a Triple Crown race in his last two starts than the one that failed to break his maiden the first five times he tried.
Doc's Sports has a fabulous offer for new clients. Get $60 in free Belmont Stakes picks with no obligation whatsoever! All you have to do is sign up here, and you will not be required to enter credit card information and you will never have to deal with a salesman.
Read more articles by Trevor Whenham