2015 Belmont Stakes Betting Challenges: Handicapping the Distance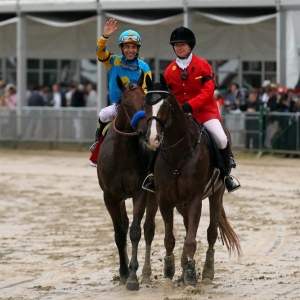 Handicapping the Belmont Stakes is hard. You have to deal with so many factors - young horses, a potential Triple Crown winner, horses coming in with different amounts of rest, and so on. Above all else, though, what makes this race so hard to handicap is the distance. At a mile and a half, the race is not only much further than any of the horses has run so far in their careers but also much further than they will likely be asked to run again. This is a unique and massive challenge, and we can never truly know if a horse is up to it until the race is run.
There are never any horses in this race that will truly thrive at the distance. Our job as handicappers is to determine which horses have the best shot of handling it best. Here are five questions to ask to help you determine the impact of the Belmont distance on the race:
Is he bred for the challenge?: The biggest single factor to success in this race for horses is their breeding. In simple terms, thoroughbreds are either bred to be sprinters or to have stamina. Really, most horses have a blend of the two styles. If a horse tends to have more sprinting influences in their pedigree then they aren't necessarily going to be a sprinter themselves, but they are more likely to struggle at the marathon Belmont distance than a horse that has stamina influences in strong supply.
Of course, studying pedigrees is a complicated thing. You can take shortcuts to get a decent sense, though. Just look at the sire and the damsire (the maternal grandfather in human terms). That is where the biggest influences come from. Did either of those horses win a Triple Crown race or a Breeders' Cup race that isn't a sprint? Did they win other major races at longer distances (a mile and a quarter or more, ideally)? Have they had offspring that have won Triple Crown or Breeders' Cup races or other major, longer races.
Thanks to Google and some free resources out there it's now easier than ever to get a sense of what stamina influences a horse has in their pedigree. Doing a bit of research can help you uncover horses that have stamina that might not be immediately obvious to the betting public. Understanding what a horse is bred to do won't tell you by itself who will win the race, but it will help you to shape your decision-making. It could make on horse more or less attractive than you already think it to be.
Has he outrun his pedigree?: If a horse doesn't have an ideal pedigree for the race then what you want to see is if he has already performed better than expected at a mile and a quarter or at a slightly shorter distance if he didn't run in the Derby. If a horse has already shown that his pedigree isn't necessarily a limitation then you might not need to be too concerned about his breeding.
Last year provided an intriguing example of this - one without a clear conclusion. California Chrome had an underwhelming pedigree. There was more sprinting than stamina influences, and the class in the pedigree wasn't strong. He had won the Derby, the Preakness and the Santa Anita Derby, though, so he clearly had more to offer on the track than he did on paper. Or so it seemed. In the Belmont he didn't have a great day, didn't love the distance, and finished fourth. In hindsight we don't know how much of that had to do with his pedigree and how much was other factors, but at the time we couldn't rule out the horse on the basis of his pedigree even though we could have if a horse with the same breeding hadn't had the same success.
Does he finish strong?: It's easy to go back and watch the stretch drive of the last two or three races for every horse in the field. Doing that, you can learn a whole lot by how strong they look in the last furlong or so. Are they looking strong and gaining ground? Or do they just look like they wish the finish line would get there for them? Do they look like they could keep racing, or do they seem to have little left? Those races are at least a quarter mile shorter than the Belmont, so if a horse has a tendency to fade late in previous races then they could really struggle over the endless stretch at Belmont.
How do you see the race playing out?: Figuring out what you think the race will look like has a big impact on how the distance could be a factor. For example, a race with slow early fractions will probably be easier for horses to handle than one where they are asked to run very fast early on. Different paces could affect different horses in different ways, too. A fast early pace could be real trouble for horses that like to be on or near the lead but could be a bonus for horses that are willing to sit well off the pace and relax before making a late move. The shape of the race is always important in handicapping, but the brutal Belmont distance magnifies the impact significantly.
What has the horse overcome in the past?: The Belmont is going to be the hardest physical challenge these horses will face. Think about when you run really hard. Your instinct when it starts to hurt is to slow down. A successful horse has to fight through that and keep running. Most won't. To have a sense of whether a horse is likely to do so, you can look at the challenges they have faced in previous races and how they have dealt with them. Have they overcome traffic or other real excuses to win or finish well, or have they used those excuses to give up? You need a mentally-tough horse to shine in the Belmont, so the more clues of mental toughness we can find the better.
Doc's Sports has a fabulous offer for new clients. Get $60 in free Belmont Stakes picks with no obligation whatsoever! All you have to do is sign up here, and you will not be required to enter credit card information and you will never have to deal with a salesman.
Read more articles by Trevor Whenham