2015 Belmont Stakes Handicapping: Pace Scenario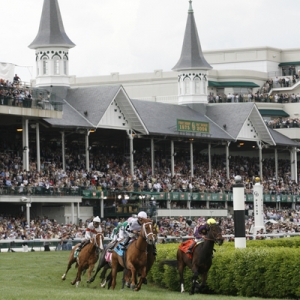 The one thing we can be sure of when trying to figure out the Belmont Stakes pace scenario is that the race looks different now than it would have without the defections that have come lately. Carpe Diem and War Story both figured to press the early pace. Conquest Curlinate and The Truth Or Else were wildcards that could do pretty much anything to try and make their own luck. Without those four in the field, the chances of something crazy happening in the first mile of this race are lessened. What is no clearer, though, is what the race is likely to look like.
Figuring out the pace in advance is a big key to handicapping a race like the Belmont. Never was this lesson more obvious than in 2004 when Smarty Jones, a great horse, fell short of his Triple Crown. After a reasonable first half mile, Smarty Jones was pressed very aggressively for the next half mile and ran fractions that were far too fast for a race this long. That is likely the biggest reason he lost the race. Looking at how the race set up you could see how it could happen. There was a fair bit of tactical speed in the race, and with nothing to lose, and a strong favorite, the connections chose to push him to see how he would respond. As good as Smarty Jones was, handicapping the pace in that race made it seem reasonable to look elsewhere for a longer shot that could pull off the upset.
So, what is the pace likely to look like in this race? Let's take a look:
The one thing we can be sure of is that American Pharoah will be on or near the lead. He likes to run in front or right behind the leader. We saw him sit behind Dortmund in the Derby and then wire the Preakness. He's very versatile and will do what he needs to do to give himself the best chance. With eight horses in the field and such a large track, post positions won't really be relevant. What American Pharoah's race will look like will likely depend upon two horses - both trained by Todd Pletcher.
Both Materiality and Madefromlucky have the tactical speed to give American Pharoah a test early on if they want to. Materiality got caught flat-footed in the gate in the Derby and was at the back of the pack. He showed good sustained speed to move forward, though, and wound up an impressive sixth. If he can get a much better early start then he has a better chance of running his best race. In his three wins before the Derby he had never been worse than second. Madefromlucky is less likely to take the lead early as he typically sits just off of it, but he has speed, and if the early speed is slow then he could find himself in front. Jockey Javier Castellano isn't likely to fight it if that scenario emerges.
Most likely, then, we can expect a situation in which American Pharoah and one of the Pletcher horses are setting the pace, with the other Pletcher horse close behind. The question, then, is how fast they want to run. With a larger field I was braced for fast early fractions. With this smaller field, though, things could be more reasonable. Pletcher knows that American Pharoah has staying power, so it is unlikely that he will risk the effectiveness of one of his horses with a suicidal early mission. More likely, I see the three horses up front feeling each other out and gradually increasing the pace as they get a sense of what each other is capable of.
A couple of other horses could be a pace factor, too - especially if the fractions are indeed reasonable early on. Frosted started his career as a closer and found himself in that role in the Derby again, but he has sat closer to the pace with success in several races. I don't see him setting the pace unless he absolutely needs to, but he could be right behind it. Mubtaahij could also factor in. He showed speed in Dubai. In the Derby he tried to rate off the pace, and it was ugly - he never fired. He could be more aggressive here, though he faded down the stretch in the Derby, so I would be surprised to see him get too aggressive early on.
That leaves Tale of Verve, Keen Ice and Frammento. I'm afraid that the news isn't great for them. They are all closers. That typically hasn't been a good thing to be in the Belmont. With the distinct possibility that the leaders will be running well within themselves early on, the chances of closers being able to do their thing later on is diminished.
So, add it all up, and I look for a group of three up front, with American Pharoah just looking to stay out of trouble above all else. Behind them will be Frosted and Mubtaahij, with a pack of three trailing. Early fractions should be fairly reasonable - though not slow, because they rarely are when a Triple Crown is on the line. I expect a mass charge as they enter the stretch and a real battle heading home. By the last furlong things should be fairly well resolved, with only two or at most three horses having a shot at the win. I wouldn't be surprised at all to see the winner come out on top by daylight - especially if he is able to set the tone he wants early on.
What will be most important to watch is the third quarter mile. If either of the Pletcher horses, Frosted or Mubtaahij, really plan to make things interesting then this is where they will make their move and really forces American Pharoah's hand. They know that the favorite is the least fresh horse in the race, and they will see if that will be a factor. If the fraction is around 22 seconds and change in that quarter then things could really fall apart in the race.
Doc's Sports has been a leader in Triple Crown handicapping for more than four decades, and we have a great offer for new clients. Get $60 worth of Belmont Stakes picks free with no obligation to buy anything. Not credit card is needed, and you won't ever have to talk to a salesperson. Get your $60 in Belmont Stakes picks here.
Read more articles by Trevor Whenham