College Basketball Betting and Handicapping: ATS Studs and Duds
by Trevor Whenham - 1/8/2015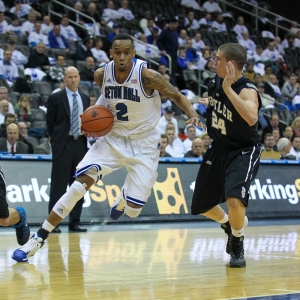 As the calendar moves from one year to the next, in college basketball we see the end of nonconference play, for the most part, and the start of the real battle of the season. The beginning of the year, then, is a good time to look at which teams have rewarded those bettors that have backed them and which ones have put money in a pile and burned it up with regularity.
Here are the five ATS studs and duds in the first two months of the college basketball season:
Studs
Seton Hall Pirates (12-2 ATS): The Pirates are almost relevant this year, as they proved with a recent win over Villanova. Their 12-3 start has earned them a Top 20 ranking. There is a good chance that the early success is an illusion, though. They have lost three games on the road already, and they have some big looming challenges coming up in Big East play. It seems like the value could already have been bet out of the Pirates.
Davidson Wildcats (10-1 ATS): Steph Curry's alma mater has done a good job of two things -- covering spreads in games against outmatched opponents and staying close enough to cover when they are big underdogs. They were in no real danger of winning at Virginia or VCU recently, but they made sure that things were competitive.
Pepperdine Waves (9-2-1 ATS): This team does two things well. They are Top 10 in the country at free throw percentage, so when they get to the line they make the most of it. More significantly, only one team has been better than them at defending against the 3-pointer -- opponents shoot just 23.6 percent from beyond the arc against them. Combine that with a largely underwhelming schedule, and a lot of spreads have been covered.
Loyola-Chicago Ramblers (9-2 ATS): The Ramblers are out to a nice 12-3 start and are a team that both shoots and defends at a well-above-average rate. Combine that with a total absence of public interest, and it is easy for them to effectively travel under the radar.
Utah Utes (10-3-1 ATS): Again, we have a team that shoots well and plays strong defense, and that is contributing to ATS excellence. In the case of the Utes, their defensive play this year has been beyond just good. On Jan. 4, for example, they held UCLA to just 39 points while scoring 71.
Duds
Richmond Spiders (1-10 ATS): The same factors that helped so many of the studs on this list succeed are dooming the Spiders. They are a weak defensive team that couldn't hit the basket consistently if they were standing in it. What is impressive and surprising is that they have actually been favored in seven of their last eight -- and haven't covered once.
Drake Bulldogs (2-10-1 ATS): This team scores 59.7 points per game and allows 70.7. Both marks are outside of the Top 300 in the country. It's very hard to cover a lot of spreads when you are that bad at playing basketball. They are just 3-12 on the season, and it is no coincidence that the wins have come against their three worst opponents.
CSU Northridge Matadors (1-9-1 ATS): The number of times we have seen the same factors on this list are amazing. This team allows nearly 72 points per game, is lousy at defending, and can't shoot at all -- especially from outside. Even against a weak schedule that has created issues.
Miami Red Hawks (1-9 ATS): This team from Ohio can't shoot, can't rebound, and doesn't really play defense. Not surprisingly, they also can't cover spreads.
Nebraska Cornhuskers (2-9 ATS): The Huskers struggled in the Big 12, so they are really going to be in trouble in the deeper and generally-tougher Big Ten. They have one good player, no depth, and a world of issues. Unlike others, though, their defense is at least decent.
Read more articles by Trevor Whenham
---
Most Recent College Basketball Handicapping