College Basketball Handicapping: Mid-Majors with Betting Value
by Trevor Whenham - 1/14/2015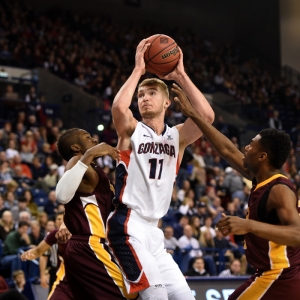 I absolutely love college basketball, and one of the many reasons is one of the reasons that critics give for hating the sport - the ridiculous numbers of teams. With more than 300 squads toiling for a chance to make the tournament, there are countless opportunities for profit out there just waiting for bettors to discover them. Mid-majors are typically ignored by most bettors until the tournament rolls around, but there many good teams out there worth a look - and often times a bet or two as well.
Here are four mid-major teams that, for one reason or another, have caught my eye lately:
Gonzaga: At this point it is almost ridiculous to include Gonzaga on this list because everyone would just assume that they are here. They fit the definition of a mid-major only in that they play in a lesser conference. They are consistently wildly talented and very successful. This year they may be better than they have been in a long while, though. They are 16-1, and their only loss came at Arizona in overtime. This is probably the most offensively dangerous, strong shooting team that we have seen. The WCC is not the strongest it has been, so there is a decent chance - likely better than decent - that Gonzaga can yet again run the table and head into the tournament with just one loss. That would likely earn them a No. 1 seed given how few truly elite teams there seems to be this year - and no one would want to play this team as a No. 1. Given how consistently strong and popular this team is, their ATS performance is acceptable, too. At 8-4-2 ATS they aren't lighting the world on fire, but they are more than solid given that the public is going to throw value-destroying money at them more often than not.
Old Dominion: The Monarchs lost a tough one last time out at Western Kentucky, but they are still 13-2 and well-positioned to make some noise in the huge C-USA. They haven't played a particularly tough schedule, but they do have a solid win over VCU to their credit, they beat LSU, and they have taken care of business all three times that they have been an underdog. They are a very strong 9-3 AST on the season, and with a schedule that is not particularly scary the rest of the way they have a good chance of maintaining their betting success for a while. They have impressive defensive discipline that hasn't wavered so far this year, and Trey Freeman is a nice player who leads the way offensively. This isn't a team that is going to blow you away or really excite you, but they should keep covering some spreads.
Northern Iowa: The Panthers will be remembered forever for upsetting top-seed Kansas in the second round of the 2010 NCAA Tournament behind the heroics of sharpshooter Ali Farokhmanesh. They haven't been back to the dance since, and Wichita State could stand in the way of them making it out of the Missouri Valley Conference this year, but they are quietly putting together a nice season. They are 15-2, including two wins over major-conference teams, and one of those losses was to VCU in overtime. They are a perfect 3-0 ATS as underdogs and a solidly-profitable 9-6 ATS overall. Like Old Dominion, they rely on rigid defense and the offensive leadership of one player - in their case it's senior forward Seth Tuttle. They still face Wichita State twice, so some rough times could be ahead, but the rest of the conference schedule is manageable, and the strength of this team should make them nicely-profitable the rest of the way.
Davidson: The school most famous for producing Steph Curry is putting together a pretty solid season again - though nothing like Curry is at Golden State. The team is 11-3 on the season. That's impressive enough by itself, but when you consider that the losses are to VCU, Virginia and North Carolina, and that they covered two of three spreads in the losses, you really have to be pretty impressed. Overall the team is 10-1 ATS and has covered 10 in a row since falling short against the Tar Heels early in the year. They are 5-0 ATS in true road games this year as well, so they are fearless when it comes to geography. There are a couple of reasons to be a bit concerned despite the excellent start, though. For one, unlike others on this list they rely heavily on an explosive offense - third in scoring in the country - and virtually ignore the defensive aspects of the game. That makes them more vulnerable to slumps and injuries than a rigid defensive team. They also play in what is a pretty deep Atlantic 10 now, so the schedule ahead isn't as easy as it could be. Still, a team that has done this well against the spread so far - despite some brutal scheduling - is worth a continued look.
Doc's Sports Advisory Board has set some lofty standards worldwide for college basketball handicapping. They normally do their best work at the beginning of the season. Click here for $60 worth of free college basketball picks. No credit card needed, and you will never deal with a salesman.
Read more articles by Trevor Whenham
---
Most Recent College Basketball Handicapping