2015 Colorado Avalanche Predictions and Futures Odds with Betting Picks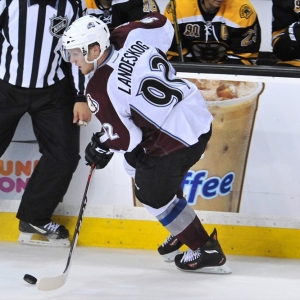 Strange story with this team. In 2012-13 they were dead last in the Western Conference. Not good at all. They next year they improved by 73 points in the standings - pretty much impossible to do - won their division and were second in the West. Last year the glass slipper quit fitting, and they dropped back to last in their division. So, what is this team? Are they contenders or also-rans? Is coach Patrick Roy the genius he looked like in his first season in 2013-14 or the very mortal guy who coached last year? What the heck is going on a mile above sea level?
Colorado Avalanche Offseason Moves


We'll start with the move that captured headlines. Ryan O'Reilly and the Avs had proven that they could not get along - at least when it came to matters of money. The young forward was emerging as a top-tier player and wanted to be paid accordingly. Colorado would have none of it. It was a marriage that was destined to end, and finally he was shipped to Buffalo - where he immediately signed a very fat, long new deal. He'll be missed.
The impact of the return in the deal will take a while to evaluate. Nikita Zadorov is a 20-year-old defenseman who played 60 games last year - albeit for a Buffalo team so bad that the mascot could have got significant ice time if he had wanted to. Mikhail Grigorenko is a 21-year-old forward who played 25 games last year and provides some offensive depth right now. J.T. Compher is a promising defenseman. Colorado also had to throw in Jamie McGinn, a bottom six forward who had 38 points two years ago. There is a lot of potential, but O'Reilly is only 24, so these players will have to contribute a lot over the long term to make the deal work out.
In attempt to replace O'Reilly, the team traded for the negotiating rights of Carl Soderberg from Boston and signed him to a five-year deal. After playing in Sweden early in his career, the 29 year old has 29 goals and 63 assists in two full seasons with the Bruins. Solid player, but not O'Reilly.
Two free agent signings capped the significant action. They got Blake Comeau from the Penguins. He's a solid, responsible depth forward, but they overpaid badly for him in my eyes - $3.6 million per year for two years. They also added Francois Beauchemin on the blueline from Anaheim. Being consistent, the three-year, $13.5 million deal is more than I would ideally want to see him paid. He's 35 and is not at the peak of his game.

Colorado Avalanche NHL Outlook

Nathan MacKinnon was truly brilliant as a rookie, and his Calder-winning season was a huge reason why the team was so good two years ago. Last year, though, he was a shadow of his former self. Now he is in the final year of his entry-level deal. Will he be motivated to have a great year or further crippled by the pressure? He needs to be better as he is a big part of a pretty decent group of forwards. Along with MacKinnon, Matt Duchene and Gabriel Landeskog make up the young core of the team and the top line. Soderberg pencils in with Alex Tanguay and Jarome Iginla - two guys who are very long in the tooth but who still have some offensive spark. In fact, Iginla led the team in scoring last year as a 38 year old. When a second liner of that age is leading the team it's no wonder it wasn't an ideal season. Beyond that it's mostly unremarkable-but-solid depth guys. The team will be hoping that young guys like Grigorenko, Joey Hishon and MIkko Rantanen can make the team and contribute in a significant way. Overall, though, the offense should be fine - the heart of this team. The loss of O'Reilly can be overcome if MacKinnon rediscovers himself.
Defense, meanwhile, is not a strength. They choose to lock down Erik Johnson for the long term for way too much money before the season instead of letting the lure of a contract year fuel his play. Beauchemin will disappoint. The depth isn't good, and the top end isn't good enough. Defense is a liability - putting more pressure on the offense to carry the load.
Semyon Varlamov is fine in net, and the backup situation is fine enough. No major concerns in net.

Colorado Avalanche Schedule

Last year this team seemed to look for reasons to quit on themselves. In early November we'll get a real sense of whether that is still the case. They head out on a long seven-game road trip then, and all are out East and mostly pretty tough. That kind of stretch can really cripple teams that are weaker mentally or can define a season for a team that rallies and performs well.

Colorado Avalanche NHL Futures Odds (from Bovada)

Oddsmakers are not in love with this team. They are +6600 to win the Stanley Cup. That puts them in the realm of the long shots - tied with two teams and behind 21 others. They are tied with Vancouver as the 12th choice to win the 14-team Western Conference at +3300. They are tabbed as least likely to win the Central Division at +1400.

2015-16 Colorado Avalanche Predictions


The West is very tough - too tough for this team, I fear. They shoot too much and possess the puck too little, and their defense isn't good enough to warrant that style of play. I have concerns about offensive performance - especially from the second line. The team didn't get better this summer at a time when too many teams in the conference did. Decent team, but not a playoff team.
$60 worth of member's NHL picks absolutely free - no obligation, no sales people - you don't even have to enter credit card information. You can use this $60 credit any way you please on any of our top hockey handicappers. Get your free picks by clicking here! Also, for a limited time get three hockey handicappers for the price of one! Click here for our 3-for-1 NHL picks offer.
Read more articles by Trevor Whenham