Golden State Warriors Odds to Win NBA Championship with Betting Picks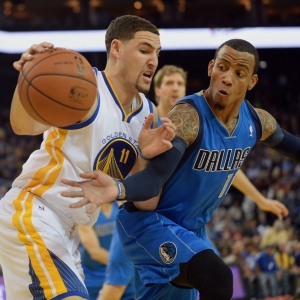 It has been, by every measure, a dream season for the Golden State Warriors. They are running away with the race for the top record in the league and will have home-court advantage as long as they want it. They are the favorites to win the NBA title. Their star is all but a lock to win the MVP. They unquestionably hired the right coach in the offseason, and they upgraded dramatically as a result. Everything is coming up roses. Impressive in almost every way.
So, the only real question that remains - and the one that matters most to bettors - is whether they are going to be able to win it all once the playoffs get rolling next week. To ponder that question, let's look at two things. First, what are the biggest things this team has going for it? Second, what are the biggest obstacles in their way? By balancing these two things we can build our expectations, and decide if there is any value in betting them - either in the individual playoff games or series or to win it all at the tin +200 price at BetOnline.
Strengths
That Curry Guy: Steph Curry is good at basketball. We know that. We don't need to spend much time discussing it. What stands out most, though, is that he has gotten better as things have progressed. His shooting in the second half of the season has been ridiculous, and he just doesn't like to lose. What an asset.
That other shooting guy: Klay Thompson is a very good player from day to day. When he is dialed in, though - as he was yet again on Monday night against the Grizzlies when he had 26 points in the second quarter - there is no better shooter out there. He thrives on pressure, and we'll see that at some point in the playoffs.
Balance: The Warriors have scored three more points per game than any other squad. They aren't a one-trick pony, though - their point differential is 3.6 points better than any other team, too. Given how fast and aggressively they play with the ball, they are a very sound defensive team. Curry gets too much credit for his defensive improvement this year, but thanks to his teammates he has looked sound. They may not be able to consistently score at the same rate in the playoffs given the tighter style of play, but the margin between their offensive output and their opponents' gives them a nice cushion to deal with.
Massive home-court advantage: The Warriors have played 40 home games this season. They have won 38 of them. They will play more home games than road games in each playoff series they play. That obviously is not a bad thing.
Concerns
The looming Spurs: The bad news here is that San Antonio is getting hot - red hot - at just the right time (or the wrong time if you are the Warriors). San Antonio has won 11 in a row and look pretty much like any Gregg Popovich team looks at this time of year. Earlier in the year it was easy to convince yourself that the window had closed for the Spurs and they weren't going to be a factor now. They were just biding their time. The Spurs are older and far less explosive than Golden State. They are so defensively sound, though. More significantly, of course, they know exactly what they need to do. They have been there. The Warriors will have an edge in a series against the Spurs, but it won't be easy by any means. The good news, though, is that the rest of the conference sets up reasonably well for the Warriors. Their first-round matchup will be as good as they could hope. Really, the only team aside from the Spurs that has the tools and is playing in top form right now is the Clippers, and I'd take the mental game of the Warriors every day in that pairing.
King James: There are only two teams that could realistically win the East in my eyes. Atlanta is talented but inexperienced. They are probably a year or two ahead of schedule. And there is Cleveland. It won't be pretty, and any victory party they have will be far from a jovial celebration, but they are rounding into form, and LeBron is capable of carrying this team at least to the finals almost by himself. The Warriors certainly play more like a team, but like the Spurs, James has been where the Warriors have only dreamed of.
Experience: As touched on in the last two points, experience in a major concern. The players have never been here before. Coach Kerr has been all the way to the championship as a player five times, but the first playoff game will be his playoff debut as a coach, and that is completely different. This team is spectacular, but time and again we have seen talented young teams need some seasoning - learning how to win - before they can reach their full potential. That doesn't necessarily have to be the case here, but it is certainly enough to make a guy nervous.
Read more articles by Trevor Whenham