2015 Kentucky Derby Betting Tips and Expert Wagering Advice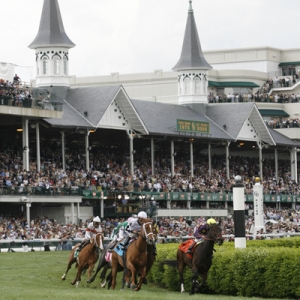 In the best of years, winning money betting on the Kentucky Derby requires a much bigger dose of luck than most races - and much more luck than most handicappers would admit. When the field is as deep and talented as this year, though, the difficulty factor ratchets up even higher. To try to decipher this brutally-tough field this year - just deciding between the two Bob Baffert horses is next to impossible, never mind the other 18 runners - here are five Kentucky Derby betting tips to keep in mind:
Look deep
With all the hype around American Pharoah, Dortmund and Carpe Diem, it would be very easy for bettors to focus just on the truly elite horses in this field. Winners like Super Saver, Mine That Bird, Giacomo, and countless others, though, serve to remind us that the most obvious horses don't always win this race. It's possible that the three favorites - all of which have run their best on or near the early lead - could burn each other out. Or that track conditions could favor another horse. There is no tougher race in North America to win than the Derby.
I'm not suggesting that you completely ignore or discount the favorites - I'm going to be all over the two Baffert horses like everyone else. Just don't forget that they aren't the only horses in the field. Instead of going all in on one horse and hoping for the best, work to craft your bets so that you will come out ahead if one of several viable theories about the race proves to be true.
With the top three horses so popular, we are going to see some real value on lesser-regarded horses, so hedging and branching out will be easier - and more important - than in other years.
It's all about the payout
When you are looking to buy a stock, you can't be concerned about how much you like the company or how successful they are. All you should care about is what the price currently is, what you think it should be based on a ranged of well-reasoned factors, and whether there is money to be made as a result. The same goes for the Kentucky Derby.
Pari Mutuel betting is a giant market, and in that market is a whole lot of dumb money - casual bettors throwing their cash around to have a good time and not using their brains or good advice when they are doing so. That means that some horses are going to be badly overbet and others will not get nearly as much betting action as they should.
The favorites this year are going to be pounded at the betting windows. Jockeys like Mike Smith, Gary Stevens, and especially Calvin Borel at the Derby often draw public money beyond expectations. When looking at the race you need to not only look at how you think the race should turn out but what you think the odds should be for certain horses - and how close to those prices the odds actually are. Over the long run I'd rather bet on a horse that didn't win at 10/1 that should have been at 5/1 than win at 4/5 on a horse that should have been 4/1. The better you understand that, the more successful you will be - as a sports bettor, not just on this race.
Be very choosy about the trends you use
Give me some time and a few years' worth of past performances and I will find you historical trends that support or eliminate every horse in the field. The media attaches huge significance to some trends each year, so you can't avoid them. If you pay attention to too many trends, though, you'll just be confused and overwhelmed and you won't make good decisions. Instead, just focus on what is important to you in the race and gravitate towards the horse that best represent those factors.
Pace makes THIS race
Pace - how fast the race is run early on and where horses choose to be compared to the leaders early on - is important in every race. In the Derby, though, it is crucial. If there is early speed in the Derby it can often get out of control because of adrenalin and what is at stake. A horse that needs to come from far back will face far more traffic than he has ever seen before. Horses of any running style can win this race, but smart handicappers need to look at how the race is likely to shape up and what that means for the chances of the horses in the field.
For example, American Pharoah, Dortmund and Carpe Diem were all no worse than second at any point in their last race. At least one of those three is going to have to run a different race this time out. What will that mean for each of them?
Maintain your perspective
The Kentucky Derby is my favorite thing I bet on each year. It's also the dumbest bet I make most years. There are 20 very young horses being asked to run further than they ever have in front of a massive, crazy crowd on a track with too many horses on it. Literally anything can - and often does - happen.
Handicapping the race is fun, but there is almost never massive value to be had for most bettors, and quite often you just have to accept that you are making a lousy bet. Accept the realities of the situation, enjoy the spectacle and have fun. Save the pursuit of a major score for a spot where you have a fighting chance of success in the long term.
Get free picks from any Doc's Sports handicapper - there is no obligation for this offer and no credit card required. Just sign up for an account, and you can use the $60 in free picks for any Doc's Sports Advisory Board handicapper and any sport. Click here to get started now.
Read more articles by Trevor Whenham