2015 Kentucky Derby Predictions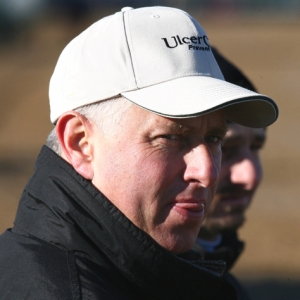 We are almost there. After six months of rampant speculation, countless hours of pondering, and decades of dreaming of Triple Crown glory, the Kentucky Derby is now so close that we can measure the time to the start in hours. I don't know about you, but I couldn't be more excited. Most years the Derby is the most anticipated minutes on my sporting calendar. This year that anticipation has been ratcheted up about six notches. We have a potentially legendary group of horses - the most impressive in memory - and what will happen remains a thrilling mystery. I haven't nailed down all my bets yet, but here are four Kentucky Derby predictions that I feel pretty solid about:
The Pletcher struggles will continue: As I write this we don't know if Todd Pletcher is going to have three or four entrants in the race - he says he is 50/50 on whether Stanford will be entered. No matter how many he has, though, he is not going to add to his Derby win total of one, and his winning percentage in the biggest of races is going to become even more dismal. Carpe Diem is a very nice horse, but I don't see how he will match up tactically to the two favorites in this race. Materiality is too raw and inexperienced to handle this test and isn't going to be able to access his best. He also hasn't impressed me in training. Itsaknockout wins the marketing portion of the race -- he has been sponsored by the Mayweather-Pacquiao fight - but he isn't a major contender here. Stanford stands as much chance of winning if he is scratched than he does if he runs. Carpe Diem is one of the nicer horses Pletcher has brought to the Derby, but his timing is lousy, and the rest of the stable isn't quite good enough.
The pace won't be frantic: Quite often in the Derby we see a truly insane early pace set by horses that are either way too excited or scared by the chaos of the day or ones that don't really have a chance and are hoping to create a miracle. That rapid early pace can throw the race into disarray and can mean that anything can happen. This year, though, we shouldn't see truly eye-popping fractions through the first half mile. The biggest reason is Bob Baffert - or his two horses, really. Both American Pharoah and Dortmund like being on the lead. My guess is that the former will set the pace and the latter will stalk it. They are both so good that other riders and trainers will be hesitant to tangle with them early and set up a doomed duel. The horse most likely to challenge for the lead is Ocho Ocho Ocho, but he drew the inside post position and could struggle to find room to get to the front. Add it all up, and this should be a fairly reasonably run early race, which is great news for Baffert and really lousy news for the half the field that likes to close.
Baffert will go home happy: When I think about what Baffert has here - the two favorites, two very potentially special horses - the Derby historian in me thinks of two races. I saw the first - in 2003 Bobby Frankel had the two favorites in Empire Maker and Peace Rules. They finished second and third behind Funny Cide. In 1948 Ben Jones had the chalk horses in Citation and Coaltown. Citation went on to win the Triple Crown. Sadly, I don't think Baffert will replicate the success of Jones, but I also expect him to trump Frankel. These horses are both so good and so varied in their abilities - and they have both looked so good in training - that they will be tough to beat. The trick is figuring out which one of the two will be better on the day. American Pharoah? Dortmund? I've gone back and forth a few times and will a bunch more before the horses enter the starting gate.
This won't be another Mine That Bird year: The last time I was at the Derby in person it was to watch Mine That Bird come from absolutely nowhere to shock the world and win the race. He paid about a million to one, and of course I had bet on pretty much every horse besides him. He's a reminder that anything can happen in this race - just like Giacomo and others shocked the world. This year, though, the gap between the top seven or eight horses in this race and the bottom five or six is just too large to see that kind of thing happening here. It's very tough to differentiate between the top two in this race, and the next five are virtually indistinguishable, but it's very easy to throw out at least five horses without concern. Some years I lose sleep over the bottom end and how they could cost me money. This year I am going to sleep soundly on Friday night.
Get free picks from any Doc's Sports handicapper - there is no obligation for this offer and no credit card required. Just sign up for an account, and you can use the $60 in free picks for any Doc's Sports Advisory Board handicapper and any sport. Click here to get started now.
Read more articles by Trevor Whenham