Materiality Odds to Win the 2015 Belmont Stakes with Picks and Predictions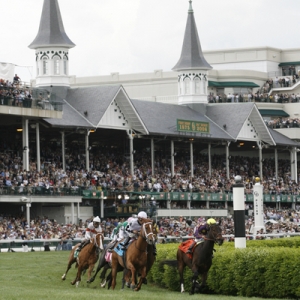 Todd Pletcher is Bob Baffert's biggest rival when it comes to Triple Crown races. He is also the biggest threat to American Pharoah's Triple Crown dreams. Pletcher will be sending three horses to the starting gate in the Belmont Stakes if all going according to plans. Materiality is the least experienced of the three, but according to oddsmakers he is the biggest threat to win the race. So, can this horse crush the dreams of horse racing fans everywhere? Let's take a look:
Last race: Materiality's last start was both horrible and impressive depending on which part of the race you look at. I was very concerned about his lack of maturity and experience heading into the race with just three career starts. In the gate that proved to be a problem. He got caught flat footed when the gate opened and was way behind before his race even began. A lot of horses would have quit then - especially raw ones like this horse - but he fought back well. He made a monster move around the final turn and was sixth at the end. With a better start he would have been a factor in the race.
Career highlights: With this little experience, we don't have to stick to the highlights -- we can look at the whole career. He only broke his maiden on Jan. 11 at Gulfstream, so he is very new to the sport - the latest starter of all of the Derby entrants. He came back in a low-level stakes race at Gulfstream in early March and won even more easily than his debut. Then it was his first graded stakes appearance in the Florida Derby. He was bumped at the start, but it didn't bother him. He won by a length and a half, but it was a much easier win than the margin suggests. So, no losses before the Derby is a very good thing. Only three starts before the Derby, and none as a two year old, are very bad things.
Jockey: Todd Pletcher has not yet named the riders for his three horses, though we know that John Velazquez will be on one, Javier Castellano, another, and a third rider who hasn't been named on the third. Velazquez was on board for the first three starts of this horse but chose to ride Carpe Diem in the Derby instead, so Castellano was on board this horse. It's a good bet that one of the two will be on here - and I would guess Castellano. Velazquez has won the race twice, and Castellano is the two-time defending National Jockey of the Year, so the horse is in good hands either way.
Trainer: Todd Pletcher has had more success in the Belmont than in the Kentucky Derby. Thankfully. He hasn't run nearly as many horses in this race as the Derby, yet he has two wins - with the filly Rags to Riches and with Palace Malice two years ago. He also has won countless training titles at Belmont, so he knows the track well and is more than comfortable here. He has become something of a liability for horses in the Derby, but that's not the case here.
Pedigree: Sometimes it's hard to figure out from the pedigree if a horse is capable of handling the brutal Belmont Stakes mile and a half distance. That sure isn't the case here. He'll be fine. Materiality's sire is Afleet Alex. That horse should have won the Triple Crown, but got a very lousy ride in the Derby and finished third. He went on to win the Preakness and then to take the Belmont by seven lengths while running the fastest last quarter mile since 1969. Needless to say, he liked the distance just fine. Materiality's damsire, Langfuhr, was an accomplished sprinter, but he has passed stamina along in his offspring. Wando won the Canadian Triple Crown, Lawyer Ron wasn't afraid of distance, and so on. Materiality won't have his pedigree to blame if he doesn't have a good day in the Belmont.
Running style: Like so much of the field in this race, he's not going to want to set the early pace, but he'll want to be right on it. In his three wins he has never been worse than second at a call. There is going to be a lot of congestion in the front pack in this race, and that could lead to problems depending on how fast the early pace is. If things get crazy and this horse can't relax further off the pace - which he has never done before - then he could be forced to go too fast. American Pharoah and Carpe Diem would, ideally, run the same type of race as Materiality. With War Story out, though, it isn't clear who will set the early pace, so it might not be quite as much of an issue. No matter what, though, if we see him anywhere other than in contact with the leaders early on we should be concerned.
Belmont outlook: He's the third betting choice in futures action at Bovada at 15/2, behind only American Pharoah and Frosted. I'm not crazy about the value at that price, though. While he has talent, and the breeding suits him, I still am concerned about the lack of experience when it comes to such a tough race. I also am not crazy about the way he has been training since the Derby - fine, but not overwhelming by any means. I think he has a bright future ahead of him, but this, like the Derby, could be too much too soon. He'll factor into exotic betting, but if he wins I'll likely be in trouble.
Doc's Sports has been a leader in Triple Crown handicapping for more than four decades, and we have a great offer for new clients. Get $60 worth of Belmont Stakes picks free with no obligation to buy anything. Not credit card is needed, and you won't ever have to talk to a salesperson. Get your $60 in Belmont Stakes picks here.
Read more articles by Trevor Whenham