Materiality Odds to Win the 2015 Kentucky Derby with Picks and Predictions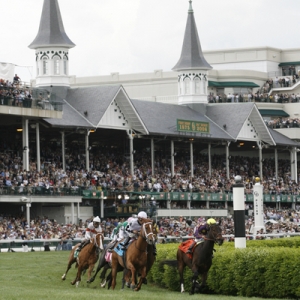 Materiality is the kind of horse that gives me major headaches heading into the Kentucky Derby. In fact, just thinking about him gives me the chills. Or makes me want to have a drink. Or three. On one hand, he won the Florida Derby. That commands respect - in the last nine years Barbaro, Big Brown and Orb have all won that race and the Kentucky Derby, and Union Rags and Shackleford both finished Top 3 in the Florida Derby before winning a Triple Crown race. That's all positive for Materiality. On the other hand, though, he has raced just three times and didn't make his debut until Jan. 11. That makes him subject to the Curse of Apollo - Apollo, who won the Derby in 1882, was the last horse to win the Derby without racing at least once as a two year old. That's a whole lot of history to overcome. Oddsmakers are somewhat higher on the horse than I tend to be - he is the fifth choice in early futures betting at +1200.
Florida Derby: I am going to ignore for a second that the Florida Derby was his first and only graded stakes appearance. The important thing, I guess, is that he won it. Materiality was bumped out of the gate but recovered nicely and pushed the pace early before taking over the lead just over a quarter mile into the race. He locked into a duel with Upstart with a half mile to go, and those two pulled away from the pack - ultimately finishing more than 12 lengths ahead of third-place finisher Ami's Flatter. Upstart caught Materiality and looked like he was going to put him away briefly, but Materiality fought back, pulled away, and won by a length and a half. It was a solid effort. The biggest concern for both this horse and Upstart, though, was the track that day. The track crew left the dirt very thick and deep, and the horses had to put a lot of effort into their run. They obviously handled it much better than the others in the field. There are two concerns, though. Did the effort on that track take too much out of them? And did the surface flatter them? If the latter is true then they may not be as sharp on a fairer track in the Kentucky Derby.
Prior experience: The horse started as most do - in a maiden special weight. His came at Gulfstream Park, and he won it very easily. He was also the easy winner of his next race - a low-level stakes also at Gulfstream. He has never lost. That's obviously a positive. There are negatives too, though. First, he has never run anywhere other than Gulfstream, so we can only guess how he will handle the travel or a new track. He has also only ever run on the lead or pushing it. He has not had to face any adversity or adjust his running style at all. That's a concern in the Derby because horses almost never get their dream trip. It's especially tough to get a strong trip when you need the lead because so many horses typically go for the lead, and the nerves and craziness often forces a blazing early pace.
Trainer: I have been fairly negative about this horse so far, so I might as well not stop now. Todd Pletcher has had 40 starters in the Kentucky Derby. He has won just once. Many, many times he has had a very good contender who has not been anywhere near their best on race day. He often has horses in the race that have, in my eyes, not been raced enough leading into the Derby. That is definitely the case here. On 364 days of the year having Pletcher as the trainer is a big asset for a horse. On the first Saturday in May, though, it just isn't.
Jockey: There is some uncertainty here as I write this. John Velazquez has been aboard for all three starts. As the lead rider for the Pletcher stable, though, Velazquez has also had the ride on Carpe Diem. The jockey can ride whoever he wants for Pletcher, but I find it tough to imagine that he would choose this horse over the Blue Grass Stakes winner. He'll still have a good jockey aboard, but chances are good that it will be one that hasn't ridden the horse before. I value chemistry in a race as insane as the Derby, so if Velazquez passes on this mount then it will be another strike against.
Breeding: This is one area where I can be positive about this horse. He is a son of Afleet Alex. That horse won the Preakness and Belmont in 2005 after finishing third in the Derby. A decade later it still mystifies and annoys me that he didn't win the Triple Crown. He has passed his obvious stamina to his offspring. Materiality's grandsire is Langfuhr. He was a champion sprinter in my native Canada, but his offspring have tended towards more stamina. Notable offspring have included champion Lawyer Ron and Canadian Triple Crown winner Wando. In short, one thing I can't knock about this horse is his ability to handle the Derby distance. It's most everything else about him that makes me think that betting on him at anything other than a fat price would be a terrible idea.
Doc's Sports has been established as the best in the business for well over 40 years. We want you to see why! That is why new clients can get $60 worth of member's picks free by clicking this link for a no-hassle signup.
Read more articles by Trevor Whenham