NBA All-Star Weekend: Shopping for the Best Betting Odds
by Dave Schwab - 2/11/2015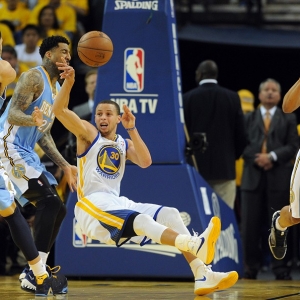 The NBA will take a break from its regular-season schedule this weekend for its annual All-Star Game festivities, but that does not mean sports bettors have to take a break as well. This event has grown into a three-day affair over the years with a number of different things to wager on along with the game itself.
Anytime the sportsbooks release special prop bets for a sporting event, it pays to shop around to find the best value in the betting odds. The following is a look at where the value lies for the top two player props in this weekend's NBA's All-Star events
The 3-Point Shooting Contest
This contest pits some of the league's top long-range sharpshooters against one another to test their skills hitting 3-point shots. This event was first added to the All-Star Game lineup in 1986 with Hall of Famer Larry Bird winning the first three years.
Last season, Marco Belinelli of the San Antonio Spurs took home top honors in this contest, and he is back to defend his title. So far this season, he is well down the list in the NBA with a 38.4 shooting percentage from beyond the arc, which helps explain his +500 odds to win again with BetOnline. If you still want to wager on Belinelli successfully defending his title, you can get +600 odds with Sportsbook.ag and even better +700 odds with Bovada.
One of the top favorites to win this season's 3-Point Contest is Golden State's Stephen Curry. There is no doubt that he can light it up from the outside when he gets hot, but overall he is ranked just 19th on the list with a 40.1 3-point percentage. His odds to win this event are set at +225 as the top favorite with BetOnline. He is a co-favorite on Sportsbook.ag's board at +300, but the best value is his +325 betting odds at the top of Bovada's prop bet list for this contest.
If you are looking for the best overall value in this contest, then I would go with Atlanta's Kyle Korver. He currently leads the NBA from 3-point range with a 52.8 shooting percentage on 303 attempts. The best value on his odds among these three books is with Bovada as a +375 second favorite. His current odds with Sportsbook.ag are listed at +300, and they drop to +275 with BetOnline.
The Slam Dunk Contest
While the NBA All Star Game itself is billed as the main attraction of this weekend's events, the most popular with the fans could be the Slam Dunk Contest. This event goes all the way back to 1984 when the Phoenix Suns' Larry Nance took top honors. Over the years it has featured some incredible dunks from some the NBA's top players of all time right up to last year's winner John Wall of the Washington Wizards.
Wall is not back to defend his title in a field of newcomers to this event. Minnesota's Zach LaVine highlights the four-man field for this year's Slam Dunk Contest as a solid -110 favorite with all three books. The 6-foot-5 point guard has been wowing fans all season long with some his monster dunks, and he figures to be a formidable force in this year's event. However, in a subjective contest where anything can happen, some of the value in these lofty odds is lost.
Moving down the list that includes the Bucks' Giannis Antetokounmpo, Victor Oladipo from Orlando and the Nets' Mason Plumlee, I am going with the longer odds on Oladipo as my top pick. He can be just as athletic and thunderous as LaVine dunking the ball, so overall creativity will most likely be the deciding factor.
The best value in his odds as the third-favorite to win with all three books is + 400 with BetOnline. His betting odds to win with Bovada are listed at +300, and they drop to +275 with Sportsbook.ag.
Read more articles by Dave Schwab