NBA Betting Trends: Totals Report for Hot Over and Under Teams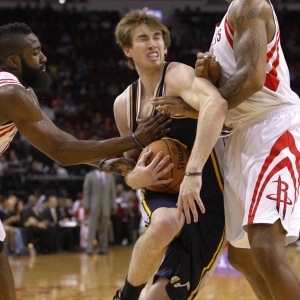 We're now a little more than three weeks into the new NBA season, and the action has been terrific. Golden State appears to be on a mission this year, and they are setting all kinds of records. Can anyone stop them? Right now it doesn't look like it, but remember the NBA season is a very long one.
Doc's Sports has done an NBA Totals Trends report in the past, and we'll be doing it again this season. We'll highlight the Top Five 'Over' teams and the Top Five 'Under' teams in each article. Because of the streaky nature of the NBA, it can be profitable to look at these totals trends and try to jump on a winning streak before the oddsmakers adjust. This report will be offered on a bi-weekly basis throughout the NBA regular season. The statistics listed for this article are for all games played through Nov. 19.


Free $60 in Member NBA Picks No Obligation Click Here
As a whole so far this year, the under is 93-81 (53.45 percent of games have gone under). In the past week, the over is actually 26-23.
Top Five Over Teams (Over Listed First)
1. Washington Wizards (7-1-1) Washington Coach Randy Wittman made it clear before the season he wanted his team to play faster. They've had no problems turning up the tempo. The issue they have had is stopping anyone on the defensive end. Washington does rank first in the league in possessions per game so far this season. Washington was fifth in defensive efficiency in the NBA last year, and so far this year they are No. 19.
2. Portland Blazers (8-5) Here's another team who has had all sorts of defensive problems this year. Everyone knew Portland would struggle to replace LaMarcus Aldridge on the offensive end, but the defensive struggle has been larger than most assumed it would be. What's the problem here? Both Wesley Matthews and Nic Batum are badly missed by Portland. They no longer have a defensive stopper on the perimeter.
3. Los Angeles Clippers (8-3) The Clippers are undoubtedly one of the best teams in the league, but their inability to win big games is concerning. The huge lead blown at home against Golden State on Thursday night is a major red flag. Now, we will see how this team responds to that disappointment. The positive for them is they do have a great leader in Chris Paul at the point guard spot, and he won't let the team get down for too long. The Clippers are tied with Brooklyn as the sixth worst defense in terms of efficiency so far this year.
4. Cleveland Cavaliers (7-5) The Cleveland Cavaliers are playing at the third slowest tempo of any team in the league, so it's interesting to see them on this side of the report. Cleveland's offense has been really efficient, and with the amount of scoring options they have I would expect that to continue. Defensively, they have slacked off in the last couple weeks. LeBron James has made comments in the media lately about his disappointment with the team's effort defensively. I think Cleveland could end up on the other side of this report soon.
5. Philadelphia 76ers (7-5) What a terrible NBA team! How do fans of this franchise even stay tuned in? Philadelphia's front office appears to be attempting to demolish their fan base. The 76ers are shooting an abysmal 41.78 percent from the floor overall and just 30.53 percent from the 3-point line. Late last year, Brett Brown was doing a good job getting this team to compete on the defensive end. That isn't happening this year. Betting on the 76ers totals is a dangerous venture, and I would definitely prefer to just stay away.
Top Five Under Teams (Under Listed First)
1. Miami Heat (9-2) Miami's commitment on the defensive end this season is clear, and it's impressing me a lot. While there were a lot of questions about this team coming into the season, I believe Miami's upside is very high. The Heat had a good NBA Draft this year, and they have done a nice job piecing together a team that works hard on every possession. Last year, Miami ranked No. 19 in the NBA in defensive efficiency. They are currently second in the league in that category this year.
2. Chicago Bulls (7-3-1) This is a case of the oddsmakers adjusting totals too much. Everyone knew Chicago would play a different style of basketball with Fred Hoiberg leading the way. They have played quicker, but the difference hasn't been as drastic as most expected. Additionally, Chicago is still playing great defense. The Bulls are fifth in the league in efficiency on defense. That is actually better than they were a year ago. I'm interested to see how quickly the oddsmakers adjust the Bulls numbers lower.
3. Brooklyn Nets (8-4) Only one team has been less efficient on offense than the Brooklyn Nets, and that is the Philadelphia 76ers. Any time your offense is only a spot better than the 76ers, you have a major problem. Brook Lopez is still very good on the inside, but the Nets have serious issues around him. I think Brooklyn is likely to be a good under play throughout the course of the season.
4. Los Angeles Lakers (7-4) The Lakers have been a mess this season. Los Angeles is ahead of only Brooklyn and Philadelphia in offensive efficiency. D'Angelo Russell has shown glimpses of greatness, but the team is having a difficult time figuring out how to best use Russell's skills as part of the team's offensive plan. Los Angeles has also slowed down the tempo a bit in the past couple weeks. The Lakers have a brutal schedule with a bunch of road games coming up in the next month.
5. Utah Jazz (7-4) While the Nets and Lakers are on this side of the report because of their terrible offense, Utah is here because they are playing some great defense. Utah is allowing only 91.5 points per game, which is second best in the league. The Jazz have played at the second slowest pace in the league as well (only Milwaukee has been slower). Utah is a team to watch this year, because they are putting together a nice young core of players.
Read more articles by Aaron Smith