NBA Betting Trends: Totals Report for Hot Over and Under Teams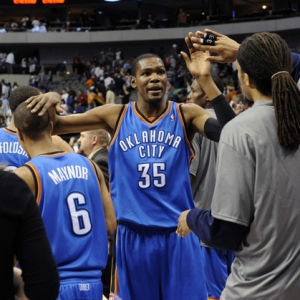 The Golden State Warriors finally lost a game. Don't think that means the team is looking human, though, because they are still putting up some ridiculous numbers. It does mean some of the other very good teams in the NBA are going to start getting a little more publicity in the coming weeks. The San Antonio Spurs are unbeaten at home on the year, and Gregg Poppovich's team is looking as good as ever right now.
Doc's Sports has done an NBA Totals Trends report in the past, and we'll be doing it again this season. We'll highlight the Top Five 'Over' teams and the Top Five 'Under' teams in each article. Because of the streaky nature of the NBA, it can be profitable to look at these totals trends and try to jump on a winning streak before the oddsmakers adjust. This report will be offered on a bi-weekly basis throughout the NBA regular season. The statistics listed for this article are for games played between Dec. 4 and Dec.16.
For the year, the 'under' is still at 53.2 percent overall in the NBA, but in the past couple weeks things have evened out as some teams have started some nice 'over' trends.
Top Five Over Teams (Over Listed First)
1. Minnesota Timberwolves (6-1) It's more than a coincidence that the Timberwolves over streak started right after Ricky Rubio got healthy. Rubio has at least 12 assists in three of the team's last seven games. During this over streak, the Timberwolves haven't been winning games, though. Minnesota has allowed at least 107 points in every single one of their last seven games. Wow. Yes, two of those games went into overtime, but that statistic is still ridiculous.
2. Golden State Warriors (5-1) In our report from two weeks ago, Golden State was 5-1 to the over, and here they are yet again with exactly the same totals record. The Warriors defense has actually slipped a bit so far this season, but their offense has more than made up for the difference. The Warriors are averaging 115.8 points per game on the season! Does anyone have an answer for this offense?
3. Washington Wizards (6-1) Washington continues to play at a much faster tempo this year, and so far the oddsmakers haven't been able to catch up with the Wizards. The over is 15-7-2 in the Wizards games so far this year. Having said that, this faster pace hasn't been good for the overall success of the team. They are 10-14 overall on the year. Washington has too much talent to be this bad. Will they change styles again or not?
4. Denver Nuggets (4-1) Denver is a tough team to figure out this year. I feel like they are a team without an identity. This is exactly the type of team I prefer to stay away altogether rather than try to highlight as an over or an under team. I speculate that we'll see them show up on both sides of the report several times this year but finish near the even mark when it comes to over vs. under splits.
5. Detroit Pistons (6-2) The Detroit Pistons turning into an over team of late is primarily because the posted totals just became too low on their games. Detroit is still a relatively poor offensive team, and they look to slow the tempo down whenever possible. Still, if the number gets low enough, the Pistons can be a good over play.
Top Five Under Teams (Under Listed First)
1. Atlanta Hawks (5-1) The Atlanta Hawks are on this side of the report primarily because of their struggles on the offensive end. Atlanta has been held to 88 points or less in four of their last nine games. Jeff Teague's shooting percentage is only 41.8 percent on the year thus far. Additionally, Al Horford's field goal percentage went from 53.8 percent last year down to 48.6 percent this season. Road games in Boston and Orlando this weekend will be challenging for the Hawks.
2. Oklahoma City Thunder (5-1) The under is actually 10-1 in the Thunder's last 11 games. In contrast with Atlanta, the Thunder are in this position because they are playing extremely well on the defensive end. Oklahoma City hasn't allowed more than 97 points in any of their last seven games, and that includes one game that went into overtime. Importantly, Oklahoma City is second in the NBA in defensive rebounding, so they are doing a great job limiting opponents to one shot.
3. Toronto Raptors (4-2) Toronto has played 16 games that have finished under the total on the year compared to only 10 that have gone over. The Raptors made a clear effort to slow the game down and win with defense during the offseason, and the early results are definitely positive. Toronto's only chance at winning in the postseason is to continue with this kind of defensive intensity. Can they keep it up all year? We'll be keeping track.
4. New Orleans Pelicans (4-2) Here is a case where the totals just got a little bit too high. New Orleans certainly hasn't been playing defense this year. In fact, the Pelicans are giving up 107.7 points per game on the season. The over is 8-3 in the Pelicans 11 home games this year. The under is 12-2 in their 14 road games on the season. New Orleans will be on the road a lot in the upcoming month.
5. Phoenix Suns (4-3-1) The Suns squeaked onto this side of the report, but I wouldn't get excited to look for under plays with this Phoenix team. They rank third in the NBA in tempo, and their defensive efficiency has been in the Bottom 10 teams in the league in the past month. This team will have plenty of shootouts over the course of the season.
Doc's NBA handicapping team is offering $60 of member's picks free - no obligation, no sales people - you don't even have to enter credit card information. You can use this $60 credit on any of our top NBA handicappers. Get your NBA winning picks for free now.
Read more articles by Aaron Smith