NBA Finals Betting Advice: Why to bet the Cavaliers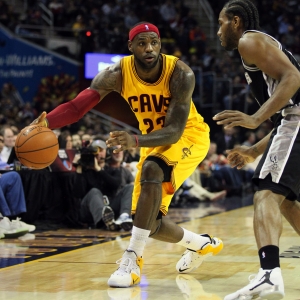 It seems like forever since we have last seen basketball - the NBA obviously thinks about a month between series is the way to maintain momentum. Luckily, this showdown between the Cavaliers and the Warriors has more than enough to keep us intrigued and excited. With megastars on both teams, you can easily make a compelling case to bet on whoever you want to. For the purposes of this article, though, here are four good reasons to bet on the Cleveland Cavaliers to win it all:
LeBron: LeBron James is pretty good at basketball, so betting on him to win isn't often a bad idea. We have learned, of course, that he can't do it all himself - he failed last year and also in his first try with Cleveland. For the most part, though, he has been able to elevate his game when it matters, and he likes to win more than most. There are a few things working in favor of taking him here, too. For starters, you rarely get to bet on him as an underdog, so that is a rare treat for his fans. He'll also take the fact that he is a pretty significant underdog here as a sign of disrespect. Superstars, with correspondingly huge egos, often take such things personally and let it fuel them. Most significantly, James has absolute control of this team right now and can create the situations he wants and needs. He isn't technically head coach, but he might as well be - he ignores David Blatt and does what he wants. That situation will be even more ridiculous now given James' experience and Blatt's absence of it. What we will get, then, is what is best for LeBron. That should be a good thing.
Defensive improvement: The Cavaliers had some definite defensive issues during the regular season. In fact, they struggled just to be average when they didn't have the ball. In the playoffs, though, they have stepped their game up significantly on this front -- and not just because they have met some teams that have struggled to score. The shift from Kevin Love to Tristan Thompson due to injury has certainly helped on this front, but it doesn't tell the whole story. They have been more focused and disciplined, and that has shown results on the scoreboard. Perhaps most significantly, teams have really struggled to shoot 3-pointers against them in these playoffs. That obviously matters here, because if Golden State can have their way outside the arc then this will be a very short series.
Rested: The Cavaliers were expected by many to make it to this spot. What wasn't expected by most, though, is that they would have a virtual walkover to get here. The Celtics played tough and are an exceptionally well-coached team with a bright future, but they just weren't ready for prime time yet. Chicago was obviously dangerous, but the drama worthy of a bunch of middle school girls in the front office certainly didn't help their focus. Atlanta was so banged up that I was afraid I'd have to go play a few minutes off the bench. Winning three playoff series is never easy, but it can't get much easier than it has been for the Cavs. They have played fewer games than the Warriors and haven't generally had to work nearly as hard in them. That means fewer bumps and bruises and more in the tank for this series.
The price: At Bovada right now you can get the Cavs at +165 to win the series. You don't often get that kind of a positive return when betting on a guy as public as LeBron James is. There are reasons, of course - chiefly that Golden State is very good. If you like James, though, then you are likely going to like him and bet on him regardless of what he is up against. Given that, you would have to be giddy about this price as it could represent a pretty tidy return on a winning bet. You have to decide for yourself whether there is value here or not, but one thing is certain - it would be easier to find value in this price than to convince yourself that it is a good idea to invest heavily in the Warriors at -190.
Want free sports betting picks? Doc's Sports has you covered - get $60 worth of picks free from any of Doc's Sports expert handicappers. Click here for free picks (new clients only).
Read more articles by Trevor Whenham