NBA Handicapping: Atlanta Hawks Early Success
by Trevor Whenham - 1/9/2015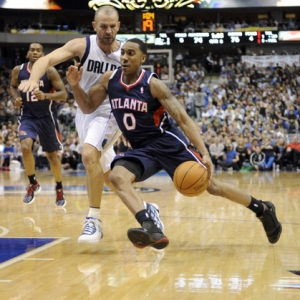 The Atlanta Hawks are red hot right now. They have won six in a row and are opening up a gap atop the Eastern Conference - currently two and a half games over the Bulls and three over Washington and the plummeting Raptors. It's an impressive start to the season. The question for bettors, though, is whether it is sustainable. Can this team continue to lead the way in the East and reward bettors as they do so? Or are they going to remember that they are the Hawks and settled back a little closer to earth?
Here are seven factors to consider when trying to determine what fate has in store for this squad:
Free $60 in Member NBA Picks No Obligation Click Here
Strong on the road: The 12-5 record the team has amassed on the season is solid but far from revolutionary. That doesn't tell the whole story, though. The Hawks have currently won seven straight road games, and that includes wins at Houston, Dallas, Portland and the Clippers. Their general schedule this year has been pretty decent - not an endless murderer's row by any means, but they do have some nice wins both on the road and at home and against both conferences. This is not a team that is particularly inflated by their schedule.
Balanced team: My favorite stat about these Hawks - and perhaps about any team in the league this year - is that they have yet to have a player all year who has scored more than 30 points in a game. For a team to have won as much as they have without a breakout performance is a true testament to their balance. They have five guys averaging between 11.4 and 17.7 points per game - they share the load as well as any team in the league. They are a decent offensive and defensive team but not particularly reliant on one over the other. The bench is solid and fairly deep as well. This team is more built to whether slumps, injuries and adversity than most star-driven squads.
Horford is healthy: Al Horford played 29 games last season and was crippled for much of them. This year he has played 34 already, and he is healthy and much more impactful That alone has had a huge impact on the way this team is playing. He isn't quite playing to the level he did at his peak, but he doesn't have to in this offense. With his size and swagger he's a big determining factor in the game. The longer he stays healthy, the better it is for this team.
Teague is excellent: Jeff Teague has improved in each of his six seasons since leaving Wake Forest and has quietly become of one the most underrated players - never mind just point guards - in the league. He is the master of relentless pressure, and though he leads the team in scoring, his impact is at least as significant when it comes to controlling the floor and setting the tone. Teague alone doesn't make this team superior because there are so many good point guards in the league, but with Teague at the helm this team can compete with many teams.
Excellent coaching: Mike Budenholzer seemed like a solid hire at the beginning of last season. Now he seems like a flat-out steal. He spent a very long time as a key assistant to Gregg Popovich, and it's clear that a whole lot of the master rubbed off on him. Budenholzer has obviously done an exceptional job of coaching this team. It goes beyond general schemes. He has altered the mindset and has them playing selflessly and completely as a team - just like those teams in San Antonio have done for so long now. This team is in very good hands.
Sale a distraction?: The team is for sale after owner Bruce Levenson self-reported a racist email and announced he would sell. The team is attracting plenty of interest - but it is mostly from Seattle, and the league does not want the Hawks to move across the country. This situation has surely been a distraction to the team already and could be much more of one going forward. Whether it will have a meaningful impact on the team or not remains to be seen and depends largely on how much drama comes along. If a respectable owner comes along quickly and is smart enough not to dramatically affect the path the team is on then the disruption shouldn't be significant. If a basketball version of Daniel Snyder takes over, though, then things could be bleak.
Betting performance: Not only is the team winning a lot of games, but they are delighting bettors as well. At 24-11 ATS they are the most profitable team in the league. They were just 13-10 ATS through their first 23 games but have gone on a blistering 10-1 ATS run in the 11 games since. As further proof of their balanced nature, though, they are pretty useless as a totals bet - they have gone "over" 18 times and "under" 17 times.
Get $60 worth of member's picks absolutely free - no obligation, no sales people. You can use this $60 credit for of our top NBA handicappers. Free NBA predictions here. Also, for a limited time only, you can get three handicappers NBA picks for the price of one! Click Here for more details!
Read more articles by Trevor Whenham