NBA Handicapping: Betting on the Warriors First Loss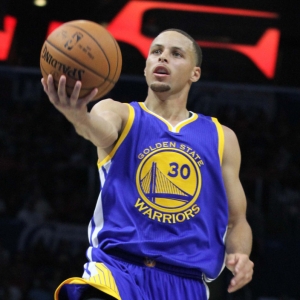 The Golden State Warriors are on a quest for history, and Stephen Curry, along with the rest of the team's principle players, are not shying away from the prospect. The defending NBA champions spent the offseason catching flak from every basketball circle imaginable. Los Angeles Clippers coach Doc's Rivers said the Warriors "got lucky", while Charles Barkley, Dennis Rodman and multiple other players from the Michael Jordan era have knocked Golden State for being too soft or too much of a jump-shooting team.
Those criticisms seemed to have sparked a new hunger into the NBA champions, who now own the record for the most wins to start a season. The next logical step for bettors of course is to wager on when the team will lose its first game. Lucky for us, the sportsbooks have already released a set of lines. Let's take a closer look at the odds and figure out the most likely spots for the Warriors to drop a game.
Golden State Warriors First Loss Prop Bet
Golden State has a looming matchup against the Los Angeles Lakers tonight, but unless a disaster of biblical proportions takes place, the team should make it out of that game with a perfect record intact. The good news for the champions is that they have a manageable schedule that does not present a clear loss until a Christmas Day matchup against Cleveland and what would be a 28-0 mark. But let's not over exaggerate here. Even though the Warriors look unbeatable, there is a strongly likelihood that they will lose a game before Christmas Day, and if for some reason they do not, LeBron James and company will almost certainly end that streak at 28.
Here is a quick look at the upcoming schedule and corresponding odds for each game.
11/27: @Phoenix: +325
11/28: Sacramento: +900
11/30: @Utah: +325
12/2: @Charlotte: +850
12/5: @Toronto: +550
12/6: @Brooklyn: +2200
12/8: @Indiana: +850
12/11: @Boston: +1200
12/12: Milwaukee: +2000
12/16: Phoenix: +4500
12/18: Milwaukee: +7000
12/23: Utah: +7000
12/25: Cleveland: +2500
19-0 versus Charlotte : Golden State's next few games will feature matchups against sub-.500 squads, but its Dec. 2 meeting with Charlotte will be the first time in quite a while that the champions face a solid team with a winning record. The Hornets are not an NBA powerhouse by any means, but this is a tough road matchup that the Warriors could struggle to win.
20-0 versus Toronto : The Raptors are currently sitting on the NBA's best ATS record, a 9-6 SU mark, and they are coming off a weekend win over the Clippers. Toronto has young talent that will be energized to play this game. This feels like the situation where Golden State drops its first game of the season.
Things are about to get tough for Golden State as the team has a six-game road trip looming at the end of November and beginning of December. Not to take anything away from the defending champions, but this historic start has been a byproduct of the team's light schedule to start the year. That is not to say the Warriors aren't great, because they very well could be, but only stating that a few easy wins early in the year is not enough to pronounce them the greatest team of all time.
Who knows, they may end up beating Chicago's hallowed 72-10 mark, but we need to see the team face the NBA's elite before we can start entertaining the idea. However, back to the Warriors first loss wager, it seems highly unlikely that they will get out of that road trip without a loss, and the most solid upsets spots are against Charlotte and Toronto.
Read more articles by George Monroy