NBA Handicapping: Three-Point Shooting and ATS Results
by George Monroy - 2/20/2015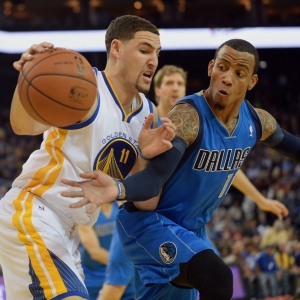 Three-point shooting has become all the rage in the NBA over the last couple of years. The change in the way teams approach offense can probably be traced back to coach Gregg Popovich's space-and-shoot approach that has kept the San Antonio Spurs relevant for nearly two decades. Two other influences behind the heavy 3-point-shooting approach has been the resurgence of point guards in the NBA to go along with the advanced-metrics revolution.
At the moment there is a certain contingency in the NBA that believes midrange shots to be going the way of the dinosaur and that the most efficient shots are either long-range or close-in-the-paint attempts. Let's take a closer look at 3-point shooting during the 2014-15 season and figure out how long-range attempts impact a team against the spread.
Most 3-Point Shot Attempts
ATS Record
Houston: 30-23
Dallas: 26-27-2
Portland: 28-25
Phoenix: 27-25-2
Total ATS Record : 111-100-4: 51 percent: taking the volume heavy approach to three-point shooting doesn't necessarily mean a team will cover the spread. Houston has taken a whopping 1,783 three-point attempts, while Dallas has taken over 1,500, and both Portland and Phoenix sit in the mid-1,400 range. The main reason that taking a lot of 3-point shots doesn't lead to covering more spreads is because of the lack of efficiency that the four teams show when taking the shot. None of those teams ranking in the Top Six in 3-point shooting percentage.
Fewest 3-Point Attempts
Minnesota: 23-30
Sacramento: 21-30-1
Memphis: 26-25-2
Washington: 23-30-1
Record : 93-115-4; 43 percent: while taking a lot of 3-point shots does not lead to covering spreads, not taking those shots does directly lead to covering less spreads. The four teams ranked at the bottom of 3-point attempts are covering spreads at only a 43 percent rate, which is a horrendous number to have.
Best 3-Point Shooting Percentage
Atlanta: 37-17
Golden State: 31-19
Milwaukee: 34-19
Washington: 23-30-1
Record : 125-85-1; 59 percent: this may be the only stat that has a strongest bearing on whether a team will cover a spread or not. The teams that are the most efficient at shooting 3-point shots cover at a fantastic 59-percent rate. The surprising part is that none of the top four 3-point-shooting teams take an excessive amount of attempts. Golden State is ranked seventh in attempts, which is the highest amongst the four most-efficient groups. Washington is the only anomaly in this group as the team has a horrible ATS mark of 23-30-1.
Worst 3-Point Shooting Percentage
Charlotte: 25-25-2
Philadelphia: 27-25-2
Denver: 20-30-3
Brooklyn: 24-28
Record : 96-108-7; 45 percent: having a bad shooting percentage might be slightly better on a team's ATS record than not shooting enough 3-pointers to begin with. Denver has a horrible ATS mark at 20-30-3, while the other squads hover around the .500 mark. Of course, the biggest takeaway from all these groups is that there might not be enough data to start betting on team's based on their 3-point shooting stats.
Read more articles by George Monroy