NBA Odds and Predictions: Wednesday, January 14 Opening Line Report and Handicapping
by Alan Matthews - 1/13/2015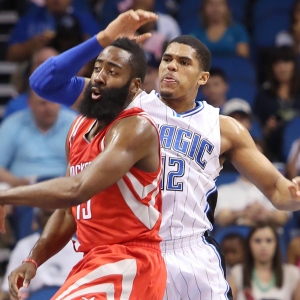 There has been yet another NBA trade completed -- things really could get interesting closer to the Feb. 19 trade deadline. The Memphis Grizzlies appear to be the winner of this trade as they acquired Celtics forward and leading scorer Jeff Green. The Grizzlies gave up Tayshaun Prince to Boston, a 2015 second-round pick to New Orleans, Quincy Pondexter to the Pelicans and a future first-round protected pick to the Celtics that likely can't be used for about four years. Memphis also acquired guard Russ Smith, a 2014 second-round pick, from New Orleans and a trade exception. The Pelicans sent first-round bust Austin Rivers to Boston. Green is a vast upgrade at small forward on Prince. The Pelicans add some depth while Boston is worse and clearly going into full tank mode the rest of the season. Green should debut Wednesday. Here's a look at the full schedule.
Rockets at Magic (TBA)
Houston enters on a four-game winning streak, three on the road. The Rockets won in Brooklyn 113-99 on Monday behind 30 points from James Harden. Dwight Howard and Kevin Garnett got into it a bit, and Howard received a technical after appearing to punch or slap Garnett in the neck. Howard avoided suspension and was fined. Orlando ended a six-game losing streak with a surprising 121-114 win in Chicago on Monday. Nik Vucevic had 33 points and 11 rebounds, and the Magic shot 59 percent. It was Orlando's highest-scoring game of the year. Howard goes against his former team here and Houston was 2-0 against the Magic last season. Howard averaged 19.5 points and 17.5 rebounds in the two games. Harden averaged 29.0 points, 8.0 assists and 5.5 rebounds.
Key trends: Houston has won eight straight vs. teams with a losing record. The "over/under" has hit under in nine of Orlando's past 11 following a win. Houston is 1-4 ATS in its past five in Orlando.
Early lean: Not really sure why no opening line here because the Howard punishment already has been handed down. I like Houston.
Spurs at Hornets (TBA)
Second of a back-to-back for San Antonio as it was in Washington on Tuesday, so I fully expect a key Spur or two to sit this one out. Charlotte has been off since routing the Knicks 110-82 on Saturday for its fifth straight win. The Hornets outscored the Knicks 41-13 in the second quarter and were ahead 89-44 after three. Cody Zeller (right shoulder strain) and P.J. Hairston (illness) both returned after missing the previous game. Lance Stephenson has missed weeks but expected to return for this game. The Spurs were 2-0 against the Hornets last season and have won six straight in the series. Last season's game in Charlotte was by a 104-100 score behind a season-high 32 points from Patty Mills. San Antonio is 17-2 all-time against Charlotte.
Key trends: Charlotte is 2-6 ATS in its past eight home games vs. teams with a winning road record. The Spurs are 4-1 ATS in the past five meetings. The over is 5-0 in the Hornets' past five overall.
Early lean: Wait on which Spurs sit, but I think Hornets win outright.
Pelicans at Pistons (TBA)
New Orleans lost 108-100 in Boston on Monday to begin a five-game road trip. Anthony Davis was typically great with 34 points and nine rebounds. Pondexter and he should debut in this one for the Pelicans, and he should help the bench. The Pistons improved to 9-1 since cutting Josh Smith with a 114-111 win in Toronto on Monday behind 34 points and 10 assists from Brandon Jennings. New Orleans was 2-0 vs. Detroit last season and has won four straight in the series. Jennings averaged 26.5 points vs. the Pelicans in 2013-14, while Davis played in just one of the games and had 14 points and eight rebounds.
Key trends: New Orleans is 5-1 ATS in its past six after a loss. The over is 6-1 in the Pelicans' past six vs. teams with a losing record. New Orleans has covered four straight meetings. The over is 5-1 in the past six.
Early lean: Detroit wins outright.
76ers at Raptors (-15, 202)
Toronto lost 114-111 to Detroit on Monday at home, and it was notable in that the Raptors had won 38 straight at home when leading after three quarters. Jonas Valanciunas scored a career-best 31 points and had 12 rebounds for the Raptors, who lost for the fifth time in six games. Second of a back-to-back for Philly as it hosted Atlanta on Tuesday. The Sixers entered that having won three of four for their best four-game stretch since winning four straight Dec. 29-Jan. 4 a little over a year ago. Toronto beat visiting Philadelphia 120-88 on Nov. 9. Nerlens Noel and Michael Carter-Williams both missed that one. The 76ers haven't won in Toronto since Nov. 10, 2012, losing their past four at Air Canada Centre. Toronto has won five straight overall against Philadelphia.
Key trends: Toronto has covered four of the past five meetings. The over is 5-1 in the past six.
Early lean: The Raptors aren't playing great, so I'll take the points.
Grizzlies at Nets (+6.5, 196.5)
Memphis ended a two-game skid with a 122-110 overtime home win over Phoenix on Sunday. Zach Randolph led the way with 27 points and 17 rebounds. The Grizzlies were without Prince and Pondexter in that one. Brooklyn won't have Kevin Garnett for this game after he was booted from Monday's home loss to Houston after a scuffle with Dwight Howard. Garnett appeared to head-butt Howard, so I'm surprised it's not multiple games he was suspended. The loss was Brooklyn's sixth straight. Brooklyn swept the season series last year, winning both by nine points. Joe Johnson led the Nets by averaging 23.5 points in the games. The Nets led wire-to-wire in the 103-94 home win. Of course, Nets coach Lionel Hollins was the former coach of the Grizzlies.
Key trends: The Grizzlies are 0-4 ATS in their past four road games. The Nets have the same record in their past four at home. The favorite is 4-1 in the past five meetings.
Early lean: Grizzlies and under.
Hawks at Celtics (+7, 206.5)
Atlanta played at Philadelphia on Tuesday. Boston won 108-100 at home against New Orleans on Monday. Jared Sullinger had 27 points and 10 rebounds. Someone needs to step up the scoring with Jeff Green gone. It was just Boston's third win in 12 games. The Celtics lost 109-105 in Atlanta on Dec. 2. Green led Boston with 25 points. Rajon Rondo, now in Dallas, had 19 assists. The C's led by 23 points in the first half. Kyle Korver led the Hawks with 24 points.
Key trends: The over is 5-2 in the past seven meetings in Boston. The Hawks are 2-5 ATS in the past seven meetings.
Early lean: Give me the points with Atlanta on a back-to-back. Go under.
Wizards at Bulls (-6, 197)
Tough second of a back-to-back for Washington as it hosted San Antonio on Tuesday. Chicago had yet another puzzling home loss to a bad team on Monday, 121-114 to Orlando. The Bulls lost for the seventh time against teams currently with sub-.500 records. Five of those losses were at home. Derrick Rose was back in the lineup after missing a game and had 18 points and seven assists. The Bulls and Wizards have split two meetings -- both in D.C. They played Friday and the Wizards won 102-86, John Wall's first win ever against Rose. Wall had 16 points and 12 assists. The Bulls missed 20 of their first 24 shots and trailed 30-10.
Key trends: Washington has covered seven straight in Chicago. The over is 4-1 in the past five meetings there.
Early lean: Bulls bounce back after awful effort vs. Magic and cover. Go over.
Mavericks at Nuggets (+4.5, 216)
Dallas was in Sacramento on Tuesday. Denver had its own little All-Star Break as the Nuggets haven't played since a 118-108 win in Sacramento on Friday, their fourth straight victory. The Nuggets erased a six-point halftime deficit by outscoring the Kings 36-15 in the third period. The team has been missing center JaVale McGee and forward Danilo Gallinari for several weeks each but both are close to returning, although not likely here. Wilson Chandler has missed a few with a knee injury and is questionable. Denver won three of four vs. Dallas last year and has taken three straight at home in the series.
Key trends: Dallas is 6-1 ATS in its past seven in Denver. The under is 6-1 in its past seven at home.
Early lean: Take the points for the well-rested Nuggets and go over.
Heat at Warriors (-12, 203)
Both clubs played Tuesday, with the Warriors in Utah and Heat at the Lakers. Golden State is an NBA-best 16-1 at home and has won 14 straight there. The Warriors played in Miami on Nov. 25 and won 114-97. Stephen Curry had 40 points and was 8-for-11 from 3-point range. Klay Thompson had 24 for the Warriors, who shot 57 percent overall. Golden State scored 14 straight points to open a 107-95 lead with 2:50 to go. Chris Bosh led the Heat with 26 points. Miami's last field goal in the game came with 9:11 left. Dwyane Wade and Chris Andersen were out injured for Miami.
Key trends: The Warriors are 5-0 ATS in their past five vs. the East. The over is 5-0 in Golden State's past five vs. teams with a losing record.
Early lean: Warriors and over.
Clippers at Trail Blazers (-4.5, 207.5)
The Clippers lost 104-90 at home to Miami on Sunday to end a nine-game homestand, the longest in franchise history, at 6-3. Portland won 106-94 at the Lakers on Sunday for its fourth straight win. Damian Lillard had 17 of his game-high 34 points in the final 8:16 of the game. Portland is 27-5 in its past 32 games and a season-best 22 games over .500. The Blazers are 20-0 when leading after three quarters. They also have won a league-best eight games when trailing after three. The Clippers won the only meeting thus far, 106-102 at home on Nov. 8. J.J. Redick had 30 points and Chris Paul 22 points and 11 assists. Lillard led the Blazers with 25 points. Portland has won three straight at home vs. the Clippers.
Key trends: The Clippers are 0-5 ATS in their past five road games. The over is 4-0 in the past four meetings.
Early lean: Love, love the over here. Slight lean on the side to Portland.
Read more articles by Alan Matthews