NBA Odds: Previewing the Draft Lottery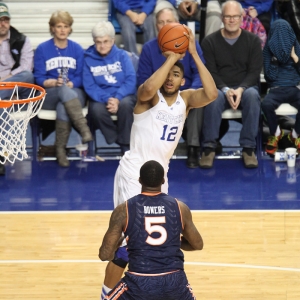 The 14 teams that didn't make the 2015 NBA playoffs have already been focused on next season since the end of the regular season last month. The plans of those clubs will really come into focus on Tuesday night as the NBA will hold its annual draft lottery before Game 1 of the Rockets-Warriors Western Conference Finals.
And those two teams are proof you don't have to win the draft lottery to find a superstar. Golden State chose 2014-15 NBA MVP Steph Curry at No. 7 overall out of Davidson in the 2009 draft. Oklahoma City picked Arizona State's James Harden at No. 3 overall that year and of course traded him to Houston a couple years later in a salary dump. The No. 1 pick in '09 was Blake Griffin by the Clippers, and you can't argue that. Memphis totally whiffed at No. 2 in taking UConn center Hasheem Thabeet. At No. 4 the Kings took Tyreke Evans. Good player but not in Curry's class. Minnesota picked Ricky Rubio at No. 5 (good player, not in Curry's class) and then a second straight point guard in Syracuse's Jonny Flynn at No. 6. Ah, David Kahn. How did the former Wolves GM keep his job as long as he did? Kahn took a third point guard, North Carolina's Ty Lawson, with the No. 18 pick and then traded him. What a goof.
How does the lottery work? Fourteen ping-pong balls numbered 1 through 14 are placed in a lottery machine. There are 1,001 possible combinations when four balls are drawn out of 14, without regard to their order of selection. Prior to the lottery, 1,000 of those 1,001 combinations will be assigned to the 14 participating lottery teams.
The order of selection for the teams that do not win one of the top three picks will be determined by inverse order of their regular-season record. So that means the Minnesota Timberwolves (16-66) can't drop lower than fourth, the Knicks (17-65) fifth or the 76ers (18-64) sixth and so on. By far the team that should be most nervous on Tuesday is the L.A. Lakers (21-61). They are currently slotted No. 4. They keep their draft pick as long as it's in the Top 5 due to the 2012 trade with Phoenix for Steve Nash. If it drops out of the Top 5 then it goes to the 76ers via the Suns. There is about a 17 percent chance that the Lakers will lose it, which would mean that two teams slotted No. 5-14 would have jumped into the Top 3. The Lakers have an 11.9 percent of moving up to No. 1 and a 37.8 percent chance of landing a Top 3 pick.
This year's draft class is considered pretty solid, but there is no sure-fire superstar like Anthony Davis in 2012. I do feel confident in saying that a Canadian player won't go No. 1 overall again as has happened the past two seasons with Andrew Wiggins and Anthony Bennett both going to Cleveland. Of course, they are now in Minnesota thanks to the Kevin Love deal, with Wiggins winning Rookie of the Year honors. Bennett is a bust, probably the biggest since Greg Oden in 2007. At least Oden was a good player when healthy; he just never could stay on the court. Last year the Cavs had just 1.7 percent chance of moving up to the No. 1 spot from No. 9.
This year's top pick is likely to be one of two big men: Duke's Jahlil Okafor or Kentucky's Karl-Anthony Towns. Okafor is a splendid offensive player but definitely weak on the defensive end. Towns will never be the low-post scorer that Okafor is but is probably the better all-around prospect and defensively ready now.
5Dimes , of course, gives Minnesota the best odds to win at +285, and you can also get any other team getting the pick at -315. The Wolves have a 25 percent chance of winning the lottery. They really could be good in a year or two by adding Okafor or Towns (my guess is Towns would be the choice) to Wiggins and some other good young talent. The team with the worst record hasn't won the lottery since Orlando in 2004. The Magic took Dwight Howard over Emeka Okafor. Wise decision.
The Knicks are +379 to get the top pick and -427 for any other team to get it. New York has a 19.9 percent chance of the No. 1, 18.81 percent of staying put and 17.12 of dropping a spot. If they stay put, the Knicks surely take whomever of Okafor or Towns doesn't go No. 1.
The 76ers are +494 to get No. 1 and -587 for any other team. Philly has a 15.6 percent chance of moving up two spots. They might actually pass on Okafor or Towns and take a guard because they have such a need there and some good young big men. The pick could be either Ohio State's D'Angelo Russell or prep player Emmanuel Mudiay, who played in China this season instead of college.
The Lakers are +543 to move up and -828 for any other team to win the top pick. It's probably a four-player draft on Tier 1 so they would take whichever guard Philly doesn't. Then there's a drop-off. The team with the longest shot of moving all the way up is Oklahoma City with 0.50 percent chance. The Thunder are priced at +15100 to win it.
Read more articles by Alan Matthews