NBA Playoffs Odds: Clippers Climbing up Futures Boards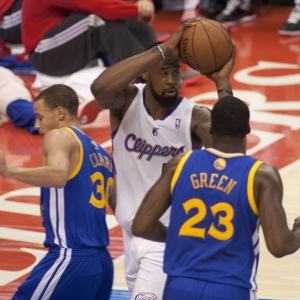 With one shot late in the fourth quarter of the first round, Chris Paul may have changed the Los Angeles Clippers destiny. He may have completed the transformation from bottom-feeder, to perennial underachiever, to NBA champion with a gutsy Game 7 performance that was considered to be the most important game in the organization's history. With one acrobatic layup over two defenders, Paul may have finally exorcised the demons that followed the Clippers for decades and turned the team into a legitimate championship contender instead of a paper one.
Free $60 in Member NBA Picks No Obligation Click Here
The Clippers have been an excellent team for the past few seasons, yet in most people's mind, including some within the organization, they were still the "same old Clippers," the team that would shoot itself in the foot, continually make the wrong choices, and crumble when a sense of resolve mattered the most. During the first six games of Los Angeles first-round series against the San Antonio Spurs nothing seemed to have changed.
The Clippers were yet again spectacular but still managed give away two games because of their own ineptitude-one being a frustrating Blake Griffin turnover when all he needed to do was hold the ball and the other being a DeAndre Jordan offensive goaltending on a shot that looked to be going in. If Los Angeles had crumbled under the pressure of a Game 7 against the Spurs, no one would have been surprised-it would have been another Clippers meltdown in a long history of Clippers meltdowns.
Los Angeles Clippers Futures Odds
Title odds: +600
Conference odds: +350
Exact matchup odds: Clippers vs. Cavs or Bulls: +1000
Paul, however, would not let that happen. With one shot he reinserted his own name into the "best point guard conversation" and drowned every criticism ever placed on his shoulders about not winning in the playoffs and not leading a team when it mattered. A few short days ago Los Angeles was receiving anywhere from +1200 to +1500 odds at most online sportsbooks. The team was even a 7.5-point underdog at Bovada for its Game 1 matchup against the Houston Rockets. Now they are receiving +600 and looking at a chance to grab a 2-0 lead before even playing a home game.
Los Angeles went through the fire during the first round and came out of the inferno as a stronger and more tempered team. Golden State and Houston may have earned a bit of rest by ending their respective series' early, yet neither gained much from their first-round matchups. Chris Paul and the Clippers know that they can win two of three games on their opponent's home floor; Paul knows that he will not crumble during late-game, pressure-filled situation; the Clippers know they can win a Game 7. Do Golden State and Houston know the same things?
This season's playoff run is beginning to resemble the Boston Celtic's 2008 championship postseason. The Celtics played consecutive Game 7 series' against Atlanta and Cleveland and then went a tough six games against Detroit, while the Los Angeles Lakers lost only three games on their way to a finals appearance. Boston entered the series having been tested along the way and as a result had a resolve and toughness that Los Angeles, who skated through the west bracket, did not.
The Celtics ended up winning the series in an easy six games to capture their first title since the Larry Bird era. Los Angeles' playoff story is yet to be written, but something changed for the team during that legendary Game 7. The Clippers were not a legitimate title contender heading into the matchup-they had too many flaws, complained too much and self-destructed when things became difficult.
After that Game 7 win, Los Angeles was transformed. They walked into Houston for Game 1 of its second-round series without Paul, hung tough even after falling behind by 10, and managed to take over late in the third quarter and earn a relatively easy win. The Clippers +600 futures odds now has value-a few short days ago, it didn't.
Read more articles by George Monroy