NBA Wagering Tips: Solid ATS Teams after the Break
by Trevor Whenham - 2/17/2015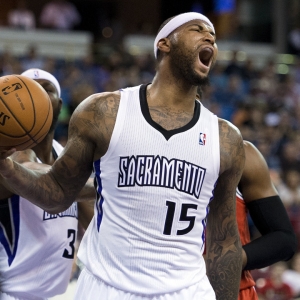 It's not at all uncommon to see a good, established NBA team struggle early in the season — either straight up or just against the spread — but then they tighten things up and perform much better after the all-star break when the end is in sight and things really start to matter. Teams that have been a real betting disappointment for much of the year can, for a number of different reasons, turn into a betting delight in the final third of the season. Bettors who can spot the teams that are poised to improve can be in line to cap off their seasons very well. Here are four teams that have the potential to be much better against the spread down the stretch than they have been so far:
Free $60 in Member NBA Picks No Obligation Click Here
Sacramento Kings: The Kings have been an all-around disaster — they are 18-34 straight up, and an almost as dismal 21-29-2 ATS. Given what they have been through — two fired head coaches already, and their best player out for a significant stretch of games — it is no surprise that they have been that bad. With the hire of George Karl, though, they almost can't help but be dramatically better. Karl is a much better coach than what they have had — he is about a million times more competent than Ty Corbin. He was NBA Coach of the Year in his last season in the league — 2013 — and will be highly motivated to get this team on track quickly. He has some talent to work with, and the players could be quite relieved to finally have some stability amid the almost endless chaos that has surrounded the team. There could be some changes at the impending trade deadline, but after that it will be all about getting back on track and playing like they did through the first 15 or so games of the year.
Minnesota Timberwolves: This is a very young team. Andrew Wiggins and slam dunk champ Zach Lavine are rookies, and Shabazz Muhammad, Gorgui Deng and Anthony Bennett are all in their second year. With a team that young it's always a concern that they will run out of gas down the stretch. A team that is just 23-29-1 ATS on the season, though, has covered seven of their last 11 spreads and is playing better than they have all year. Chief in that emergence is that Andrew Wiggins is quickly becoming the beast that he was suspected to be, and he is carrying the team on his shoulders. There will still be plenty of growing pains, and they aren't going to win a lot of games, but they are on the right track — and that should help the wallets of bettors.
San Antonio Spurs: In many ways this has been a disappointing season to date for the defending champions. Their 34-19 record is a touch below expectations, and they would currently have to go on the road for the first round and beyond. At 23-28-2 ATS they have been dismal for bettors, too. This team has more experience than any team in the league, though, and the best coaching on the planet. If any team can find a way to get back on track and really turn up their performance down the stretch, though, it is this one. They are not a particularly young team, so it makes sense that they aren't going to go full throttle out of the gate. Now that things matter, and with home-court at least in the first round in their sights, it seems likely that we will see better play — and more covered spreads — out of them from now on.
Oklahoma City Thunder: This one is intentionally last because it requires by far the least explanation. Kevin Durant, no worse than the second-best player in the league right now, was largely absent early, but he is back now and feeling good. He's motivated, the team around him knows what they are doing, and they can't help but be better than they were out of the gate. They sit just outside of the playoffs now and will be playing very hard to change that. They are 24-27-2 ATS on the season but have covered four of their last five spreads to give us a glimpse of what could be still to come. A big advantage that the team has is that they have played only 24 home games compared to 29 on the road, so the end to their season will be heavy on home cooking.
Read more articles by Trevor Whenham