NCAA Basketball Betting: Handicapping the Bubble Watch for Profit
by Trevor Whenham - 2/17/2015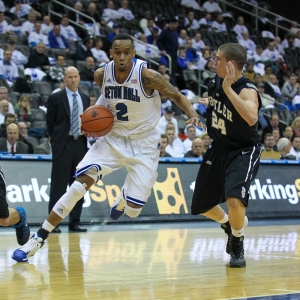 Once the second half of February rolls around, a whole lot of media and public attention shifts towards the fast-approaching NCAA Tournament. We are about a month away from tip-off, and that month will be filled with an almost infinite amount of speculation about which teams will make the field and how they will be seeded. The Bubble Watch. As more and more media outlets understand how intrigued people are not only by the bracket once it's set but also the process of setting it, more bubble watch tracking has been done every year. For bettors, these bubble watch articles, videos and opinions can be useful tools to get them ready to maximize their profits in March - and on the road to the best tournament in sports as well.
Here's a look at four ways to look at the Bubble Watch over the next few weeks:
Pressure intensifies on bubble teams: The pressure on a lot of teams in February and March is really intense. Perhaps more than any, though, the teams that are fighting for their right to be in the tournament face the most pressure. Teams that were on the bubble used to have to rely on their own instincts, and the wisdom of their coaches, to have a sense of what their postseason chances were. Now they hear about it every time they turn around. It's on the news and on social media. Fans talk about it constantly. They are asked about it in press conferences. There is no escaping that their postseason fate is balanced between success and failure depending on how they perform in their next several games. It's like the postseason has started early, and each game is the most important they have played all year. For some teams that can be a motivating force - especially if they have strong leadership and some experience to draw on. For others, though, that relentless pressure can be a real problem and can lead them to underachieve. By watching how teams seem to be handling the pressure of their situation you can often get a strong sense of what can be expected of them and what that means for betting value.
Public increases attention on teams on the bubble: For the most part, the public is interested in ranked teams or highly-public programs. It's not even all of the ranked teams that get most of the attention - it's the high-profile teams from major conferences that are fighting for high seeds and have star players headed for the NBA. With so many teams to choose from, there are a whole lot of college basketball teams - even some pretty good ones - that don't get a fraction of the attention that they probably deserve. When a team starts to get a lot of bubble watch attention, though, their public profile is going to increase significantly. People will pay more attention to their games, and with each win they will get more focus. Whenever the public is paying more attention to a team we inevitably see an impact both on how lines are set and how they move. If, for example, a bubble team had only barely been covering lines before, the increased public attention, and potential upward pressure on the lines that could result from it, could cause them to no longer cover those lines - and could create some value in betting on their opponents.
Multiple outlets do bubble watches: Each year we see more and more media outlets jumping on the bandwagon and providing bubble watch updates of their own. Some are done by experts, while others are done by 'experts'. All are just opinions, though, because no one other than the selection committee truly knows where teams sit. The more opinions that are out there, the more value there is in comparing those opinions to look for similarities and differences. If a team is featured consistently in every bubble watch out there then you can probably be confident of where they are at and what to expect of them. On the other hand, if a team appears in the tournament in one place, on the bubble in another, and not even mentioned in a third then you know that the team is tough to judge and that more work is needed before you can really understand them and know what to expect. These comparisons can really help guide your handicapping.
Cheat sheet: For a lot of people college basketball hasn't really mattered until the last couple of weeks. Football is king for many sports bettors, and with the NBA and NHL in the hearts of their season, college basketball fights for attention - and often loses until the postseason looms. If that fits how you approach the sport then the bubble watch articles can be very useful as a cheat sheet. It's easy to understand which teams are truly elite and to know that you need to get to know and understand them and what they are capable of. The bubble watch articles can identify a lower tier of teams that could provide some value and are worth your handicapping attention, too.
Read more articles by Trevor Whenham