NFL Survivor Pools Strategy Advice and Predictions: Week 1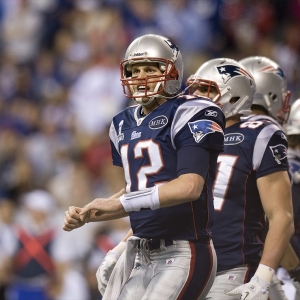 Anything to do with handicapping is tough when it comes to the first week of the NFL season. We know so little about where teams are really at, and our adrenaline is raging as the endless offseason finally draws to a close. It can be very tough to make strong decisions in these conditions. Even with that in mind, though, we are faced with a tough challenge picking the first week of Survivor pool action this year. There are a whole lot of close games - as of just four days before the season 10 games have a point spread of a field goal or less, and just one is in the true comfort zone of a touchdown or more. Neither of the games with the biggest point spreads are total slam dunks, either - though thankfully both are probably usable. Normally we want to start a survivor pool season safe and simple. We don't want to even think about gambling until we have to. That might not be possible this year. Let's take a look:
Pittsburgh at New England: As seven-point favorites the Patriots are the most loved team on the board. It hasn't always been that way, of course - they were favored by just 2.5, which is less than the standard home-field advantage, before Tom Brady was freed by Judge Berman. Given the big swing you can't help but view this line as at least somewhat of an overreaction. That causes some concern. On the other hand, Pittsburgh's defense is a long way from even decent, so the Patriots should be in decent shape. There are reasons to be nervous about the Patriots - Brady has been distracted and hasn't had his ideally training camp, and the Super Bowl hangover could hit. Brady will be playing angry, though, and that should help here - he's dangerous when angry. I hesitate to use this game for the simple reason that everyone else will be - making a different pick, if possible, could provide some nice insurance. Still, I wouldn't even begin to argue with anyone choosing the Patriots.
Green Bay at Chicago: I can try to make a case against choosing the Packers. They don't have a receiving corps that is ideal. John Fox is a very good coach and could have his team psyched for their home debut. Well, that's all I've got. Green Bay is an elite team. Chicago really isn't. It's too soon in a perfect world to be picking a road team, but this is a safe and comfortable spot nonetheless. I'd make this pick in my sleep.
New York Giants at Dallas: Now we are getting into the slightly murkier territory. The Cowboys are only favored by five points at home - typically less than I would ideally look for this early in the season. I don't have any faith in the Giants at all this year and foresee picking against them a few times. The Cowboys are the Cowboys, though, and their offense will necessarily have a different feel after the departure of a certain running back. Dallas is the better team and the bigger contender. No question about that. Picking them here would make me uneasy, though.
Baltimore at Denver: When the fourth biggest odds on the week are the Broncos then you really know that we don't have much to work with this week. I am not writing the Broncos off at all, but there is absolutely no circumstances under which I would pick them this week. None. They could be playing a girl's middle school from Guam and I'd still be reserving judgment. They are going into the season with an aging (I can say he's old because I'm even older) quarterback who can't move at all, and they are asking him to play behind an offensive line that has a shot at being impressively awful. Manning was lousy late last year, and as much as we hope for the best we can't be sure that he'll be all better this year. He lost a bit of talent around him, too. You just can't justify risking a pick on the Broncos right now. It would not be responsible.
Miami at Washington: I can't think of a reason to go beyond Green Bay or New England this week - don't outsmart yourself this early - but if for some reason you absolutely have to then the Dolphins are probably the best of the rest. Ryan Tannehill is growing into his game. The talent has increased this offseason. The coaching is decent. Washington is a circus. Their talent is suspect, and the QB position is just plain laughable. The coaching is terrible, too. Miami should take this one comfortably - though I'm not thrilled about it being on the road.
Doc's Sports has been successfully handicapping the NFL for years - more than four decades in the business - and wants to give new clients a chance to try our service for free. Click here for the hassle-free sign up and get $60 in free NFL picks today . Also, get three handicappers for the price of one when you sign up for a full-season football package! Click Here for details.
Read more articles by Trevor Whenham