NFL Survivor Pools Strategy Advice and Predictions: Week 10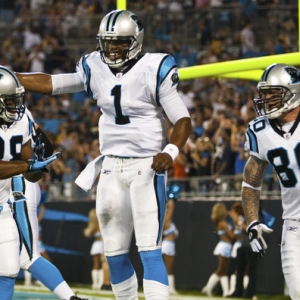 It was a pretty rough week for survivor pool players last week after several weeks of smooth sailing. Three of the six most-popular picks went haywire. The most damaging by far was New Orleans, who lost in overtime to a Tennessee team who only needed a coaching change to go from scrubs to all-stars. The other losses were less-popular among players but no less surprising - Atlanta channeled the pathetic team from last year for the third week in a row and somehow lost to the hapless Niners while making Blaine Gabbert look like the star he has never been, and the Broncos dropped from the ranks of the undefeated as Peyton Manning lost to Andrew Luck for the third time.
Free $60 in Member NFL Picks No Obligation Click Here
The bad news here is that if you wound up surviving last week then things don't get any easier this week. Actually, it's a very tough week. Here's a look:
Carolina at Tennessee: This is likely the safest pick on the board, though that doesn't provide much comfort - the Panthers have been great but are probably overachieving at their record, and the Titans already ruined the hopes and dreams of many players last week. Besides, Carolina is probably off the board already for a lot of players. Still, if you can make them your play then you probably should. Early indications this week are that this will be the most popular pick this week. If you are at all uncomfortable with it then you might want to look elsewhere in the hopes that the people on this pick fall aside.
Green Bay vs. Detroit: Despite the rough patch the Packers have hit lately they are still likely playable here - though the chances that they are alive for most players is low. Green Bay has not looked good the last two weeks, but they are playing at home against a team that they outmatch by a wide margin. Detroit has gone through their second major shakeup - the front office was ripped apart not long after the offensive coaching staff was replaced. This is a team that clearly is facing a whole lot of uncertainty, and they aren't likely playing for today. Green Bay can and very likely will get back on track in this one.
Denver vs. Kansas City: The Broncos likely aren't available, either. If they are then I sure wouldn't feel great about picking them. The Broncos have not played a strong schedule, and in their loss to a pretty underwhelming Indianapolis team last week they showed that they have some real flaws. Kansas City isn't exactly a good team, but they have had a bye week to get ready for this one, and Andy Reid is not a terrible coach. Indianapolis showed some things that can be exploited with this team, and if Kansas City can do some of the same things then it could get interesting. Don't get me wrong - Denver is likely going to win. I would pick them if I had to, but I wouldn't sleep well the night before.
Pittsburgh vs. Cleveland: The Steelers should absolutely win this one. In normal circumstances it would be a no-brainer. There are issues, though. They will be starting third-stringer Landry Jones at quarterback. They are without their superstar running back - though backup DeAngelo Williams had a whale of a game in relief last week. The Steelers should be able to beat the Browns with Jones at the helm, but it certainly isn't as comfortable as it would be with Roethlisberger in charge.
Cincinnati vs. Houston: If you could pick the Bengals then this is the most obvious pick of the week. The Bengals are overachieving at 8-0, but whatever they are doing is going to work for another week. The Texans are a mess on offense, they are underwhelming on defense, and everyone around the team knows that the current coaching staff won't be intact next season - even if Bill O'Brien does get another year. Cincinnati is the second biggest underdog of the week behind only the Packers, and it's hard to imagine them faltering here.
St. Louis vs. Chicago: This is the sixth most-popular pick on the board and a potentially interesting one. The Bears are coming off a solid win on Monday night, but they are coming off a short week and facing a much better team than the San Diego one they just beat. This is their second road game in a row and their fourth in the last five games. They could be weary. St. Louis took a tough Minnesota team to overtime last week, so they should be well-positioned here. This is a pick that could be well worth a gamble.
Read more articles by Trevor Whenham