NFL Survivor Pools Strategy Advice and Predictions: Week 13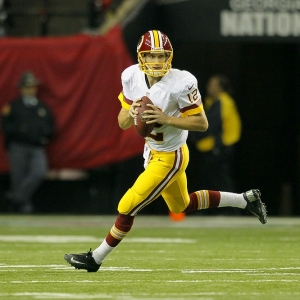 This has been a truly bizarre NFL season in so many ways. Aside from two absolutely brutal weeks, though, things have actually been pretty straightforward on the survivor pool front. Last week, for example, had some really surprising results on the scoreboard, but not among the games that seemed to be the most predictable heading into the week's action. It's nice that something is mostly making sense this year. Here's hoping that things continue to make sense. There's no shortage of pickable games this week:
Cincinnati at Cleveland: This one is a total no-brainer. Just think about it - Josh McCown is out for the season, and head coach Mike Pettine won't swallow his pride and commit to starting Johnny Football. What a total joke of a franchise. And then they signed Terrelle Pryor - because that will fix everything. Cincinnati is far from my favorite team overall, but this is a joke of a contest, and the Bengals are a very easy pick if you can possibly make it.
Chicago vs. San Francisco: This is another one that doesn't involve too much risk. The Bears aren't going to win the Super Bowl or anything, but they are playing reasonably well and Adam Gase has the offense playing pretty well. The 49ers have lost all five road games they have played, are just 3-8 overall, and have lost two in a row. They have more issues than you could count on seven hands and are very likely to lose here. Chicago is both a comfortable pick and one that is likely available to many players.
Denver at San Diego: I never would have believed I would say this, but under the leadership of Brock Osweiler the Broncos are a comfortable pick. I was highly skeptical of his prospects, but his first two games have been more than solid. San Diego is coming off a big offensive performance, but they are far from consistent and won't be able to score in this one like they did last week - the Broncos are obviously a different defensive test than the Jaguars were. Denver is a solid pick.
Washington vs. Dallas: I can't actually believe I am writing this, but you could certainly do worse than picking the Redskins this week. They are the most improbable division leader possible, yet here they sit. Kirk Cousins has found his stride and is playing with swagger. Dallas, after the second Romo injury, has surely all but given up. It's all about next year for this team, and a lot of players will well know that their days with the team are numbered. I wouldn't trust the Redskins against about 20 teams in the league, but against Dallas they are worth a shot - and almost certainly haven't been picked already.
Carolina at New Orleans: There is a small amount of hesitation here because the Saints are a respectable 3-2 at home this year despite their overall struggles. Their offense has been as absent in the last two weeks as the defense has been all year, though. Carolina has the best record in the league, so surely we can trust them here.
Arizona at St. Louis: The Rams really have no options at quarterback right now - not good ones, anyway. They are still a solid defense - and could match up well against an Arizona running game that is really short of personnel - but their offense is going to create real issues for the Rams. We know the Cardinals can score, but it's hard to believe the Rams can keep up. Arizona is yet another comfortable pick here.
New England vs. Philadelphia: After six games that are comfortable, here's one that I would hesitate to play - though it likely doesn't matter because New England is very likely not available to play. The Patriots are clearly the better team - and it's not even remotely close. Philadelphia looks confused and seems to have quit on their coaching staff. In normal circumstances this would be a no-brainer. The loss of Rob Gronkowski, on top of the absence of pretty much every other key offensive skill player, though, has to give us pause. This won't be the New England team they have been. They won't be feeling sorry for themselves and are likely still good enough to win handily despite the handicap, but I can't justify taking the Patriots with so many other better options available.
Doc's Sports has been successfully handicapping the NFL for years - more than four decades in the business - and wants to give new clients a chance to try our service for free. Click here for the hassle-free sign up and get $60 in free NFL picks today . Also, get three handicappers for the price of one when you sign up for a full-season football package! Click Here for details.
Read more articles by Trevor Whenham