NFL Survivor Pools Strategy Advice and Predictions: Week 7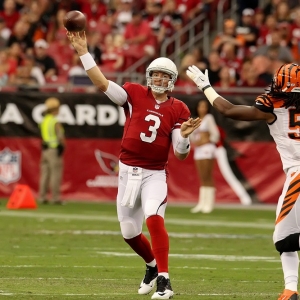 By now we are likely getting near the end in a lot of survivor pools - at least single entry ones. It has been a tougher year than many, though things have gotten much more straightforward the last few weeks after a couple of historically ugly weeks. If you are still going then you are entering the time of year that I really love for these pools. The most obvious picks are gone - most everyone has taken the Packers and Patriots - and now you need to be both lucky and good to do some damage. With hopes that we can be both this week here's how I see things playing out:
Arizona (-7.5) vs. Baltimore: The Cardinals are the second-biggest favorites of the week behind only the Patriots. They are also the most likely and comfortable pick for anyone who hasn't picked them. Early survivor pool action this week shows them to be the most popular team by a wide margin. Arizona had a frustrating loss last week, and I haven't much liked either of their losses. The last time they lost, though, they bounced back by absolutely humiliating the Lions. Baltimore may be a little better than the Lions, but not by much. Arizona should be angry, and they are certainly talented enough. There is no good reason that they shouldn't win this one, and I would be very comfortable picking them. They are the clear choice.
Carolina (-3.5) vs. Philadelphia: If you can't pick Arizona this week then things get more interesting. This is the game I like best after the Cards. Carolina showed a whole lot in their comeback win against Seattle - they are tough, offensively dangerous, well balanced, emotionally stable, and well coached. They are a good team, and though their schedule hasn't exactly been brutal they are deserving of their record. The Eagles are coming off a big Sunday night win and are a reasonably respectable and very surprising 3-3. Despite the record, though, the team is just a mess. They have offensive issues galore, they are not consistent, and Chip Kelly just doesn't seem to be in sync with his team. If Carolina is even close to the team we are starting to think that they are then this one will end with a decisive win for the home team. I really like this pick.
Miami (-4) vs. Houston: A couple of weeks ago I would never dreamed of looking at this game, and it's still probably not a great idea. The Dolphins really were impressive last week, though. It's not that they didn't have talent - they just hadn't looked like they were doing anything well. They jumped out of the gate with a new coach, and they still have room to get better - Suh, for example, was still all but invisible. A win here would get them to 3-3, and they know that their season is not lost yet. Houston is playing listless football, getting lousy coaching, and has no reason to have any faith in whatever happens for them at QB. I wouldn't pick the Dolphins over either of the two previous teams, but I wouldn't feel bad at all if they were my team.
Atlanta (-3.5) at Tennessee: If Atlanta is still a live pick for you then they could be worth a look here. I really hated their play last week in a game they absolutely should have won at the Saints, so that has me a little nervous. The Titans have looked lousy lately, though, and Marcus Mariota is getting banged up. The Falcons should win this one and would be a comfortable pick.
Buffalo (-4.5) at Jacksonville: This is the third-most-popular play of the week so far behind Arizona and Atlanta. I don't like it at all. The uncertainty at QB for the Bills concerns me - E.J. Manuel is a walking disaster, so this isn't as good a team without Tyrod Taylor. They are banged up and it is really affecting them. Jacksonville wasn't great in their loss last week, but they did pile up some passing yards. It wouldn't qualify as anything close to the biggest shock of the week to see Jacksonville win, so I have no interest in resting my fate on the collective shoulders of the Bills.
San Diego (-4) vs. Oakland: This is the fourth-most-popular pick of the week for survivor pool players. I hate this game. Just hate it. The Chargers have been completely underwhelming, and even though they can pass they haven't been able to put the whole package together. The Raiders have been decent at times, and are coming off a bye week to get some kinks worked out. I actually like the Raiders better than the Chargers here, so I obviously wouldn't be comfortable with the Chargers as my play.
Read more articles by Trevor Whenham