NHL Handicapping: Can LA Kings Contend for Stanley Cup?
by Trevor Whenham - 2/17/2015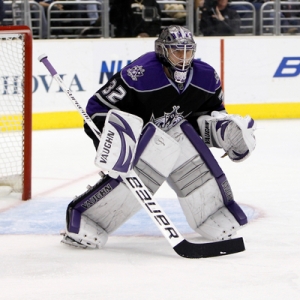 When a team wins two Stanley Cups in three years as the Los Angeles Kings have there is nothing fluky about them. Winning a single Stanley Cup is as hard as any feat in sports, so to win two you have to be very good - and more than a little lucky, too. If the playoffs were to start today, though, the team, would not win a third Stanley Cup for a simple reason - they would not even be in the postseason tournament. So, can the Kings turn things around? Or are they doomed for this year? And what does it all means for bettors? Let's take a look:
Not out of it yet: In fact, they are far from out of it in what is fast becoming a very tight Western Conference race. With a win on Monday night they have moved to 64 points. That has them sitting in fifth place in the Pacific Division but just two points behind San Jose for the final wild-card spot and only three points behind Calgary and Vancouver, the two teams tied for second in the division. They are also a point ahead of Minnesota, the other team in the heart of the hunt. With 26 games left to play, we can be sure that there is an epic battle ahead.
Schedule: The schedule makers are not making it easy on the team in their pursuit of a postseason berth and more. Sixteen of their remaining 26 games are on the road, including a tough five-game road trip at the end of March. They play 18 games against Western rivals, including one against Calgary, two against San Jose, and three against Vancouver. If the playoffs were based on today's points, 16 of their 26 games would be against playoff teams.
Almost an extra season: The Kings have won two Cups in three years and lost in the Western Conference final in the third year. That means that they have played 62 extra games over the last three years - nearly an extra three-quarters of a season, which is more than anyone. They haven't been just your average games, either - playoff hockey is brutal and relentless. Since the team has largely maintained the same core, it isn't a wonder that the team is lacking a bit of pep and seems to be playing on heavy legs at times. I recently heard a long interview with head coach Darryl Sutter. He strongly acknowledged the burden of the extra laying time, and he seemed, for him, very mellow about their play this year and what could lie ahead for them this year. Essentially, he seemed to be saying that anything they achieved this year was just a bonus after what they had been through. That attitude is particularly shocking coming for him. It remains to be seen if that lack of pressure serves to motivate the team or to let them ease off their best and let up.
Addition by subtraction: It sucks to be Mike Richards. The center, who has won both Cups with the Kings, has not played for the team since Jan. 21 and cleared waivers a week later. The team is shopping him around, but the market isn't robust, and he's playing in the AHL right now. The Kings lost seven of his last eight games with the team. They lost three of the first four without him but have since won five straight. Richards was playing sloppy hockey, and his departure clearly has sent a sign to this team and created some urgency. Urgency is just what a team that dropped 10 of 12 starting Jan. 3 needed to find.
Could be deadline players: The Kings have some cap issues, and that was a factor in the Richards move. They have a bit more flexibility now, though, and are not going to be afraid to be bold if they think it can make a difference. Last year they made a bold and risky move to bring in Marian Gaborik. It paid off handsomely then and continues to do so.
Quick has not been Quick: Jonathan Quick is, in my eyes, the best goalie on the planet right now. Unfortunately, he has struggled to play like it this year. His goals-against average is the highest it has been since 2010, and his save percentage ranks just 28th in the league. His save percentage has gone down in each complete month of the season and has not picked up significantly in February. There is something wrong with his game, and if he can't get back on track the team faces an uphill battle.
They have been here before: This team has owned the postseason lately, but they have not exactly dominated the regular season. When they won the Cup the first time they were the eighth and final Western team in the standings. They were fifth in the lockout-shortened next season and fell back to sixth last year. This is a team that has consistently done just enough to get to where it matters before they ratchet up their play. They are not going to panic because they have been here before - and they know, more than anyone else, how good winning tastes.
Read more articles by Trevor Whenham