NHL Handicapping: Keys to Detroit Red Wings Success
by Trevor Whenham - 2/12/2015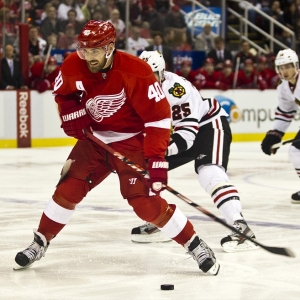 What the Detroit Red Wings are doing now is really quite remarkable. It should be no surprise, though, given that this is a team that is about to make the playoffs for the 24th consecutive year. That should be all but impossible in the free agency era. Still, the fact that the Wings are not only in the playoff picture but matching the Lightning and Canadiens pretty much punch-for-punch in the fight to win the division is amazing. They are 9-2 in their last 11 and have overcome some real issues to emerge - yet again - as a viable Stanley Cup contender. But is it for real? Can they stick around? Let's take a look:
Babcock: Head coach Mike Babcock, who has been at the helm since 2005, does not have a contract after this year. There has been endless speculation about his future, and that has been a distraction for the team. For a lot of teams that would have really impacted the team, but it clearly hasn't for Detroit. There are at least a couple of reasons for that. For one, he is a great coach -- one of the very best in the league - and he and his players are and have always been on the same page. No coach is better at developing a system, selling it to his players, and keeping the effort and focus consistent. Second, it is hard to imagine him actually choosing to go elsewhere - especially to the endless tire fire that is the Toronto Maple Leafs, where he is most frequently mentioned because it would be a homecoming of sorts for him.
Cap space: The team is, like most contenders, likely to at least desire to be a buyer at the trade deadline. They are better positioned than most teams to pull that off. They didn't splash out in free agency this year, so they have around $8 million in available space. With some real needs going forward - especially defensively -- that is a luxury that could pay off and give them an edge.
Blueline not producing offense: Defensively this unit is sound, but they are just not producing any scoring - and in a league that increasingly relies on productivity from the back end that is a real problem. Aside from Niklas Kronwall and, to a lesser extent, Danny DeKeyser, there is just not enough offensive upside. Kronwall has 30 points, but he certainly isn't a threat to win any scoring titles, either. This is the most pressing need at the deadline. There are some possibilities - Mike Green would be a nice fit, and Brian Campbell or Jeff Petry both make sense and get a lot of mentions. None of those guys would come cheaply, though - if they were available at all - so management will have to be very cautious in meeting their needs without overpaying. They have a massive store of young talent that they could use to make a deal, though, so they are definitely a team to watch.
Age: This is not a young team, at least not at the core. Pavel Datsyuk is 36. Johan Franzen is 35. Henrik Zetterberg and Kronwall are 34. Daniel Cleary is 36. That's a lot of age in the core of the team that has really been driving things in the regular season and postseason for what seems like forever. There are young guys stepping up - Tomas Tatar and Gustav Nyquist are tied with Datsyuk for second in team scoring - but the age of so many key contributors always has to be a concern heading into the endless grind of the Stanley Cup Playoffs.
Goaltending: If there has been a concern with this team for a long time - since Dominik Hasek retired, really - it has been their goaltending. It has been tough to really believe in what they have had to offer. That's still somewhat of a concern now - I am really not the president of the Jimmy Howard fan club, or even a member. Things are somewhat more interesting here than they have been recently, though. Howard is having a much better season than he had last year. When he was injured recently, youngster Petr Mrazek stepped up and performed admirably. His stats were only okay - good but not eye-popping - but he has 13 wins in 20 starts, and the team is clearly confident playing in front of him. He's a welcome wrinkle to what has been a liability on this team. Still, I can't call goaltending a comparative strength for this team.
Read more articles by Trevor Whenham