NHL Handicapping: Most Important Games Before the Playoffs
by Trevor Whenham - 4/6/2015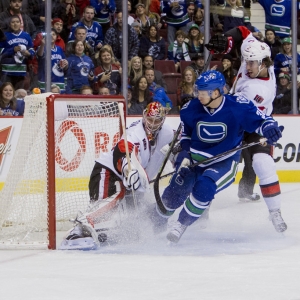 We are heading into the final week of the NHL season. By next Saturday it will all be over and the playoffs will be about to begin. Between now and then, though, there are a lot of games left to play - and many of them have the chance to be fantastic. Looking ahead, here are six of the biggest games of the next week - games that have the chance to rock the realities of the teams involved. These will be fun games to watch and potentially great games to bet on as well:
L.A. Kings at Vancouver Canucks, Monday, April 6: This is a huge game for both of these teams. They are in a big fight for playoff berths in the West - though they are in somewhat different positions. Vancouver sits in second place in the Pacific Division, two points ahead of Calgary and three ahead of the Kings. Finishing second is important because it means home-ice advantage in the opening round. Losing here would make it much easier for the two trailing teams to catch them. A win wouldn't clinch anything, but it would mean that the Canucks would likely only need one win in their last two to sew up the coveted spot. The Kings are just a point behind Calgary, and they have a game in hand. They will lose that game in hand here, though, so they need a win to stay in a good position. They also need a win to stay in the wild-card race with Winnipeg (who they are currently tied with) in case they don't catch the Flames.
Columbus Blue Jackets at New York Rangers, Monday, April 6: The Rangers have been inconsistent lately, but they still find themselves in the driver's seat for the President Trophy for the top record in the NHL regular season. Teams don't necessarily value that as an independent accomplishment, but home-ice advantage through the playoffs comes with it, and that could be crucial. New York is tied with Anaheim with 107 points, but they have two games in hand. This is the first of those games and could really set the tone for the rest of the season. Columbus is red hot, though - they have won nine straight despite having been eliminated from playoff contention - so they will be no pushover.
Carolina Hurricanes at Buffalo Sabres, Monday, April 6: The Sabres have made an art form of tanking this year. They traded away everyone with value and have done what they can to crush the spirit of players. It's all been in the pursuit of once-in-a-generation talent Connor McDavid in the draft. This is when it could all pay off. With a loss here, Buffalo will clinch last overall and will have the most balls in the draft lottery. Carolina is a bad team playing pretty poorly, but Buffalo is worse - and has a chance to show it.
L.A. Kings at Calgary Flames, Thursday, April 9: The Kings play twice before this game, and the Flames play once. The worst that can happen for either team here, then, is that they will be three points behind their opponent with two left to play heading into this one. This game could decide which team gets the third (or potentially even second) spot in the Pacific Division. At the very least, it will have a massive impact on how the race turns out. Both teams have essentially been in the playoffs for a few weeks already, and this is like a Game 7.
St. Louis Blues vs. Chicago Blackhawks, Sunday, April 5 and Thursday, April 9: These two teams have an intense rivalry, and Chicago has been responsible for the recent playoff woes of the Blues. These two games are going to mean a whole lot to their fates this year. With four games left, the Blackhawks sit a single point behind St. Louis in the standings. Right now they would play each other in the first round of the playoffs, with the team with more points having home-ice advantage. There is more than just that here, though. St. Louis is just one point behind division leader Nashville, and Chicago is two points back. Both teams have a game in hand on the Predators. Nashville has lost three in a row and isn't playing great. Passing the Preds would let the team avoid having to play their rival in the opening round - though it would likely set up a series with Minnesota, and that certainly won't be easy.
Read more articles by Trevor Whenham